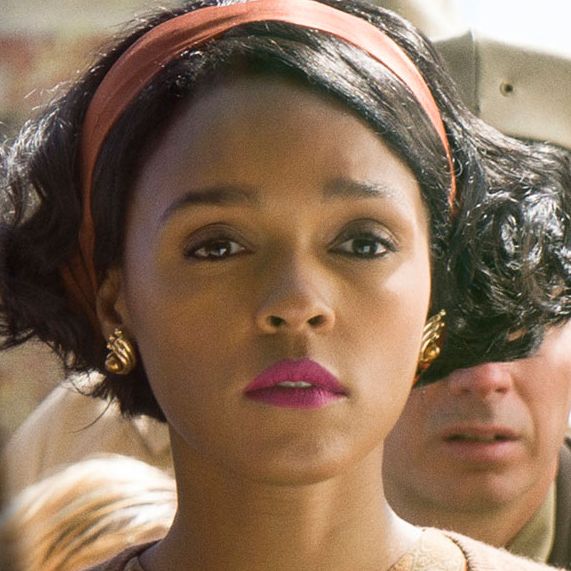 Janelle Monae in Moonlight and Hidden Figures.
Photo: A24, Twentieth Century Fox
After a brief Oscar-contending run in late 2016, Fox's feel-good drama Hidden Figures, opens wide on January 6 to great expectations at the box office and consideration by the Academy, whose voters officially began their balloting one day earlier.
Director Theodore Melfi's film, which tells the real story of the team of black female mathematicians who helped America win the space race, is the company's best hope for a best pic nomination (alongside Searchlight's Jackie), and many industry insiders say it has served as a curative antidote to the impending inauguration of a president-elect who seems to go against everything the movie stands for. It's one of only a few awards-season contenders with female protagonists and a female screenwriter, and it's the rare period piece in which women of color get to be the heroes. The film has great moments for star Taraji P. Henson, as well as Octavia Spencer and Kevin Costner, but it's Janelle Monáe who makes the biggest impression.
As real-life mathematician Mary Jackson, Monáe carries both the weight of the film's social-justice message (in one great, key sequence, she goes to court to fight her way into an all-white continuing education night class) and her chemistry with Henson and Spencer is integral to the film's spotlight on professional camaraderie among black women, a rare thing in an awards-contending movie. And unlike some of the characters played by black women in Oscar contenders over the years, her character's sense of self-worth isn't the product of a white character's influence: Mary Jackson is a strong, self-assured woman who's also a NASA-approved mathematician.
Taking nothing away from the pioneering work of actresses like Hattie McDaniel, Halle Berry, Monique, Octavia Spencer, and Lupita Nyong'o — who won their Oscars playing a slave, the wife of a death-row inmate, an abusive mother, a maid, and a slave, respectively — Monáe's Norma Rae–esque work in Hidden Figures feels historic, especially considering that it's only her second feature-film role, after Moonlight, also playing in theaters now.
Speaking of Moonlight, Monáe has been left out of much of that film's awards conversation, which has focused, understandably, on the star-making performance of her co-star Mahershala Ali (who also has a small role in Hidden Figures). As Teresa, the girlfriend of Ali's kindhearted drug dealer, Monáe subtly destroys the tropes of the gangster's wife. Teresa becomes a surrogate parent to the protagonist, Chiron; in an especially heartbreaking scene, she teaches him how to properly make a bed — a lesson his own mother never gave him.
Monáe's biggest competition for a supporting actress nom this year are Fences' powerhouse Viola Davis (considered a favorite to take home the trophy), Monáe's Figures co-star Octavia Spencer, Lion's Nicole Kidman (both previous winners), and Manchester by the Sea's Michelle Williams, a three-time nominee. With Figures' Henson in the lead actress race, there haven't been three deserving female actors competing from the same film since The Help's Davis, Spencer, and Jessica Chastain in 2012. And the Academy has never seen this many black female performers vying for voter attention in the same year.
This is all especially meaningful after last year's controversial all-white acting nominees, which may compel many voters to diversify their selections this year. But for Monáe fans, this recognition shouldn't feel gratuitous. Having delivered two impressive performances that are each measured, effortless, and utterly unique, Monáe has established herself as a presence in Hollywood. George Lucas and his wife Mellody Hobson hosted a special Hidden Figures screening in her honor, and she's also set to be honored at the Santa Barbara International Film Festival on February 4. But before then, on January 24, voters will have the chance to dub her an Oscar nominee — a milestone that would likely have made real-life "hidden figure" Mary Jackson, who passed away in 2005, extremely proud.