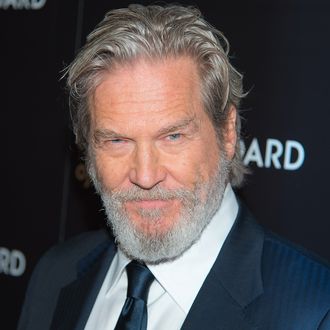 Photo: Michael Stewart/Getty Images
In Hell or High Water, Jeff Bridges plays a Texas ranger tracking down bank robbers who believe their crimes are justified because they're only ripping off the branches of a bank that could foreclose on their property, as it has on so many other places in the area. In their minds, they're only robbing from those who robbed them. Of course, it's more complicated than that, and the human cost is high once guns are involved. But hand it to Bridges — who won Best Supporting Actor at the National Board of Review Awards on Wednesday night — to see the connection between his film and the ongoing situation at Standing Rock, and to dedicate his award to the protesters accordingly. As ever, in a short but sweet speech, the Dude abides:
I also want to thank all those folks at Standing Rock, and all those people supporting them. The movie deals with the consequences of looking out only for your own self interest, what that costs not just to you, but everybody. And those folks at Standing Rock, they're looking out not only for their own interests, but for all of our interests, making sure we live on a healthy planet. I support them, I applaud them, and I accept this award on their behalf.