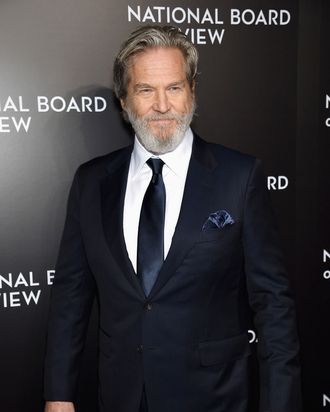 Photo: Dimitrios Kambouris/WireImage/Getty Images
People offer all sorts of tips about how to survive public speaking or make an awards-show acceptance speech. Speak to only one person in the room! Imagine the audience in their underwear, or better yet, naked! However, Jeff Bridges, recently voted "the coolest guy in the room" at the National Board of Review Awards on Wednesday night, has the best advice ever. Or at least, the most unique advice ever.
When O.J.: Made in America director Ezra Edelman, an awards-season novice, approached the veteran actor before the ceremony, he asked Bridges for a few tips to get through his speech later that night. Edelman later relayed that advice in the resulting speech, in which he tried to summarize Bridges's sage words of wisdom. "I asked him, 'What the hell do you say at these things?' and he said, 'I don't know, man. I just think I'm a guy from the year 3010, and I arrived at the National Board of Review in 2017, and I just look around and wing it.'"
However, Bridges's thought process is slightly more intricate than that. When Vulture caught up with him after the ceremony, he broke it down. "[Ezra] got it a little bit wrong," he told us. "It's more like, there's a guy from 3010, or whatever you want the year to be, and he goes to an amusement park, and in this case, there's a ride called NBR — National Board of Review Awards Ceremony." Depending on which awards show you're attending, there are other rides with other names — a Golden Globes ride, an Oscars ride, you name it.
Bridges isn't entirely sure how they get you to experience the ride in this futurist amusement park, but it could be a blend of virtual reality, mood-enhancement drugs, or other things yet to be invented: "I don't know if it's a pill or if they rub it on you." But the point is, whatever they do, "you feel it, like you're there." You're not exactly a time traveler, "and you're not a social anthropologist studying a past society or anything. You're just a guy going to an amusement park and going on a ride."
Bridges doesn't remember how long he's used this technique, but he says it always works — and Edelman concurred. Talking to Bridges after the ceremony, Edelman told him, "Thank you. You did me a solid." Edelman said he used the mindset to "check out the landscape," and it really calmed him down. Golden Globe nominees might want to try it out this weekend.