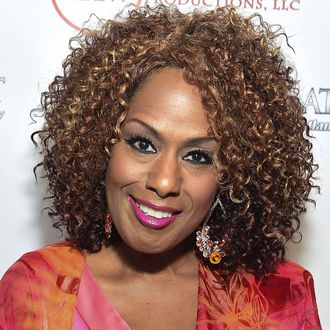 Yesterday, Donald Trump's presidential-inauguration festivities got a boost of star power — country crooner Toby Keith, rockers 3 Doors Down, and Broadway songstress Jennifer Holliday all confirmed they would be performing at a pre-inauguration concert at the Lincoln Memorial on January 19. Though Holliday's publicist initially disputed her involvement, Holliday then herself offered a few words to her fans to confirm the news, telling the New York Times that she doesn't have "a dog in this fight" and that we should all "pray" on the success of America. Still, it appears Holliday's choice engendered some ill-will towards her, as she simultaneously defended her choice to perform during the inauguration and reprimanded her detractors to Billboard. "I was like, nobody knows that I'm alive and then I decide to sing a song and I wake up and they all hate me," the Hillary Clinton supporter explained. "I haven't even endorsed anything. I'm not singing for Donald Trump; I'm singing to welcome the people of America. He cannot be the only face that's gonna represent us. And just to have all white people up there singing is not going to be a fair representation either. So you're just saying don't go? Really? I'm just very disheartened by it that it would be so much hate."
Holliday stressed her decision was entirely nonpolitical, and explained how she has received social-media death threats, suggestions of suicide, and boycott warnings due to her participation.
I have been unable to see how my singing helps Donald Trump or how that does anything for America or what we're trying to do by my not singing. If we're protesting and we're going to have a show with all white people on it and nobody black's gonna be on it, I don't understand that either … If everyone's trying to say that's the end of my career, then I guess that will have to be, but I'm going to believe that that won't be and that maybe other people will try to also see what we can do to unite the country on what little hope of togetherness we have left.
Holliday joins the likes of America's Got Talent alum Jackie Evancho and the Mormon Tabernacle Choir for the inauguration performances.
Update: Well, that was swift. Holliday has canceled her inauguration performance, calling the booking "a lapse of judgement." Saying that she now understands the implications of her performance for the LGBTQ community, Holliday insists: "My only choice must now be to stand with the LGBT Community and to state unequivocally that I WILL NOT PERFORM FOR THE WELCOME CONCERT OR FOR ANY OF THE INAUGURATION FESTIVITIES!"