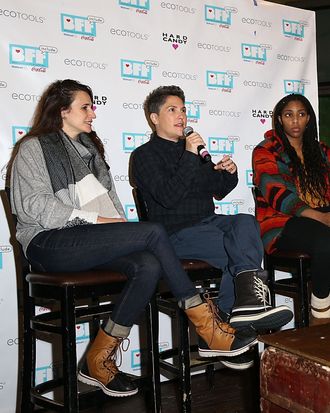 Photo: Joe Scarnici/Getty Images for Bentonville
On January 22 in snow-drenched Park City, Utah, Geena Davis's Bentonville Film Festival hosted a provocative panel discussion with writer, director, and executive producer Jill Soloway (Transparent, I Love Dick) and actors Jessica Williams (formerly of The Daily Show) and Michaela Watkins (Casual) on the fight for gender equity in Hollywood. Hosted by Vulture's Hollywood editor Stacey Wilson Hunt, the discussion's topics ranged from the industry's egregious pay gap to the challenges of self-care, with a particular standout moment coming from Soloway about the prevalence of rape as a plot device in male-directed TV series and movies.
"I would like to make a blanket ask to cis men to please stop making movies about rape, stop portraying rape," Soloway said. "We get it, guys. You want us to stay inside because you want us to be afraid we're going to get raped. We get it! Stop making movies and TV shows about rape. Let women make those movies if they want to."
When Williams — whose Sundance comedy The Incredible Jessica James was acquired by Netflix — asked Soloway why she thinks rape figures so prominently in male-created pop culture, Soloway brought up the most recent rape controversy surrounding director Paul Verhoeven's Elle, which just netted its lead actress Isabelle Huppert an Oscar nomination.
"I'm gonna get really deep. We're gonna talk about Paul Verhoeven for a second. I actually believe they envy our vaginas and our vulnerability, and so they project their desire for their own vulnerability onto women, and then they make films about raping them to be able to experience the feeling of the being-done-to, letting go, which they can't do as straight men. They have to do the done-to; laminated onto cis male heterosexuality is 'I do to' and so they project the 'done-to' onto women. They project the 'done-to' onto queer people, and they make movies about rape so they can be in the feeling of being 'done-to' against their will, which I think is actually their fantasy. And I just want them to stop projecting onto our bodies everything. Kinda deep."
"Yeah, we went there, girl," Williams replied.
"I went there," Soloway said.
Williams also shared her advice on surviving and thriving in male-dominated Hollywood, which included an ode to an old MTV documentary about Nicki Minaj. "She gives the most absurd, honest, brutal monologue in a pink beehive wig with a curly-Q pink baby hair on her cheek." Williams said she related to Minaj's complaint that when asking for things in the same way male celebrities do, she was labeled demanding or a bitch. "I'm always still battling against that and this idea that because I'm asking for what I want, then I'm an angry black woman, or I'm PMS-ing or I'm being a bitch," Williams said.
The third installment of the Bentonville Film Festival, which celebrates films that boast diverse talent both in front of and behind the camera, will take place in Arkansas this May, so get ready for more bon mots and provocative female-facing narratives in the year to come.