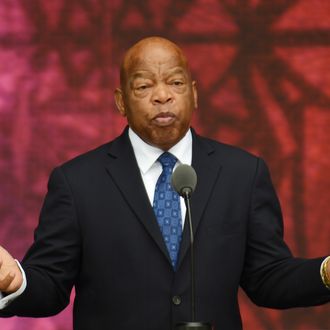 John Lewis.
Photo: Astrid Riecken/Getty Images
John Lewis is a National Book Award winner with an acclaimed graphic-novel trilogy and a memoir to his name, but no accolade on this Earth will boost book sales quite like getting publicly brandished by our esteemed president-elect. Amazon has sold out of both March, the congressman's graphic novel about the civil-rights movement, and Walking With the Wind: A Memoir of the Movement. The two works by the civil-rights leader currently claim the No. 1 and 2 spots on Amazon's best-sellers list, respectively, according to the Washington Post.
The boost comes after Donald Trump blasted Lewis on Twitter in response to Lewis's announcement that he will not attend the inauguration for the first time in three decades, because he does not consider Trump's presidency legitimate. Trump tweeted, "Congressman John Lewis should spend more time on fixing and helping his district, which is in horrible shape and falling apart (not to mention crime infested) rather than falsely complaining about the election results. All talk, talk, talk - no action or results. Sad!" as well as, "Congressman John Lewis should finally focus on the burning and crime infested inner-cities of the U.S. I can use all the help I can get!" Afterwards, Lewis's book sales spiked by over 100,000 percent, according to the Atlanta Journal-Constitution. Call it the Trump bump.