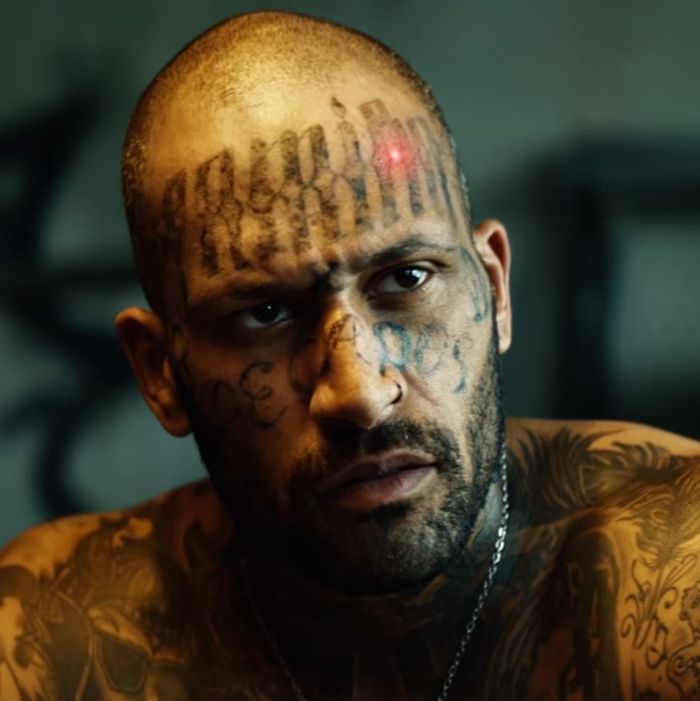 A shot from "The Red Dot."
Earlier this month, "The Red Dot," a commercial for the upcoming video game Tom Clancy's Ghost Recon: Wildlands, was quietly released online. For a gaming ad, it features an uncommonly tight narrative: A sniper takes aim at a group of thuggish bad guys who are sitting around a table playing cards. That's when the commercial takes on a playful dimension — a stray cat, who is hanging out nearby, sees the dot of the assassin's laser scope and begins to follow it. Eventually, of course, the baddies wind up dead, but even the bloodletting is told with an uncommon amount of style and storytelling clarity.
The reason for this amount of visual and narrative flair? The spot's director is John McTiernan, the filmmaker behind classics like Die Hard, Predator, and The Hunt for Red October. It's like when you found out that above-average detective novel was actually written by J.K. Rowling. It just makes sense.
McTiernan's involvement in "The Red Dot" hasn't been widely publicized (or even particularly acknowledged), which is a shame, especially considering it's his first filmed project in a whopping 14 years. (His last movie was the rainy Rashomon-on-a-military base thriller Basic.) McTiernan's inauspicious reemergence leads to a couple of bigger questions: Where, exactly, has he been? And what makes this ad so special?
To answer the first question, you have to go back to 2006, when Anthony Pellicano, a private eye with ties to some of the most powerful people in Hollywood, was arraigned on federal wiretapping charges. It was the conclusion of both a three-year investigation and Pellicano's 30-day stint in prison for illegally keeping explosives in his West Hollywood office. The resulting trial would eventually embroil some of Hollywood's biggest executives (Michael Ovitz and Brad Grey) and shiniest stars (Tom Cruise and Chris Rock). At the time, Vanity Fair described the scandal as Hollywood's Watergate.
But only one member of the Hollywood elite would actually get sent to prison for to his relationship with the notoriously scuzzy Pellicano: John McTiernan.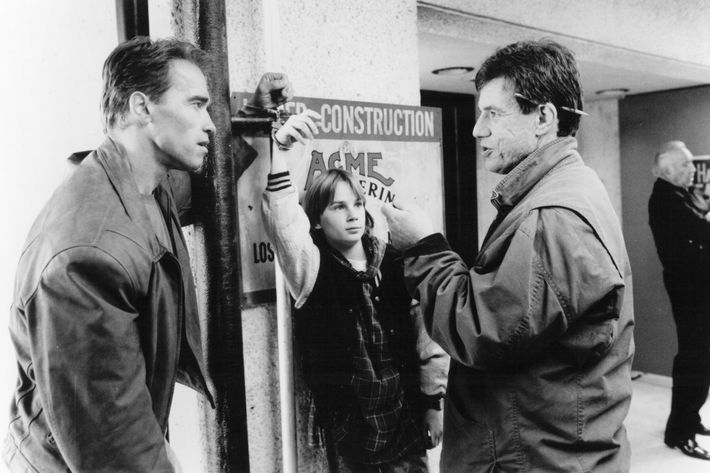 McTiernan's involvement with Pellicano, who would routinely illegally wiretap people he was investigating and outright threaten some, came during the contentious production of MGM's Rollerball remake. One of the movie's sets was destroyed in a mysterious fire and McTiernan's suspicions were soon cast on Charles Roven, the movie's producer. (Roven would go on to produce Christopher Nolan's Batman trilogy.) Pellicano, of course, illegally wiretapped Roven, and McTiernan was implicated. In the spring of 2006, McTiernan pleaded guilty as part of a deal designed to lessen the severity of the charges and reduce his potential sentence. But that was just the beginning. 
Almost immediately after, prosecutors said they wanted to slap McTiernan with additional charges and believed that he had hired Pellicano for more than what he was being charged with. McTiernan, in turn, withdrew his guilty plea, saying that his previous lawyers didn't present him with the proper options. The court threw this out and immediately sentenced him to four months in prison. By 2008, though, the Court of Appeals had vacated McTiernan's sentence and allowed him to withdraw his plea. A stroke of luck, except that this also opened him up to face those additional charges.
In 2008, McTiernan went on trial (part of what the Los Angeles Times described as "a parade of human misery"), where a meandering, 16-minute-long phone call between himself and Pellicano was played. The director was charged with two counts of lying to a federal officer, with one charge stemming from an incident when an FBI agent, who didn't identify himself, called McTiernan at home and casually asked if he had hired Pellicano. McTiernan, assuming the FBI agent was a nosy journalist, said no. He was also charged with perjury, for saying that he wasn't coached before the previous trial.
Facing additional prison time, McTiernan entered into a second plea deal in 2010 and was sentenced to a year in prison. In 2012, his case was sent to the Supreme Court (he maintained that using the wiretapping recording in the trail was unlawful) but the Court refused to hear the case. In 2013, he began a 328-day sentence at a minimum-security prison in South Dakota. On the outside, fans, fellow filmmakers (like Brad Bird, whose Mission: Impossible – Ghost Protocol is heavily indebted to McTiernan) and former collaborators (like Alec Baldwin), rallied their support.
Throughout the entire trial, which had enough weird details and wild detours to merit its own award-winning mini-series (one of the lawyers prosecuting McTiernan was a former actor who had been rejected for a small role in The Hunt for Red October), McTiernan was uninsurable, due to the fact that he could have been sentenced at any moment. A number of high-profile projects were assembled, with funding in place, only to fall apart because of the unpredictability of McTiernan's involvement. 
It was a sad end to an acclaimed career. In the '80s and '90s, there was no action filmmaker more stylish — or more successful — than John McTiernan, and in the years since, his stature as a filmmaker has only grown. Three of his biggest hits — Predator, Die Hard, and The Hunt for Red October — are still viable franchises, with spinoffs, reboots, and sequels all being actively developed. Die Hard is considered one of the greatest, if not the single greatest, action film of all time, and even some of McTiernan's less immediately successful films, like his spoofy Last Action Hero and underrated Michael Crichton adaptation The 13th Warrior, have gained a second life as cult classics.
McTiernan's influence is clearly seen on a younger generation of filmmakers. Beyond Bird's Mission: Impossible, you can easily compare J.J. Abrams's Star Trek reboot to The Hunt for Red October and see the parallels, both visually and structurally. Movies like Dredd and The Raid seem to be constructed exclusively to light a candle at the altar of Die Hard. When Steven Soderbergh was making his martial-arts spy thriller Haywire, he said he repeatedly studied McTiernan in order to understand the subtle mechanics of action movies — mechanics that are on brilliant display in "The Red Dot." Though it's only a minute-and-a-half long, the spot employs many of the hallmarks of McTiernan's work, the things that made him such an indelible force to begin with.
The short begins with a push-in that would make David Fincher proud. (It was shot by cinematographer Jeff Cronenweth, one of Fincher's frequent collaborators.) McTiernan doesn't believe in unmotivated camera moves; the narrative purpose is clear — he's establishing the space and allowing us geographic orientation. Clearly establishing the spatial relationship of any given scene is a hallmark of McTiernan's work, with another, more subtle signature on top of that — the ad's lack of subtitles. McTiernan grew up watching foreign films without subtitles, which he says allowed him to understand movies in purely visual terms. When he eventually made movies, he turned foreign languages into an art form (they make for unforgettable sequences in both The Hunt for Red October and The 13th Warrior, and are a key plot point in an early part of The Thomas Crown Affair). Dialogue has never mattered much to McTiernan, but here it's discounted altogether. When one of the gangsters shoos the cat away, another one notices the red dot, which makes for a great reveal. The combination of brutal violence and sly humor is something of a McTiernan trademark: It defined Die Hard, and became such a large part of the McTiernan brand that the director himself lampooned it in Last Action Hero. The entire spot is wryly scored by "Anoche Me Emaore" by Los Apson, a Spanish-language cover of "Tonight I Fell in Love," a song popularized by Brooklyn doo-wop duo the Tokens. This song choice calls to mind McTiernan's decision to set a terrorist bombing in Die Hard With a Vengeance to the tune of the Lovin' Spoonful's "Summer in the City."
To top it off, the ad's seemingly large budget allowed McTiernan the ability to reestablish visual and narrative touchstones from his earlier career without having to cut corners. This is an ideal way of reminding people of what made him so special while announcing that, after 14 years away, he still has some of the best action-filmmaking chops around. It's unclear what's next for McTiernan, although I know that he shot a second commercial for the game with more traditional action and that there are several potential feature films on his plate, with an announcement about one of them apparently imminent. (He's reportedly working on a film in China.) Whatever the case, Hollywood loves a comeback story, and there would be no greater comeback than John McTiernan assuming his place, once more, as the King of Action Cinema.