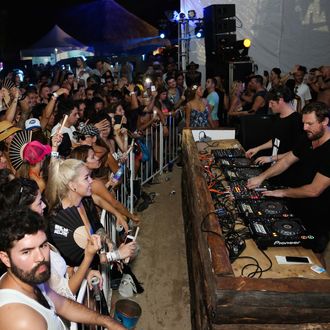 Attendees at BPM festival before the shooting.
Photo: Victor Chavez/WireImage
At least five people are dead and 15 others are injured after a shooting took place at the Blue Parrot nightclub during BPM festival on Monday morning. A lone shooter opened fire at the club, which is in the Playa Del Carmen resort in Mexico and was having an after-party for the electronic music festival. According to the Associated Press, several of the dead were members of the security detail hired for the festival. There are conflicting reports as to how the shooting occurred: A source told the AP that a gunman entered the club, shot at someone inside, and then shot at festival security persons as they tried to intercede, while many reported witnesses believe that the gunman never entered the club. A female victim is believed to have been killed during the rush of guests exiting the club in the aftermath. Of the 15 injured persons, five have already been treated and released, though one victim's injuries are considered serious. Three individuals have been detained, but it is not apparent whether they were involved in the shooting.
The festival released a statement about the attack, saying, "The BPM Festival has been working closely with the local authorities (Seguridad Publica / Policia Turistica) throughout the festival to ensure public safety and security for all visitors. We are overcome with grief over this senseless act of violence and we are cooperating fully with local law enforcement and government officials as they continue their investigation."
This post will be updated as new information becomes available.