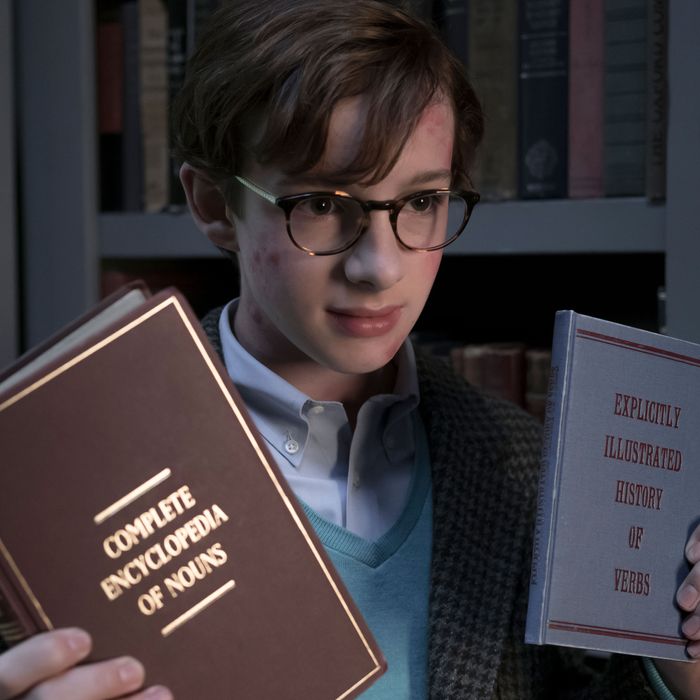 Louis Hynes as Klaus Baudelaire.
Photo: Joe Lederer/Netflix
Lemony Snicket's A Series of Unfortunate Events is a celebration of reading. The Baudelaire children can solve almost any crisis by cracking a book — law books, cookbooks, scientific journals, grammar guides, local histories, you name it. While their survival depends on research, the joy of discovery and the resulting ability to make obscure literary references help the kids keep their sanity during some very trying times. With a hunch that the cast and crew of the Netflix adaptation might be avid readers as well, Vulture quizzed them at the New York premiere to find out what books were on their nightstands.
Neil Patrick Harris (Count Olaf)
"I'm actually really, in a random hilarious way, on book 11, The Grim Grotto. So I'm reading about the Baudelaires currently being underwater. Otherwise, we've been reading a lot to our kids, and I'm rereading The Four Agreements. That's a cool book. Very anti-Olaf, but probably good for my brain. Good yin for my yang."
Malina Weissman (Violet Baudelaire)
"I love The Doll People. It's about these dolls who are living, and they go through all these adventures, trying to keep their living identity from their owner. It's three books in the series, and I really like them. I really do. I keep rereading them, because I love them so much."
Louis Hynes (Klaus Baudelaire)
"Right now I'm reading a book called Faithful Place by Tana French. A friend of mine recommended it to me. It's about an Irish policeman, and it's sort of a detective story, and it's really gripping. It's a page-turner."
K. Todd Freeman (Mr. Poe)
"The Lost City of the Monkey God. It's about Mayan archaeology. It's about the White City, Ciudad Blanca, in Honduras, and it's about this rediscovery of this ancient place, where they worshiped a monkey as a god. It's a great story so far."
Cleo King (Mrs. Poe)
"Shonda Rhimes, The Year of Yes. I love that book. Say yes to everything. Shonda Rhimes, I love her so much. I met her at a book signing, and for me, this is everything. She totally said yes, because she was living in her own world, in her own home, and not doing anything, and then saying yes changed her life."
Usman Ally (Hook-Handed Man)
"Right now, The Sellout, by Paul Beatty. It's great. It's about a man in a small town in Southern California, an African-American man, who decides to recreate slavery, re-institutionalize slavery. It's a satire, and it's incredibly biting. A little disturbing, but I love it. It's funny, if you like things that make you uncomfortable. I highly recommend it, and I'm only halfway through it."
Jackie Robbins (White Faced Woman #1)
"Daniel Handler's A Series of Unfortunate Events. Exquisitely written books. They're preserving the English language. They're books that you can read over and over again and still glean something new. He writes sardonically, self-deprecating. He uses reverse psychology. And they're just hilarious."
Barry Sonnenfeld (executive producer)
"Truthfully, several things. I'm reading the last four books, which we will need for season three, and I'm seeing if there's anything for season two that we can add in. And then I'm also rereading Command and Control, which is about every almost-nuclear accident that ever happened in America over the last 40 years. It's by Eric Schlosser, and it's an amazing, scary book. I can't sleep, so I can be filled with tension and anxiety, and that does it for me."