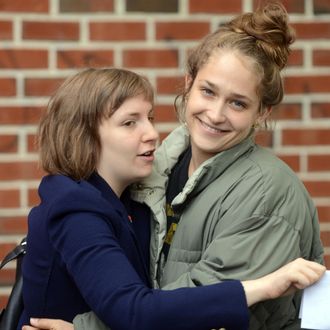 Hug it out.
Photo: Steve Sands/GC Images
Most people's friendships buckle and shift in their mid-20, but at least most people don't have to work through that drama while shooting a TV show. In the past, Lena Dunham and Jemima Kirke have been open about the stresses of working together on Girls, and in a recent roundtable interview in Glamour, the two discussed how, a few days before shooting season two, Kirke told Dunham that she had decided to quit the show. "I remember being in a cab. And Jemima called me," Dunham said. "She was like, 'I have to tell you something. It's not a big deal. I don't want you to freak out. I want to quit the show.'" Kirke said that at the time "my sense of who I was and what I wanted was really thin. I really wasn't sure what the fuck I was doing." At the time, Kirke's character, Jessa, had just gotten married on a whim, so it's fair to say that Girls may not have entirely known what it was doing with Jessa, either.
Kirke and Dunham have been open about the ups and downs of their on-set relationship before. In an episode of Dunham's Women of the Hour podcast last year, Kirke discussed how, as Girls went into its second season, she was unsure whether she wanted to be an actress and didn't feel comfortable with the way Dunham was drafting her character. "You created this character for me and I feel like at times maybe I felt like I was being turned into a caricature, because I know you write from life a lot," Kirke told Dunham. "Sometimes I felt like, 'Is this who she thinks I am?'" Luckily, the two were able to work through their differences, and Kirke stayed on the show. The same can't quite be said for the "one very abrupt departure," as Allison Williams put it elsewhere in the Glamour conversation, of Christopher Abbott, who played her character Marnie's boyfriend Charlie and left the series after season two. It appears that that's now water under the bridge, though: Dunham says that she and Abbott text all the time, and he did eventually return to the show last season, though very, very changed.