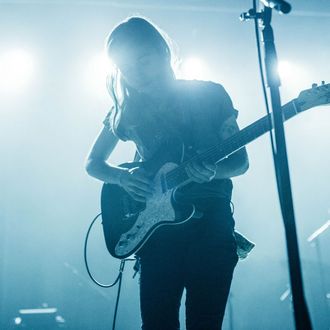 Julien Baker.
Photo: Nolan Knight
Sad-song wunderkind Julien Baker has had one hell of a year. In the little more than a year since her heartbreaking debut album Sprained Ankle was released, she's garnered rapturous critical acclaim, put her English major at Middle Tennessee State University on hold to tour the world (it was her first time out of the country), and signed to legendary indie record label Matador. But the surprise success of Sprained Ankle, which Baker put out independently before the label 6131 Records approached her to give the album an official release in October 2015, hasn't left the 21-year-old Tennesseean resting on her laurels. "Whenever people ask, 'Are you writing?' I'm like, 'Yes, I'm always writing,'" Baker told Vulture. One of the songs she's written since Sprained Ankle is "Funeral Pyre," a spare, poetic lament for a toxic relationship that culminates with the swelling of atmospheric finger-picked guitars.
While the song, which was released today digitally and will be released in physical form as the A-side of a 7-inch on Matador on March 17, fits thematically with the Sprained Ankle era, Baker says her music has matured sonically and lyrically since then (not to mention the fact that "there are notes that I straight-up don't hit on [Sprained Ankle] that I can now since I quit smoking," she jokes). But if you're concerned that her next album will stray too far from the minimal song structures and raw production that helped make Sprained Ankle so devastating, Baker assured us that she's aiming to improve upon the formula that's made her music resonate, not scrap it entirely.
"I think the [recording] process will be different. I want that to mean just that I let the songs develop more … not that I all of a sudden am like, 'Now I have all these resources at my disposal, why don't I have full woodwind sections for no reason,'" Baker says. "I don't want to give myself the option anxiety of doing things just because they're there." So here's to more sad Julien Baker songs to cry to in the near future.