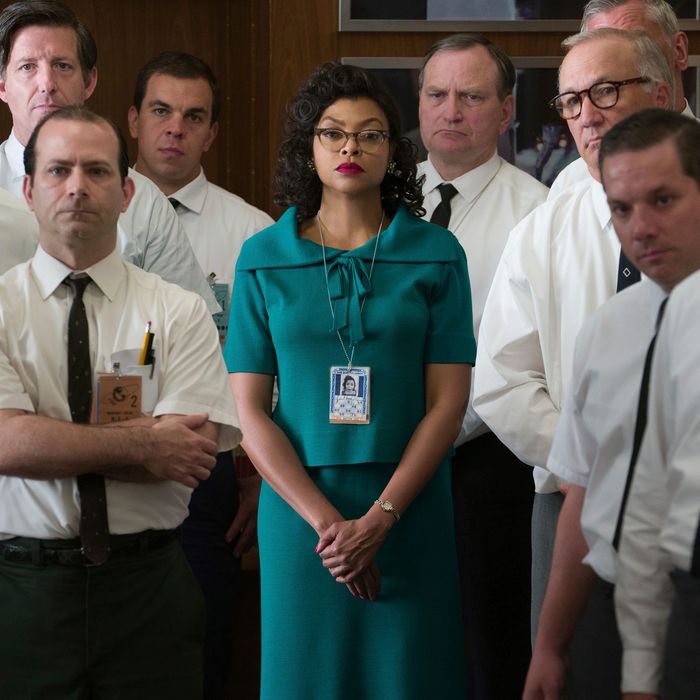 Taraji P. Henson in Hidden Figures.
Photo: Hopper Stone/Twentieth Century Fox
The Main Story
Hidden Figures topped the box office once again, and not just on any weekend: It was the weekend of MLK Day, which the president-elect spent attacking one of the major figures of the civil rights movement. Hidden Figures showed a remarkable hold from its wide-release debut, falling just 10 percent in its second weekend, and it comfortably won the four-day with about $25 million, giving it nearly $60 million already. At a mere $25 million budget, the film has already proven a solid return on investment for Fox, and its continued relevance going forward — in case you've forgotten, the inauguration is next weekend — could give it unusually long legs, particularly if a Best Picture nomination comes along with the financial success.
What's also notable about Hidden Figures is how rare it is: It's the first movie with multiple female leads to top the box office two weekends in a row since The Help in 2011. Moreover, those leads are black; according to the University of Southern California, only 17 of the top 100 films in 2014 featured either a lead or co-lead who was played by an actor of color. And, as Kyle Buchanan pointed out earlier this year, often when Hollywood does cast black actors, it obscures them either with makeup or CGI. Hidden Figures has yet to debut overseas, and its appeal worldwide certainly pales in comparison to that of typical studio fare, so it won't single-handedly turn Hollywood away from blockbusters about robots and superheroes. But the film's success does reinforce the case that distributors ignore actors and characters of color to their own detriment, both culturally and financially.
The ongoing success of Hidden Figures is a far cry from the welcome received by another of this weekend's high-profile offerings: After three weeks in just four theaters, Live by Night went wide this weekend, expanding to a substantial 2,822 screens. For its efforts, it earned an estimated $5.4 million over the three-day weekend, good for an average of about $1,922 per location. That is very bad. How bad is it? It's less than what Collateral Beauty made in its first weekend last year; it's less than what Nine Lives made in 600 fewer theaters. It's a disaster that can't solely be explained by its poor reviews, January release, or crowded marketplace, representing a potent alchemy of negative factors all coalescing at once; it's a particular kind of casualty, the Oscar contender pegged for the hypercompetitive holiday season that, once it failed to deliver on its promise, would've been better off in a less savage month — like October, when The Accountant broke out.
For Affleck, it's certainly a strange turn of events. As a director, he's coming off a Best Picture win for Argo, which made over $200 million worldwide; his film before that, The Town, earned $150 million; and along with debut Gone Baby Gone, he'd never made a movie that had lower than a 94 percent rating on Rotten Tomatoes. Back in September, before we'd seen much of Live by Night, it was in the (very early) Oscar conversation. Now, it's the kind of albatross that could potentially derail many promising filmmakers and threaten the fate of their next project, in Affleck's case Witness for the Prosecution, a remake of Billy Wilder's 1957 Agatha Christie adaptation of the same name. But fortunately for this filmmaker, he's Ben Affleck, and that means something.
Not only did he help The Accountant overperform earlier this year, at least partly balancing out the negative impact of Live by Night — he also plays Batman for Warner Bros., including not only the Zack Snyder DC Comics movies but a stand-alone Batman movie that he will write, produce, direct, and star in. While Witness for the Prosecution is set up at Fox and so under different considerations, WB is solidly married to Affleck, at least for the time being. If The Batman, not to mention Justice League, can right the shaky ship that is the DC Extended Universe, than the memory of Live by Night will fade away pretty fast. If not, well, then there are bigger problems to deal with than the underperformance of a mid-budget gangster movie.
What Else Happened?
Trailing behind Hidden Figures was La La Land, which, on the heels of its dominant Golden Globes performance, continues to print money. Damien Chazelle's musical has already made nearly $75 million domestically even though it's yet to occupy more than 2,000 theaters — and as it racks up Oscar nominations, that number's going to go way up, particularly if it performs as well at that ceremony as it did at the Globes.
A few other notables: Rogue One is on the verge of breaking $500 million domestically, as if Disney needed even more good news; The Bye Bye Man beat expectations with a little over $13 million, proving that STX has figured out a reliable playbook for distributing horror films on the cheap; Patriots Day did not deliver on the possibility of becoming this year's American Sniper, managing a disappointing $12 million in its first weekend of wide release; and Martin Scorsese's Silence, which always promised to be a tough sell to a larger audience, fell just short of $2 million in 747 theaters.
Last but not least was the opening of Monster Trucks, a movie whose prerelease buzz has been so bad that it caused Paramount's parent company Viacom to take a $115 million write-down. With $10.5 million in its first weekend, the film has a long way to go to earn back that $100 million-plus budget, but on the bright side: It got an A+ Cinemascore from audiences under 25. Once they get that word of mouth going in kindergartens, the sky's the limit.