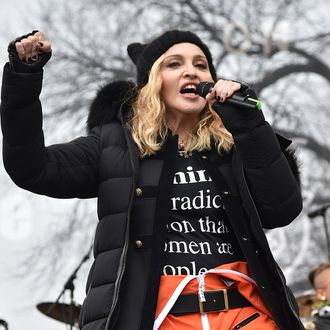 Photo: Theo Wargo/Getty Images
Following Madonna's Women's March on Washington speech — the one in which she told the crowd that she 'thought a lot about blowing up the White House' — a Texarkana, Texas, radio station HITS 105 has banned the pop star's music. Billboard reports that the station will remove the outspoken singer from its airwaves "indefinitely." Terry Thomas, the station manager, wrote in a press release:
Banning all Madonna songs at HITS 105 is not a matter of politics, it's a matter of patriotism. It just feels wrong to us to be playing Madonna songs and paying her royalties when the artist has shown un-American sentiments. If all stations playing Madonna took their lead from us, that would send a powerful economic message to Madonna.
How often HITS 105 would otherwise play Madonna is unclear. According to the station's Facebook page it plays "the greatest hits" of  the '60s, '70s, and '80s, so presumably that, at one point, included at least "Express Yourself" (something Madonna was doing with her speech), but not 2015's "Bitch I'm Madonna" (a sentiment she probably has right now).