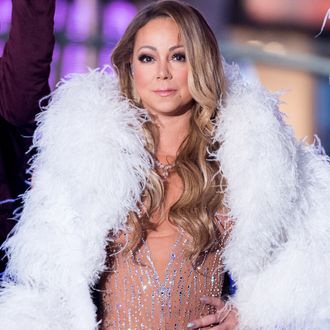 Photo: Noam Galai/Getty Images
Not content to sweep Mariah Carey's not-so-rockin'-but-plenty-sparklin' New Year's Eve performance under the rug with a simple "shit happens," Mimi's team dedicated the first day of 2017 to blaming the production team behind Dick Clark's New Year's Rockin' Eve With Ryan Seacrest. After a Carey rep came forward to explain that there was an issue with Carey's in-ear monitor that the producers failed to fix before showtime, the diva's manager, Mariah's World cast member, and guard dog Stella Bulochnikov has now further elaborated on Dick Clark Productions' alleged wrongdoing. "We told them [the stage managers] that the in-ears were not working 10 minutes before the performance," Bulochnikov told Billboard. "They then changed the battery pack, and they were still not working on the frequency four minutes before the show." The manager went on to explain that without a working earpiece, it was impossible for the "Against All Odds" singer to hear her music cues over the Times Square crowds. Bulochnikov continued her scathing statement against the production:
After the show, I called [Dick Clark Productions'] Mark Shimmel and I said, "What the f— happened?" He said, "Let me call you back," then called me back and confirmed the in-ears were not working and asked if I would make a joint statement. I said, 'No way.' I asked him to cut the West Coast feed. He said he could not do that. I asked him why would they want to run a performance with mechanical glitches unless they just want eyeballs at any expense … It's not artist friendly, especially when the artist cut her vacation short as a New Year's Eve gift to them.
 
But Dick Clark Productions (DCP), which also puts on heavy-hitting live-televised events like the American Music Awards and Academy of Country Music Awards, did not take Bulochnivok's words kindly. They responded to Billboard with a statement refuting Mimi's team. DCP said that any gross oversight or efforts to "intentionally compromise the success of any artist" is "defamatory, outrageous and frankly absurd." DCP also said that after an investigation they found no problems on their side of the performance. Inside sources reportedly told Billboard that there was indeed an issue with the in-ear monitor's frequency, but they claim the problem can be traced back to Carey's tech team. Stay tuned to this frequency for more updates on who else can be blamed for Mimi standing around smiling.