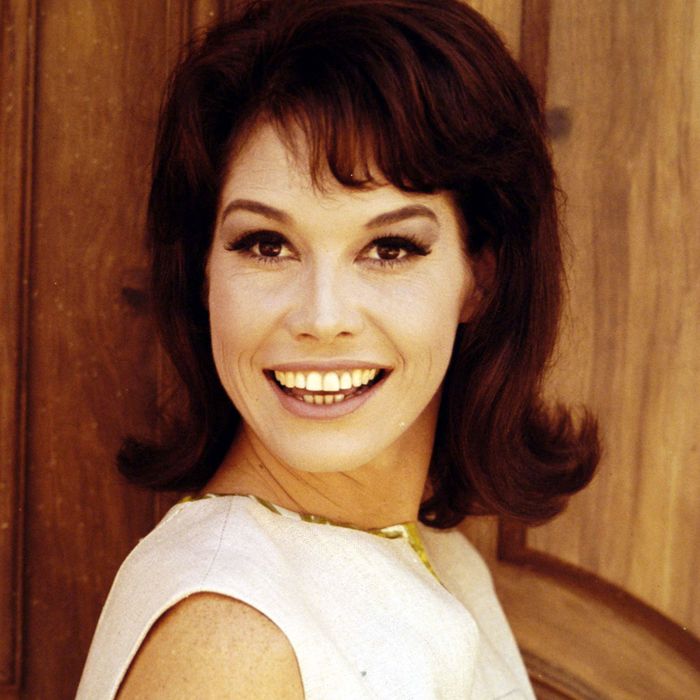 Photo: UPPA.CO.UK/Getty Images
Mary Tyler Moore was a cultural giant who carried herself with a dancer's grace. She died today at 80, leaving behind a transformed TV landscape, more hospitable to wry, subtle character comedy and more respectful of the emotional lives of women. In a medium still dominated by men, covered by a press corps that still seems inclined to look for the next brooding and obsessive male auteur, we shouldn't forget that Moore was an auteur herself, and one of the most important in TV history. Her acting career blazed new trails for women in the entertainment industry, and her work as a producer helped popularize TV sitcoms and dramas that weren't plot- or even gag-driven, but built around characters' emotions and needs. The astonishing evolution of scripted television in the last 20 years was preceded by the work of figures like Moore. When her most famous character, Mary Richards, tossed her hat in the air in the opening credits of The Mary Tyler Moore Show (1970–77), the medium instantly warmed to her sunbeam smile; over the next decade and beyond, her example liberated television in ways that it has only begun to understand.
Moore's landmark star vehicle was preceded by her stint on The Dick Van Dyke Show (1961–66), a sitcom set against the world of New York comedy programming. She played Laura Petrie, the goofy yet supremely elegant wife of Van Dyke's comedy writer Rob Petrie. On both that series and The Mary Tyler Moore Show, set at a Minneapolis news station, Moore presented audiences with a new female image: the kindhearted but resilient urban sophisticate, smart and sexy and funny, slightly neurotic and a bit of a kook. We take that type for granted now — 30 Rock's Liz Lemon has her own peculiarities, but functionally she's Mary Richards running Saturday Night Live — but it felt bracingly new at a time (the 1960s and '70s) when sitcoms tended to define female leads as girlfriends, wives, or mothers first.
Her chemistry with Van Dyke was so extraordinary that it ruled out any possibility of the show turning into a more urbane riff on I Love Lucy, a great sitcom in its own right, but one often predicated on making its star and co-executive producer, Lucille Ball, into the butt of jokes as her character, homemaker Lucy Ricardo, tried to wheedle into her bandleader husband's glamorous showbiz life. The Petries, in contrast, were equals in every way except financially. And the show's creator, writer-actor Carl Reiner, kept contriving reasons to have them do comedy routines and dance numbers together, because every time they did it they killed. Reiner and the show's writers made The Dick Van Dyke Show's good-looking, slender stars into a power couple who never would have thought of themselves that way because they were oblivious to their own charm. With their urban, liberal WASP glamour, the Petries were comedy mirrors of John and Jackie Kennedy, as well as a harbinger of the lovable chatterbox yuppies who would start to dominate sitcoms in the '80s.
Moore's follow-up to The Dick Van Dyke Show was ultimately more important because it broke so much more ground. While it distributed its attention democratically among associate news producer Mary Richards (Moore) and her co-workers, and fashioned Moore's character as the reactive center of a storm of eccentricity, it was unabashedly a star vehicle that put its top-billed actress front and center, just as The Dick Van Dyke Show had with its namesake. Overseen by writer-producer James L. Brooks, who would become a legendary figure in his own right, it was also the first major sitcom to revolve around a single professional woman who wasn't widowed. Moore originally wanted Mary to be divorced, but network TV circa 1971 wasn't ready to do that with a lead character, so the writers gave her a backstory that found her moving to Minneapolis after getting dumped by a boyfriend she'd helped put through medical school. Over seven seasons, the show gave Mary a series of boyfriends, all likable if a tad odd, but ultimately not quite right for her (a stray line in one episode implied that she was on the pill).
But while Mary's love life was a source of humor, it was ultimately of less interest to the series than the heroine's work life, which saw her navigating a cranky, hard-drinking boss (Ed Asner's Lou Grant, who eventually got his own CBS spinoff) and various oddball guest stars and office mates (including Ted Knight's pompous, thickheaded newscaster Ted Baxter and Gavin MacLeod's sardonic news writer Murray Slaughter) while trying to put on a popular local newscast of minimal integrity. One of The Mary Tyler Moore Show's staunchest champions in CBS's executive suite was Ethel Winant, one the few powerful women in TV in the '60s and '70s; she liked to tell the story about how, when she first started working at the network, there were no women's executive bathrooms, so she had to use men's bathroom and leave her shoes outside the door as a warning. Moore was a pioneer in that spirit, determined not just to carve out a place for herself, but fortify and sustain it.
To that end, The Mary Tyler Moore show established Moore as one of the most influential independent producers in network TV. She and her business partner and husband, future NBC president Grant Tinker, founded MTM in 1969, and turned their first effort, The Mary Tyler Moore Show, into a multiple Emmy-winning ratings hit. The company went on to air The Bob Newhart Show, Rhoda, and Lou Grant (both spinoffs of The Mary Tyler Moore Show), The White Shadow, WKRP in Cincinnati, Hill Street Blues, Remington Steele, and St. Elsewhere.
Moore's second most significant production after her self-named sitcom might be Hill Street Blues — an NBC police drama from future TV megaproducer Steven Bochco (and often written by future Deadwood creator David Milch) that fused tropes from the police procedural, the daytime soap opera, and the town Western, creating a show so blackly comic, unabashedly earthy, frankly sexual, and fundamentally adult in its worldview that it held almost zero appeal for kids. A great many cable dramas in the so-called "prestige" mode owe their existence to Hill Street, as well as to the hilarious and often-surreal hospital soap St. Elsewhere. Although their once-groundbreaking production techniques now seem like pokey classicism, their dry wit, empathy, and rigorous intelligence still shine through. You could say the same of sitcoms made by graduates of the MTM factory: Brooks, in particular, carried on in that tradition for decades, on everything from Taxi and The Simpsons to feature films like Terms of Endearment and As Good As It Gets (all of which were sometimes denigrated by critics as big-screen television comedies).
MTM's logo was a self-deprecating parody of the Metro-Goldwyn-Mayer (MGM) logo, its proudly roaring lion replaced by Mary Tyler Moore's meowing kitten, Mimsie. The logo changed depending on the series: The kitten at the end of The Bob Newhart Show said "meow" in Newhart's voice, the one at the end of Hill Street Blues sported a little patrolman's cap, and the one at the end of WKRP spun on a record player. When Mimsie died in 1988 at age 20, right before the final season of St. Elsewhere, the logo showed a still-framed image of Mimsie sleeping while an EKG pattern beeped. MTM's cat logo summed up the company's view of what television could be: a more intimate, inwardly directed cousin of cinema, not a direct competitor. This is an aspect of Moore's legacy that I hope doesn't get lost in the rush to talk about her likability and versatility onscreen. If you look at all the work that she put her name on as a producer, and all the careers that she helped nurture with and without Tinker (who left MTM after he and Moore divorced and he was named head of NBC), she followed in the footsteps of one her own role models, Lucille Ball, who co-founded Desilu with her co-star and husband Desi Arnaz and shepherded many legendary series, including The Andy Griffith Show, Star Trek, and Mission: Impossible, onto television.
But Mary Tyler Moore the performer will always be the first thing we think of. She was an expert farcical comic, screwball heroine, hoofer, and pratfaller (her "Raaahhhhhhb!" on The Dick Van Dyke Show is a worthy successor to Lucille Ball's "Rick-EEEEEEEE!"). There was often a sense that Moore's characters (Mary more than the others) lived life at a very slight remove from everyone around her, and were more thoughtful and watchful than the rest, though perhaps less naturally happy. Robert Redford cannily recognized the dark side of such a personality when he cast her as the withholding mother in Ordinary People who can't connect with anyone, even her own son — a role for which Moore received an Academy Award nomination and stunned people who thought of her mainly as a comic performer. (You were only surprised if you hadn't seen her 1978 TV movie First, You Cry, about a newscaster whose mastectomy changes her life.) Moore never seemed to be demanding that you look at her, but you could not take your eyes off her. She somehow managed to hold the screen while surrounded by characters that outshone her in energy and strangeness (a configuration Moore herself approved as producer), and yet that same faintly reticent, measured quality also suggested an inner strength, a rocklike solidity confirmed by Moore's lifelong success at defining her image and career on her terms.