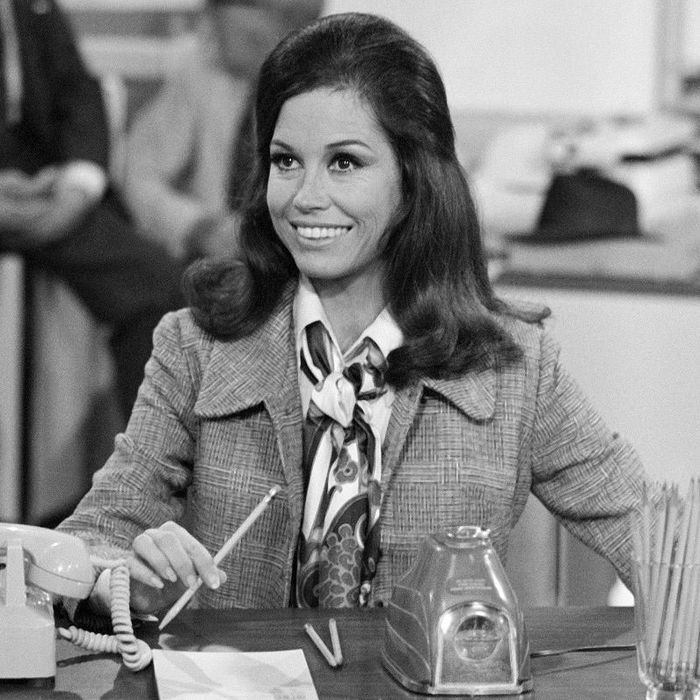 Mary Tyler Moore (as Mary Richards) sits at her new desk and sharpens pencils in an electric sharpener after being hired in the newsroom of television station WJM in a scene from "Love Is All Around."
Photo: CBS Photo Archive/Getty Images
If you have ever watched and enjoyed a television show that focuses on a career woman in the workplace, you should thank Mary Tyler Moore.
If you're a woman with a job, you should thank Mary Tyler Moore.
Actually, you know what? If you're a woman, period, you should thank Mary Tyler Moore.
The Mary Tyler Moore Show debuted on CBS in the September of 1970. A few days before its premiere, the New York Times ran a spread on the sitcom and a handful of other new fall shows that featured career-oriented women. The headline above it read: "Out of the Kitchen, Ladies." That, right there, tells you why Moore — who died yesterday at the age of 80 — and the series that shared her name were so important.
The other notable programs with a female-empowerment vibe — The Storefront Lawyers, The Interns, and Headmaster, in which Claudette Nevins played a teacher who was married to the show's real star, Andy Griffith — all ended after a single season. The Mary Tyler Moore Show lasted for seven and won critical acclaim, Emmy Awards, and strong ratings, all while conveying, with humor and humanity, that a woman's place was behind a desk with a typewriter and a telephone on it.
There were programs before The Mary Tyler Moore Show that focused on women who were employed. Our Miss Brooks, which made the leap from radio to television in the early 1950s, starred Eve Arden as a witty high-school teacher. Julia starred Diahann Carroll — the rare African-American female lead on prime time television — as a nurse and ran on NBC from 1968 to 1971. That Girl, the Marlo Thomas comedy about a single woman trying to make it on her own in New York, is considered a forerunner to Mary Tyler Moore (James L. Brooks wrote for That Girl before creating the latter series), but Thomas's Ann Marie was an aspiring actress who hopscotched through temp jobs. She didn't represent a career woman in the same way Mary Richards did, who worked for the same station for the duration of the series.
Unlike Julia, who was a widower, Mary had never been married. Unlike Ann Marie, she had a consistent job. And unlike Connie Brooks, Mary Richards was working in a position that was not typically given to women. The fact that Moore took on such a role when she was previously known for doing what most women on television did at the time — playing the housewife — made the evolution to working girl that much more significant.
In the very first episode of The Mary Tyler Moore Show, Mary shows up at WJM to apply for a secretarial job. After meeting with her boss, Lou Grant (Ed Asner), she's told that the position has been filled, but that he might consider her for another job, even though he had intended to hire a man for it. After chatting for a bit and deciding he might like her despite her spunkiness — "I hate spunk," he famously growls — Lou decides to bring her on board as an assistant producer, though he warns her that the gig, which sounds more challenging than the secretary one, actually pays $10 less per hour. Accepting less money to tackle a tough job and smiling all the while: That's what Mary does. That's what a lot of women still do.
Mary Richards was known for being sunny, occasionally emotional (Moore's way with an "Oh, Mr. Graa-aant" was magic), but smart, and plucky. She didn't walk into WJM with badass confidence like some Peggy Olson with a cigarette dangling from her lip. (CBS probably would not have allowed that at the time even if she'd had the instinct.) She kept putting one foot in front of the other, proving she could do exactly what the show's theme song promised: make it after all.
Mary Richards's presence on television didn't radically transform the medium right away. After The Mary Tyler Moore Show ended in 1977, there were still plenty of wives and mothers hanging around. But it did make room for more and more single working women to make their presence known. On WKRP in Cincinnati, another MTM Production, Bailey Quarters (Jan Smithers) was, like Mary, a capable women who stumbled her way upward into a job as a news reporter and had to put up with some idiot male colleagues. On Cagney and Lacey, the '80s female buddy-cop show, Sharon Gless's Christine Cagney was single and job-oriented while her partner, played by Tyne Daly, had a husband and family. In a reflection of the times as well as the path that Mary Richards had begun to forge, more and more of the moms on television — Claire Huxtable, Elyse Keaton, Maggie Seaver — also had careers, too.
Every series that came later and  focused on women navigating a workplace, from Murphy Brown to Ally McBeal to 30 Rock to Parks and Recreation, has owed a debt to The Mary Tyler Moore Show. Seriously, go watch an episode of TV Land's Younger and try to tell me that Sutton Foster, consciously or subconsciously, isn't conjuring a little bit of Mary Richards every time she tries to manage a crisis at Empirical Press.
But what's more important is the way that Mary Richards's existence signaled to young women that the challenges of work are just as vital to one's womanhood as becoming a wife and mother. For some, those challenges are even more vital. Women who were old enough to watch the show and relate it to as adults or young adults immediately saw the possibilities it allowed them to envision for themselves.
If you were not alive or were very young during The Mary Tyler Moore Show's original run, it may have acted as a beacon in ways you didn't even realize. I was quite young in the 1970s, and wasn't even alive during the first couple of seasons the show was on the air. I remember bits and pieces of it, but don't feel like I fully watched in its entirety (something I, by total coincidence, mentioned on a recent episode of the Vulture TV Podcast). But as I was streaming some episodes on Hulu yesterday, certain details — the sound of the theme song, right down to that little ding at the end; the absurd arrogance of Ted Knight's Ted Baxter voice, the meow of the MTM kitty cat at the end — transported me back to that time period in a way that made me ache. Had I watched more of this back then than I remembered? It's possible. The TV was on in our house pretty much 24/7. (This was an era when the term "screen time" did not exist.)
It struck me that, especially at a young age, we are so porous, we just absorb what's in the air around us. The Mary Tyler Moore Show was in the air back then, and the image it projected — of a woman with growing confidence, primarily presented in and defined by her professional surroundings — stuck to us, even if we didn't know it.