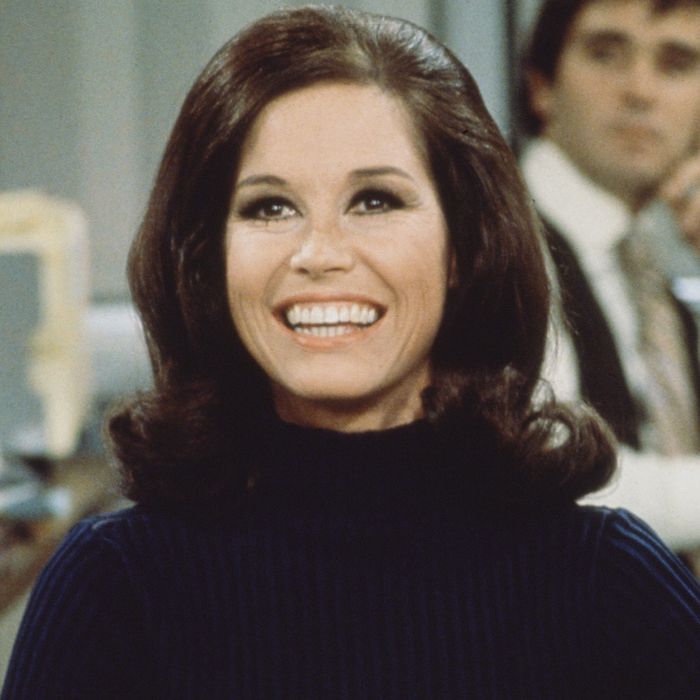 Mary Tyler Moore. (Photo by Photoshot/Getty Images)
Photo: CBS Photo Archive/CBS via Getty Images
As reported by TMZ this afternoon, Mary Tyler Moore died Wednesday, and she leaves behind a swath of film, television, and stage work, from her appearances on sitcoms to Oscar-nominated work in film, and more than a few winking cameos later in her career. While it's always worth revisiting The Mary Tyler Moore Show, plenty of Moore's other work is also available to rent or stream online. Here's where you can watch some of Moore's most notable films and TV shows.
The Dick Van Dyke Show (1961–1966)
Moore first came to fame on TV playing the housewife and dancer Laura Petrie alongside the titular Dick Van Dyke on the famous CBS sitcom. She won two Emmys for her role, and famously, convinced the studio to let her wear pants for the role.
Streaming on Hulu and Netflix, also available for purchase on Amazon and on DVD.
The Mary Tyler Moore Show (1970–1977)
Career girl Mary Richards tries to make it on her own in Minneapolis as a producer on a TV news show. The series, created by Allan Burns and James L. Brooks, remains one of the most acclaimed sitcoms of all time, and as portrayed by Moore, Richards became the model for many TV heroines to come, from Liz Lemon to Hannah Horvath. The show also has the legacy of featuring greats like Cloris Leachman and Betty White, and spinning off both Rhoda and the surprisingly dark drama Lou Grant. (Find a few of Vulture's recommended episodes here.)
Seasons 1–3 are streaming on Hulu. All seasons available for purchase on iTunes and Amazon Prime
Ordinary People (1980)
Moore went wildly against type as the chilly mother in this dark family drama. She earned an Oscar nomination for her role, while the film itself won Best Picture.
Available to stream with a Starz subscription; to rent on Amazon, YouTube, Vudu, Google Play, and iTunes.  
Six Weeks (1982)
Mary Tyler Moore stars across Dudley Moore (no relation) in this weepy drama that's mostly a vehicle for Katherine Healy's figure skating. Perhaps not the best showcase for Moore's work, it earned her a Razzie nomination for Worst Actress.
Available to stream on Hulu; to rent on Amazon, YouTube, iTunes, Vudu, and Google Play.
Just Between Friends (1986)
Moore and Christine Lahti play friends, whose relationship falls apart over Ted Danson's character. Mostly good for imagining a potential MTM-Cheers crossover universe.
Available to rent on Amazon, YouTube, iTunes, and Google Play.
Flirting With Disaster (1996)
Moore plays Ben Stiller's adoptive mother in David O. Russell's early black comedy. She gets to show off a very New York accent, her love of chunky jewelry, and extol the virtues of a good bra.
Available to rent on Amazon, YouTube, iTunes, Vudu, and Good Play.
That '70s Show (1998–2006)
Moore returned to both the 1970s and the newsroom for a guest appearance as an exacting news anchor in episodes 10 through 12 of That '70s Show's eighth season. Come for the loving entrance applause the studio audience gives Moore, stay for the chance to watch her gleefully chew out Mila Kunis.
Available to stream on Netflix; to rent on Amazon.
Hot in Cleveland (2010–2015)
In some of her final onscreen appearances, Moore checked back in with her former MTM co-star Betty White on TV Land's Hot in Cleveland. She first appeared in the season-two premiere and returned in season four for a reunion that added Cloris Leachman, Valerie Harper, and Georgia Engel, all, fittingly, playing old friends.
Available to stream on Hulu; to rent on Amazon, iTunes, YouTube, Google Play.