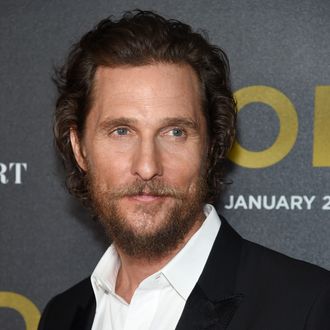 Matthew McConaughey.
Photo: Jamie McCarthy/WireImage
Though Matthew McConaughey "actor of prestige" may sound like old hat now, there was an age, before the McConaissance and the gross overuse of that term thereafter, when things were well, dark, for the actor. The year was 2009, and McConaughey had just released Ghosts of Girlfriends Past, a haunting piece of cinema if ever there was one. Once it proved to be a misfire, the latest in a series for the actor, McConaughey decided to kiss his romantic-comedy halcyon (and the accompanying $5 million payday) good-bye. But, as he explains to The Guardian, moving away from the genre wasn't so easy. For a while, the rom-com requests kept coming, and then there were no requests at all.
"My agent did a good job saying no, no, no. Then the studios got the message and quit sending them. Then there was an impasse of nothing. And there was nothing for about eight months," he reveals. The silence was nerve-wracking for McConaughey, who explains, "The anxiety was in how long will it be dry, how long will we get nothing?" and that at the time, he thought, "This shakes my floor a bit." Career resuscitation only came once he started doing smaller projects, living by the motto, "Fuck the bucks — I'm going for the experience." Doesn't quite capture the lazy charisma of "alright, alright, alright," but, hey, still catchy!