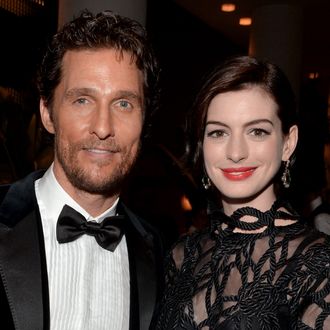 Matthew McConaughey and Anne Hathaway.
Photo: Lester Cohen/WireImage
Matthew McConaughey and Anne Hathaway are in talks to put the ol' Interstellar team back together again for Serenity. Per Deadline, the actors are negotiating to star in the film, described as a "sexy noir," that is sadly not about a ragtag group of rebellious outcasts avoiding capture at the hands of an enemy regime by riding around on a spaceship. Instead, it centers around a fishing-boat captain (McConaughey can keep his preferred facial hair, good) whose past is "about to crash up against his life on a small island in the Caribbean, ensnaring him in a new reality that might not be all it seems." Presumably the new reality still includes people, one of whom would be played by Hathaway. Nothing's official yet, so talks now, Serenity later.