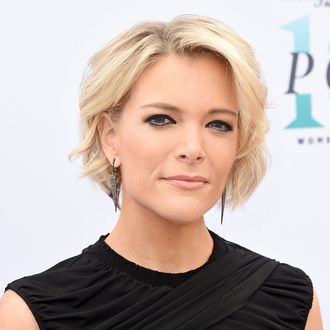 Photo: Kevin Winter/Getty Images
In what's guaranteed to be one of the biggest news shake-ups of 2017 — and it's not even February! — it was announced this week that Fox News journalist Megyn Kelly would be transitioning from Fox into a "broad new role" at NBC News. The multifaceted deal at the Peacock will include Kelly hosting her own daytime news and discussion program, anchoring an in-depth Sunday evening news show, and regularly taking part in the network's special political programming and other big-event coverage. Of course, this means Kelly would be leaving her own Fox show The Kelly File — the second-most-watched Fox News show after The O'Reilly Factor — thus ending a professional relationship with the network that spans nearly 13 years. The final Kelly File episode aired last night, where she used her final moments to reflect on her bittersweet decision. "Night after night, you have welcomed us in your homes for some of the biggest moments of recent history," she said in her sign-off. "We have tried to live up to the honor of being there. I am sincerely grateful for your trust, your patience, and your good humor over the years, which is one of the reasons why saying goodbye is so hard." Without naming NBC, she continued to express even more gratitude to her viewers:
The truth is, I'm lucky to have been doing a job whose ending is bittersweet, and I leave you knowing I am better for having been here. I hope you feel the same. Thank you for everything, and I'll see you again soon.
Kelly has yet to have a start date at NBC, though it's already been announced that Tucker Carlson will succeed Kelly in her old Fox time slot.