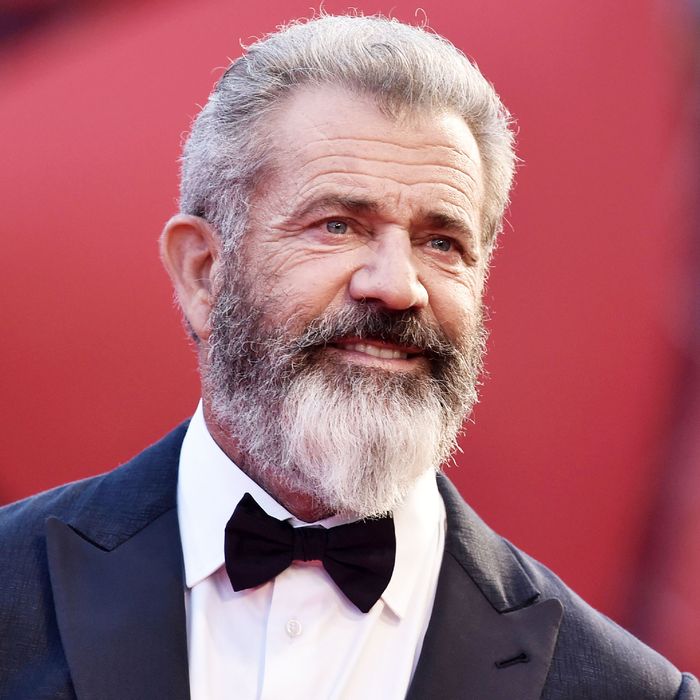 Mel Gibson.
Photo: TIZIANA FABI/AFP/Getty Images
When the Oscar nominations were announced Tuesday morning, one of the major narratives of this awards season reached what feels like, in hindsight, its inevitable conclusion. Back in August, I wrote about how Mel Gibson — ten years removed from the anti-Semitic tirade that originally waylaid his career — was poised to make a comeback, with a starring role in the French mad-dad thriller Blood Father and his first directorial effort since before the fall, Hacksaw Ridge, coming in the final few months of 2016.
While Blood Father didn't exactly become the next Taken, Hacksaw Ridge more than held up its end of the bargain. Released in November by Lionsgate — which also distributed La La Land and partnered with CBS Films on Hell or High Water, making this a very good awards season for the company — Hacksaw Ridge was intended to be an Oscar movie from the moment it got its release date. And when the names were finally announced, the movie delivered on that promise, scoring six nominations, including Best Picture, Best Actor, Best Editing, and, that's right, Best Director.
This is Gibson's second nomination for Best Director, following a nod in 1996 for Braveheart, which he also starred in. That film was the toast of its particular ceremony, taking home Best Picture as well as Best Director. Though La La Land will almost certainly prevent Hacksaw from replicating that feat this year, it doesn't really matter. Not only is Gibson back, having returned from exile to become an Oscar-feted filmmaker once again, he's managed to get Best Picture and Best Director nods for a film he didn't star in — something he didn't accomplish even in his heyday.
What should we make of this reversal? How did liberal Hollywood decide to once again embrace Gibson a few short years after leaked audiotapes and a domestic-violence accusation painted a picture of a him as an unhinged, abusive racist? The answer stems from Gibson's unwavering support within Hollywood's power structures.
For the right kind of people, the Academy can be an incredibly forgiving group. Despite spending decades in exile to escape a rape conviction, Roman Polanski won the Best Director trophy at the 2003 Oscars, and was widely applauded at the ceremony. Gibson has received the same benefits: In 2011, on the heels of his conduct toward Oksana Grigorieva going public, Vanity Fair's Peter Biskind found that the star still had plenty of powerful people in his corner. While major figures like Sony head Amy Pascal and agent Ari Emmanuel denounced him, many others stood firm in their support. Jodie Foster, who had recently directed Gibson in The Beaver, called him "the most loved man in the film business." (In 2016, she reaffirmed her support, saying that he was "certainly not sexist and certainly not racist.") And the pro-Gibson camp that Biskind found was demographically diverse in a way you might not expect, as black (Whoopi Goldberg, Danny Glover), Jewish (Richard Donner, Joel Silver), and female (Goldberg, Foster) voices spoke out in Gibson's defense.
The conviction of Gibson's defenders stood out. Here are some of the quotes Biskind collected regarding Gibson:
"He was one of the funniest, most charming guys you'd want to meet." — producer Rob Cohen
"I've never heard Mel say a bad word in regards to race or religion. And there were opportunities where I, who was born Jewish, was ready to blow up at somebody [who's also Jewish] and might have used some terrible [anti-Semitic] expression. Mel's always been in control of his passions and his emotions." — director Richard Donner
"I think I know Mel, in his heart, and I think he's not the way he's been characterized." — actor Danny Glover
Biskind also found a common through line between the worst episodes of Gibson's behavior: They seemed to be attached to his alcoholism. Gibson was well-known as an alcoholic by that certain point, and a key quote came from Dean Devlin, a producer on The Patriot: "He told me that when he drank this whole other character came out, and it was very self-destructive. He said, 'It's not like I won those fights. I lost every one of them.' It was behavior that he was not proud of. He confessed that there were these demons that he always fought, and he was doing everything he could to redeem himself." (Gibson called Devlin, who is Jewish, the day after his drunk-driving arrest to apologize; Devlin says he called a number of other people as well.)
Another Devlin quote was even more telling: "Mel will say anything to shock you. Whether he believes it or not. Nothing makes him happier than seeing your jaw drop. It's a very child-like thing. This is the actor in him trying to get a response."
As the leaked tapes proved, Gibson succeeded in that respect many times over. But both lines of defense pointed to a common belief: that the Gibson the public saw in the headlines wasn't the "real" Gibson; his worst impulses and behavior were connected to either his alcoholism or a superficial desire to provoke. As Shane Black put it when he explained why he and Robert Downey Jr. think Gibson should be a candidate to direct Iron Man 4:
Mel was great to [Downey Jr.]. Mel's been really nice to a lot of people, including me. I'll go on record saying I don't believe anyone should be held accountable in any way for something they say while they are drunk. It's not who they are. I know this because I've said horrible things to people and made them feel bad. And it wasn't who I was, I was just drunk. Mel's a great guy and I understand his new directing project is actually quite interesting. So, whatever. If you say something sober it's one thing. If you're drunk, you're going to deliberately be belligerent just to piss people off. You know the effect you're having and you don't care.
As Black mentioned, Gibson has stood by plenty of other Hollywood figures who suffered their own downfalls, and that kind of thing gets remembered. But this isn't charity, either; Gibson's films make money. In addition to its Oscar nominations, Hacksaw Ridge was a minor hit, grossing over $150 million worldwide on a relatively small $40 million budget, and that box office will likely go up now that the film's been widely nominated. The last thing Hollywood will argue with is success, and every single time Gibson's stepped behind the camera, he's been successful, at least from a monetary standpoint — even his ultraviolent Mayan-language Apocalypto did solid business. And begrudgingly or not, critics seem to respect Gibson as well: Hacksaw Ridge is at 86 percent on Rotten Tomatoes, even if it (fascinatingly) didn't even show up in the Village Voice's critics poll, and Apocalypto had such noteworthy fans as Martin Scorsese and Quentin Tarantino.
Like it or not, Gibson is back, and this is only the beginning. Next year he'll try to make his proper return to acting in the historical drama The Professor and the Madman opposite another controversial figure, Sean Penn. (The movie's directed by Gibson's Apocalypto co-writer, Farhad Safinia.) According to IMDb, he's also in production on Berserker, the long-gestating Vikings epic that would reunite him with Braveheart writer Randall Wallace. At one time, Leonardo DiCaprio was attached to star in that film. For the last ten years, the suggestion of DiCaprio acting in a Mel Gibson movie would've been met with laughter. Now, it just sounds like business.