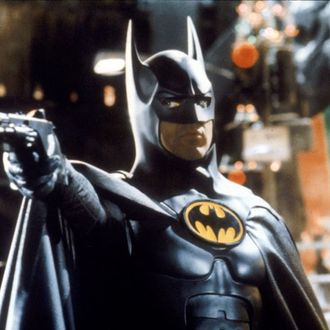 Michael Keaton in "Batman Returns."
Photo: Warner Bros.
As Michael Keaton gears up to play Vulture's official mascot in Spider-Man: Homecoming, it's only natural for the star to look back at that other time he suited up for a comic-book movie. And while 1989's Batman and 1992's Batman Returns were both critical and commercial hits, there's a reason he passed the iconic cowl to Val Kilmer for 1995's Batman Forever. Turns out, the script "sucked." Getting candid about the project on The Hollywood Reporter's Awards Chatter podcast, Keaton revealed that a lot of his reservations came from Joel Schumacher's vision, once Schumacher took the reins from Tim Burton, who directed Batman and Batman Returns.* "The script never was great. I didn't understand why [Schumacher] wanted to do what he wanted to do," he explained. It seems that while Keaton preferred the moodier vibe of Burton's Batman, Schumacher wanted to lighten things up. Per Keaton, "I knew it was in trouble when he said, 'Why does everything have to be so dark?'"After sticking it out through "many meetings," Keaton eventually had to walk away from the project, citing irreconcilable differences. Because while Batman might be forever, you can't say the same for Michael Keaton's patience.
* This article originally referred to Warner Bros.' initial Batman film series as a trilogy. It is a series of four films.