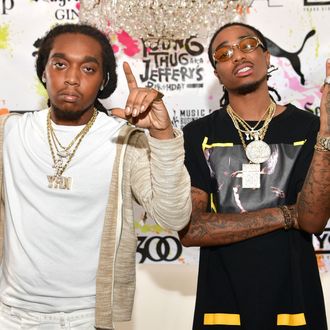 Another victory for Atlanta.
Photo: Prince Williams/Getty Images for PUMA
Even before Migos were the talk of the Golden Globes, their latest single was fast approaching the top tier of chart excellence. Now, with the added insurance of a Donald Glover acceptance speech shout-out, the Migos are No. 1 in America's hearts. "Bad and Boujee," featuring Lil Uzi Vert, has risen above Rae Sremmurd's "Black Beatles" on the Hot 100 this week after jumping to No. 2 last week, perhaps validating Glover's backstage claim that Migos are in fact the true "Beatles of this generation." It's the first No. 1 song for the Atlanta rap trio, who appeared on Atlanta's first season; and, thanks to all your glorious memes (raindrop, drop top, you know the rest), the song has exploded on streaming. It was played 19.3 million times on YouTube last week alone. After Glover's praise at Hollywood's flashiest night before the Oscars, the song could see an even bigger potential second week at No. 1. (Its streams have already reportedly spiked.) May "Bad and Boujee" be the song that soundtracks every bougie awards show after-party this season.