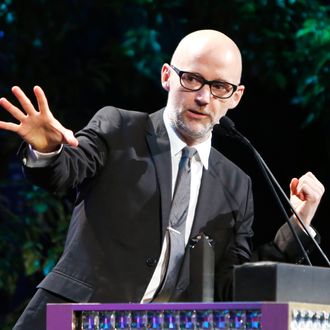 Photo: Randy Shropshire/Getty Images for Environmental Media Association
While the list of performers who have reportedly refused to play at President-elect Donald Trump's inauguration is vast and varied (see Céline Dion, Elton John, and more), the idea that the event's bookers would tap vocal anti-Trumper Moby is a bit of a head-scratcher. Still, the electronic music legend claims that he was approached to DJ at one of the inaugural balls. Moby wrote about it on Instagram:
Hahahahaha, I was just asked by a booking agent if I would consider djing at one of the inaugural balls for #trump… Hahahahaha, wait, Hahahaha, really? I guess I'd DJ at an inaugural ball if as payment #trump released his tax returns. Also I would probably play public enemy and stockhausen remixes to entertain the republicans. I'm still laughing. Hahahaha. So #trump what do you think, I DJ for you and you release your tax returns?
Since it seems unlikely that the future 45th president will give up his tax returns for a night of Moby music, Billboard reached out to the musician to see if it could get a copy of this theoretical Public Enemy–heavy playlist. Moby delivered, and in addition to the promised tunes, he also threw in plenty of protest and politically charged songs, including "Get Up, Stand Up," "What's Going On," and "We Shall Overcome." Subtle it is not.