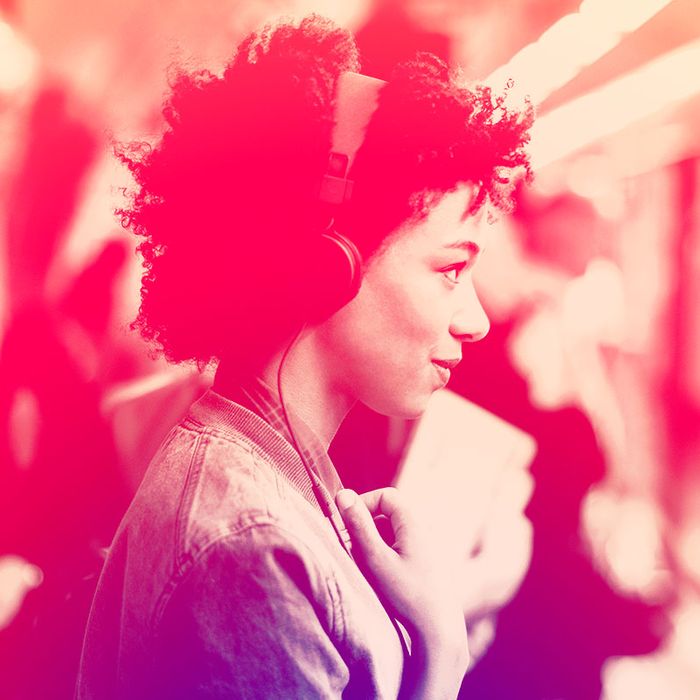 Photo-Illustration: Vulture and Getty Images
The podcast industry, being nascent and still relatively informal, hasn't quite developed the machinery to launch new shows with a lot of fanfare just yet. In the past, networks had a tendency to drop new shows or seasons without much notice or buildup, which made it hard for superfans to get hyped in a way that doesn't feel like whiplash. That remains largely true this year, though we do have a better sense of a few big new releases on the horizon. (Even if the specific release dates remain vague.) Here are the nine new shows I'm excited to see in the coming 12 months.
Ponzi Supernova (Audible, Mid-January)
Financial malfeasance is one of the defining issues of our waking life, and Bernie Madoff is its geriatric poster boy. He's the subject of this upcoming documentary, which promises a bounty of interviews with the man himself and, subsequently, moral questions over the ethics of giving the dude a platform after the fact. Audible made huge waves last year when the audiobook platform launched its original programming initiative, and it's hungry for a hit. Essentially a financial spin on the true-crime genre that always seems to kill among podcast listeners, Ponzi Supernova — hosted by longtime New York Magazine contributor Steve Fishman, who interviewed Madoff for "The Madoff Tapes" cover story in 2011 — is poised to be the company's first real big swing.
Upcoming Serial Spinoff (This American Life, March)
This American Life's insanely popular spinoff is getting its own spinoff. According to senior producer Julie Snyder, who dropped a few details during last November's Third Coast International Audio Festival, the spinoff will be an "arty" and "novelistic" seven-part series about a man who despises the Alabaman town he's lived in his whole life and decides to do something about it. The series is being produced by longtime This American Life staffer Brian Reed, and it's set to roll out in March. Oh, man. Oh, man.
36 Questions (Two-Up Productions, Spring)
Believe it or not, this podcast is set to be a full-length musical about a couple trying to save their marriage by answering the series of 36 romance-inducing questions that went viral a couple of years ago. It's a bizarre, sweet premise, and in a lot of ways, executing a musical as a podcast seems like a no-brainer. Two-Up Productions was responsible for the 2015 hit audio drama Limetown, which particularly excelled at creating a solid, cinematic atmosphere despite a fairly conventional plot. The fun question here is how 36 Questions will sound: an evocation of a Broadcast cast album, or something more native to podcast aesthetics? We shall see.
30 for 30 (ESPN Audio, Late Spring)
ESPN's widely loved sports-documentary series is being adapted to audio, and I'm losing my mind. The Two Escobars is one of my all-time weekend-afternoon couch engagements, and I'm still reeling from OJ: Made in America's seven-hour intensity. One wonders, then, what's in store from the stellar team of radio producers — led by former WNYC staffer Jody Avirgan — that ESPN has assembled to handle the adaptation, which will feature completely original stories made specifically for your earballs.
Ear Hustle (Radiotopia, Summer)
The indie podcast label Radiotopia has long excelled at recruiting gorgeously produced, distinctive-sounding, and fiercely singular gems into its roster: 99% Invisible, Song Exploder, The Heart, and so on. The upcoming addition to its family, Ear Hustle, focuses on stories of life within prisons from the perspective of those who live it, and it appears to be the label's most topically ambitious show to date.
Nancy (WNYC, Spring)
Nancy was one of the winners of a WNYC talent-search initiative that took place back in 2015 and has been quietly in development ever since. The podcast will finally hit feeds this summer and is set to be a magazine show that mixes interviews, personal essays, and original reporting surrounding the LGBTQ+ experience. Will WNYC, which enjoyed a strong 2016 with the success of 2 Dope Queens and More Perfect, finds its next hit in producers Kathy Tu and Tobin Low?
Upcoming Michael Barbaro Project (The New York Times, TBD)
In addition to dealing with a post-fact world, a fake-news epidemic, and a particularly antagonistic president-elect, the New York Times is planning to spend 2017 further building out their audio division. The organization has thus far assembled its programming stable primarily around shows that seem more at home in its "Culture" and "Style" sections than anything that would make the front page. (See: Still Processing, Modern Love.) The one exception was The Run-Up, which covered the 2016 presidential elections, and with that horse race behind us — and the looming nightmare ahead — the Times has moved the host of that show, political reporter Michael Barbaro, into its audio team full-time, and is apparently building a new project around him. I'm betting it's the audio equivalent of the front page, and am particularly interested to see how the Times builds a journalistic force within podcastland.
Upcoming Sam Sanders Project (NPR, TBD)
The NPR Politics Podcast was one of last year's standout shows — it made my Best Overall Podcast of 2016 list — and a big part of its appeal was co-host Sam Sanders, whose thoughtful charisma grounded the wonkiness of the reporting being delivered. Looks like the Powers That Be over at the public radio mothership noticed that as well, and they have bumped Sanders up to prime-time with his own show. Details of the project's actual subject matter remain fuzzy, but Sanders is the point here.
Upcoming Mountain Goats Collaboration (Night Vale Presents, TBD)
I think it's safe to say that Night Vale Presents is the most interesting podcast company right now. Leveraging the success of its beloved creepy fiction show Welcome to Night Vale, NVP seeks to pull artists from across a variety of mediums into the podcast format. Its first three releases — Alice Isn't Dead, Within the Wires, and The Orbiting Human Circus (of the Air) — are fiction projects that were often fun, innovative, and surprising takes on the form, pushing aesthetic boundaries at a high level that very few others are even attempting. The team will make its first foray into nonfiction later this year, in the form of a collaboration with the indie band the Mountain Goats. No name or specific release date just yet, but it's certainly one to keep an eye on.