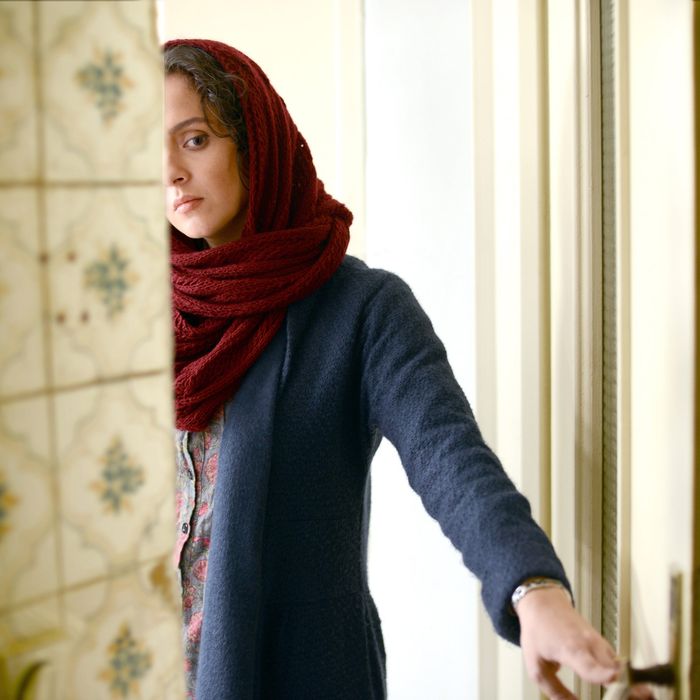 The Salesman.
Photo: Habib Majidi/Arte France Cinéma
Great news! Because of the imperial president's ban on citizens of certain countries entering the United States, audiences are paying a lot more attention — and showing up in droves — to this year's Academy Award–nominated Iranian film The Salesman. It's unclear if the writer-director, Asghar Farhadi, would be able to attend the ceremony at the end of February and he has said he won't even try — and why should he? His absence speaks louder than anything he could actually say.
In any case, The Salesman actively promotes the suppression of women and argues on behalf of worldwide jihad. Just kidding! It's another of the director's analytical but deeply empathetic films about modern Iranian society and what separates men from women and the government from its people. Obliquely, of course. You can't directly criticize the Iranian regime. You need to move somewhere else, like the U.S. Oops: That one's off the table.
The background of the movie is a Tehran production of Arthur Miller's Death of a Salesman, but it revolves around a brutal assault on the actress who plays Willy Loman's wife. The woman, Rana (Farhadi's longtime collaborator Taraneh Alidoosti), is washing up in the bathroom of her new apartment in an unfamiliar part of the city when she hears the buzzer from downstairs and thinks it's her husband, Emad (Shahab Hosseini). So she unlocks the door and returns to what she was doing. Bad move. When Emad does get home, he sees blood on the stairs and in the bathroom. He finds Rana in the hospital, where the wounds on her face are being stitched. She's in shock. She won't talk about what happened, not then, not a few days later. The nature of the assault, a description of the assailant, the motive — it's a blank to be filled by Emad's churning suspicions and fears.
That blank is central to many of Farhadi's films. His Oscar-winning A Separation turns on a woman who tumbles down a staircase, but we don't actually see it. Not knowing what happened broadens and deepens the film. It makes us consider the destructive social forces that helped put that woman on that staircase at that time. In my favorite movie of Farhadi's, About Elly, a young female teacher disappears while visiting colleagues at their beach house. As they learn more about their absent guest, the focus subtly shifts to the trauma of her life — and, by implication, the lives of many working single woman in modern Iran. As much as whodunits, Farhadi makes whatdunits and whydunits.
Almost from the beginning of his career, Farhadi has aimed for a middle ground between intimacy and detachment. Sometimes he gets close to his characters, but often it seems as if he's photographing specimens in a terrarium — the terrarium in this case a city in which artists have to watch their backs because of hovering censors. The movie begins with the imminent collapse of Rana and Emad's lovely apartment — a literal collapse, the result of apparently careless construction next door and a plague of reckless citywide development.
Their new, shabbier apartment — rented to them by a member of their company — has items belonging to the evicted previous tenant and her small child. (His bike is still there, as are his crayon scribblings on a wall.) That tenant apparently had "clients," meaning johns, and Emad suspects the person who assaulted his wife might have been one — or else was sent by the woman to harass the new tenants. When he finds a set of keys dropped by the attacker and the van parked nearby that they belong to, Emad wants vengeance. So did at least one male viewer I know of.
The inaction in the middle section of The Salesman is excruciating. Rana is impossible to pin down. Her devastation lingers — she even insists on showering in her old, condemned apartment — but she doesn't want to go to the police. And there's a broader aspect to the film. Slowly, we begin to see the parallels between her attacker and Death of a Salesman, in which Willy's son learns that his dad is seeing a prostitute. It's difficult to say any more without giving the long climax away. All I can is that I didn't draw too many breaths during the last half hour.
Several colleagues I respect have expressed discomfort with one aspect of The Salesman: They think there's an implied condemnation of the unseen prostitute and that Farhadi might be more conservative about women's sexual freedom than he lets on. I'm bound to say that I felt for her and her evicted child. I inferred Farhadi's message to be that in cultures where women are kept under wraps, men have a more difficult time resisting temptation when it appears. They have no practice.
Hosseini — who plays a youngish Willy Loman in the stage production — makes the fevered Emad an increasingly tragic figure, while Alidoosti's wordless despair gives the movie's final section so much of its power. Farid Sajjadi Hosseini plays an older man who shows up late and all but owns the movie. 'Nuff said.
Back to that presidential ban, which reads, among other things, "the United States should not admit those who engage in acts of bigotry or hatred (including 'honor' killings, other forms of violence against women, or the persecution of those who practice religions different from their own) or those who would oppress Americans of any race, gender, or sexual orientation." Sounds good to me! Alas, it does not cover what Harry Shearer on Le Show persists in calling "our freedom-loving friends in Saudi Arabia," which gave us those freedom-loving 9/11 hijackers. A movie like The Salesman could not be made in Saudi Arabia. Meanwhile, welcoming an artist like Asghar Farhadi with open arms would be a real blow to a repressive fundamentalist regime. Go figure.
*This article appears in the February 6, 2017, issue of New York Magazine.