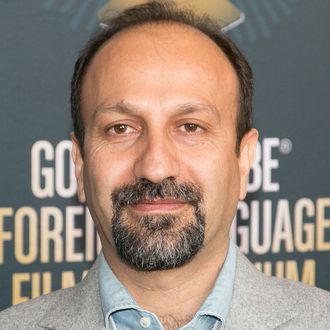 The film industry is already beginning to feel the effects of President Donald Trump's newly enacted Muslim ban to keep "radical Islamic terrorists" out of the U.S., with the policy likely to affect acclaimed Iranian filmmaker Asghar Farhadi. As the director and writer of the Oscar-nominated drama The Salesman — which follows a couple whose relationship is greatly tested as they prep for a performance of Arthur Miller's Death of a Salesman — Farhadi was due to appear at next month's Oscars ceremony to celebrate his nomination for Best Foreign Language Film. But because of Trump's Muslim ban —which bars Syrian refugees from entering the country for an undisclosed period of time and halts the issuing of visas to nationals from Iran, Iraq, Yemen, Sudan, Somalia, and Libya for three months — Farhadi won't be allowed entry to the country in order to attend the ceremony. Trita Parsi of the National Iranian American Council first reported the news, although it has yet to be confirmed by Farhadi himself. In 2012, Farhadi won Best Foreign Language Film at the Oscars for his film A Separation. It was the first time that an Iranian film achieved the honor.
Earlier this week, the star of The Salesman, Taraneh Alidoosti, announced she was boycotting the Oscars in response to Trump's Muslim ban. "Trump's visa ban for Iranians is racist," she tweeted on Thursday. "Whether this will include a cultural event or not, I won't attend the #AcademyAwards 2017 in protest."
Update, January 29: Farhadi has issued a statement confirming that he won't be attending the Oscars ceremony in the wake of Trump's Muslim ban. "It now seems that the possibility of this presence is being accompanied by ifs and buts which are in no way acceptable to me even if exceptions were to be made for my trip," he explained. "Hard-liners, despite their nationalities, political arguments and wars, regard and understand the world in very much the same way. In order to understand the world, they have no choice but to regard it via an 'us and them' mentality, which they use to create a fearful image of 'them' and inflict fear in the people of their own countries." You can read the rest of his thoughts here.