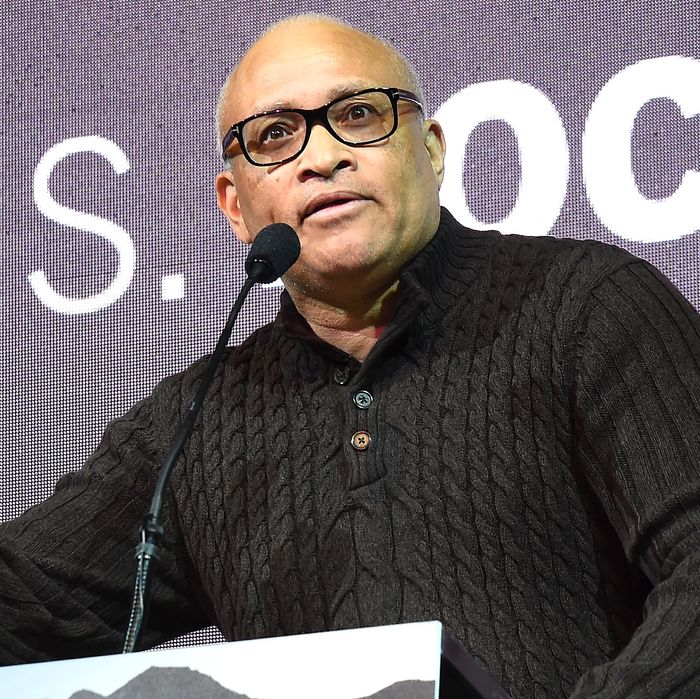 Larry Wilmore speaks during the 2017 Sundance Film Festival Awards Night Ceremony at Basin Recreation Field House.
Photo: Getty Images for Sundance Film Festival/Getty Images for Sundance Film Festival
People often talk about the Sundance bubble, a week and a half in which the film community comes together to watch movies and romp together in the snow in Park City, where it seems like the world is one big, happy, and progressive creative community. But as the festival handed out its awards Saturday night, many of the artists and documentary subjects who'd come from Muslim-majority countries didn't know when, if ever, they'd return to America. And many journalists and festival workers were anticipating stepping off their flights and right into protests at LAX and JFK.
"I am from Mexico," said Gael García Bernal. "But today I'm from Iraq, I'm from Iran, I'm from Syria." "Even though I grew up Catholic, today I am a Muslim," said Larry Wilmore later on. "Though, tomorrow I have to go to the airport so I'll be Catholic again."
On day one of the festival, Sundance Institute executive director Keri Putnam had avoided getting too political, but what a difference a week of a Trump presidency makes. Announcing Global Filmmaking Awards for the writer-directors in Iran, France, Brazil, and Poland, she urged everyone in the room to remember how important international voices are to the creative community. "I want to take a moment to acknowledge artists and documentary subjects from Muslim-majority countries who joined us at this year's festival to share their work," she said as the crowd rose to its feet. "We know that closing our borders to these international artists will stop the flow of ideas and inspiration that are so vital to the global community. We stand with you, and we stand with all people risking their lives for their values, or seeking refuge from violence or persecution who are now denied entry to our country."
The awards that began rolling in reflected a very different vision of humanity than the one flowing out of the White House via executive orders. Especially when Last Men in Aleppo, following a group of volunteer first responders in the wreckage of their city, won the Grand Jury Prize in World Cinema Documentary. "We are Syrian. We are not ashamed of this word," said director Feras Fayyad. "We do our best to fight for freedom of speech and for the humanity and for the justice. We do all this to change for the best. and I hope that people in the U.S., they can change, they can fight like our fight." It was one of three movies about Syria presented at the festival.
Joining Aleppo with various prizes were Gook, from director-actor Justin Chon, about a Korean family defending their store during the Rodney King riots; Rumble: The Indians Who Rocked the World, a documentary about Native Americans who shaped rock-and-roll; Chasing Coral from the Chasing Ice team; Crown Heights, a narrative feature based on the true story of a wrongfully convicted black man; and Icarus, a gonzo documentary about the whistle-blower who exposed the Russian doping scandal at the Sochi Olympics and is now hiding out in protective custody. The jury created a special Orwell Award for the film, deeming it "a documentary that recognizes the truth when truth is no longer a commodity."
A few speeches touched on the other topic du jour: feminism. As she handed out the Audience Awards, host Jessica Williams remarked, "If you think about it on an election level, that's sort of the award Hillary Clinton won. Not over it." And Eliza Hittman, winner of the U.S. Dramatic Directing Award for Beach Rats, got a ton of cheers for speaking her mind. "I think, unfortunately, there is nothing more taboo in this country than a woman with ambition. I am going to work my way through a system that is completely discriminatory towards women. And Hollywood, I'm coming for you."
Ultimately, nearly every speech seemed to touch on what's happened in America over the last couple of days. The director of Joshua: Teenager vs. Superpower, about a Hong Kong musician who organized a massive civil-rights protest against China, said he hoped people would see the movie "and be inspired to stand up in their own country when their government is oppressing them." Yance Ford, transgender director of Strong Island, which is about his black brother's shooting death 20 years ago at the hands of a white car mechanic, urged the room not to fall into a trap of silence or neutrality. "When we leave this place, we must interfere, disrupt, document, and prevent our nation from folding in upon itself," he said. "Each of us must stand and stand together wherever we are as pillars of fire in the darkness. The time is now, summon your courage, gather your courage and your cameras. America needs us more now than ever."
The mood seemed best reflected in the surprise Grand Jury Winner for U.S. Dramatic, I Don't Feel at Home in This World Anymore, which had opened the festival to middling praise, but whose depiction of a strange, backwards world where people have stopped treating other people with decency clearly grew more and more resonant as the week went on.

But the stakes of recent events, and the message that there's still cause for hope, came through most powerfully during a speech from director Tarik Saleh, who won the Grand Jury Prize for World Cinema Dramatic for his noir thriller The Nile Hilton Incident, about a corrupt Cairo cop investigating a murder in the 2011 Egypt uprising. "I'm always kept in the room when I enter into the United States," Saleh told the crowd. "Since 9/11 basically, I've always sat there for an hour or so. They've always been polite and nice with me." And then on the day of the awards, flying back to Park City, he'd managed to forget his passport at his L.A. hotel. "I thought I was not going to make it here," he said. "And I told the security guy, 'I have a film at Sundance and there is an award show tonight,' and he said, 'I'm going to make sure that you're on that plane.'" Because of the security guy's willingness to see Saleh as an individual, he was able to make it back to Sundance to accept the biggest award in his category and give his speech. "You know, it wasn't the majority that voted for him," said Saleh before walking offstage. "I just want to say that."