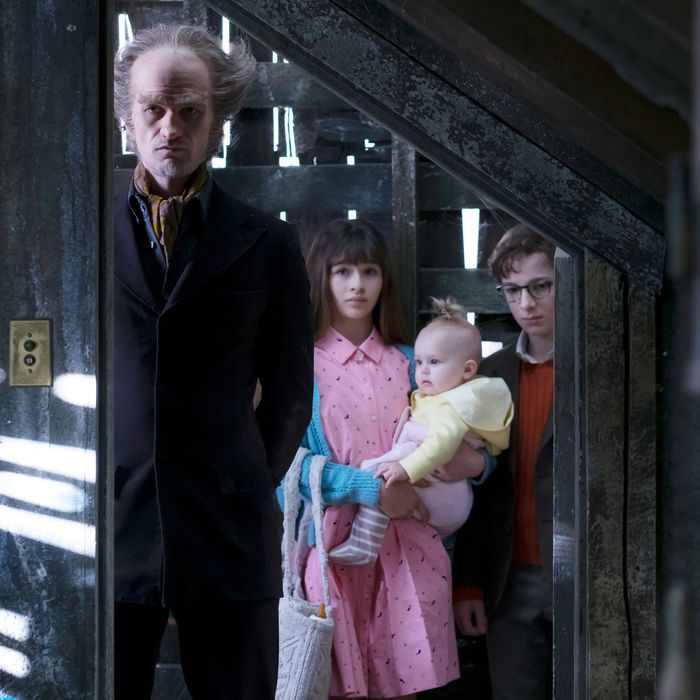 Look away.
Photo: Joe Lederer/Netflix
Every episode of Lemony Snicket's A Series of Unfortunate Events begins by imploring viewers not to watch it.
"Look away, look away," warns the opening title song, performed by star Neil Patrick Harris and co-written by Daniel Handler, a.k.a. the "real" Lemony Snicket who wrote the book series that inspired the Netflix one, premiering Friday on the streaming network. "This show will wreck your evening, your whole life and your day. Every single episode is nothing but dismay. So look away."
This is one of the first signs that A Series of Unfortunate Events, the second major adaptation of the Penny Dreadful–style children's novellas, will strike the same wry, doom-and-gloom tone that the books, and, to a lesser extent, the 2004 film adaptation did.
The story of the Baudelaire orphans —Violet (Malina Weissman), Klaus (Louis Hynes), and baby Sunny (Presley Smith) — focuses on the constant, often Dickensian obstacles they encounter after losing their parents in a fire. The chief obstacle among the many they face: avoiding the clutches of Count Olaf (Harris), a sinister, greedy master of thin disguise who stalks the kids through every volume of their tragic narrative in the hope of getting his fingers on their fortune.
Things rarely go right for these siblings, and we're constantly reminded of that in every aspect of the series, including its plot developments, the words spoken by our narrator, Mr. Snicket (played by a deadpanning Patrick Warburton), and the show's visual style. Almost every image in A Series of Unfortunate Events has a Gothic quality and a color scheme that appears to have been fine-tuned using Instagram's Sutro filter. The show's look, feel, and its twisted, punny sense of humor will please admirers of Handler's work as well as Tim Burton, two fan groups that cannot possibly be mutually exclusive.
The series — executive produced by Handler and Barry Sonnenfeld (The Addams Family), who directs four of the eight episodes — shares certain details in common with the film version, which was also co-produced by Sonnenfeld. (Sonnenfeld was supposed to direct it as well, but was replaced by Brad Silbering.)
Just as it was back in '04, Sunny's baby talk is translated into subtitles that reflect her rather adult attitudes. ("I prefer the music of Tito Puente," she "says" at one point.) Violet is played by Weissman, who gives a more subdued performance than her predecessor, Emily Browning, but still could easily pass as Browning's doppelgänger. Catherine O'Hara appeared in the movie and shows up again in the TV show, but in the streaming iteration, she plays the more ominously named Dr. Georgina Orwell instead of Justice Strauss, a role filled for Netflix by Joan Cusack, who is an utter delight. Despite these minor instances of crossover, the series mostly comes across as its own distinct, dark animal, and one that's more faithful to the first four Snicket books on which it's based — The Bad Beginning, The Reptile Room, The Wide Window, and The Miserable Mill.
A Series of Unfortunate Events 2.0 is also more faithful to the Lemony Snicket sensibility, perhaps because it was easier for Handler, who also wrote several of these episodes, to mold it with his own voice in mind. The smartest update, by far, is making Snicket a more integral presence. While he was a character in the movie, played by your Young Pope and mine, Jude Law, he was mostly represented via voice-over and occasional cutaway shots that depicted him largely in shadow, pecking away on a typewriter.
On Netflix, Snicket — like the children he so desperately wants to save from their cruel fates — is both seen and heard. He often strolls into a scene to provide context, or stands behind the characters while offering dour, amusing commentary and, sometimes, even lessons in literacy. "We should be on guard for the unpleasant arrival of dramatic irony," he calmly warns the audience in the third episode, shortly before yet another unfortunate event occurs. Warburton, a naturally droll actor who's best known for his work on Seinfeld and The Tick, also makes Snicket seem genuinely caring and, possibly, clinically depressed. Which is another way of saying: He's perfect.
Harris is also a pretty perfect fit as Count Olaf. While Jim Carrey made the shape-shifting money grubber imposing and odd in the film, Harris turns him into more of a menacing creature of the theater. He's a gaslighting narcissist with an entourage of minions and an extensive costume department. He's also a ham, and Harris, a theater guy himself, has no trouble throwing himself into sneaky showman mode. The rest of the cast is also filled with impressive veterans who are game to play in the Snicket's house of horrors, including Alfre Woodard as the paranoid Aunt Josephine, Aasif Mandvi as eccentric herpetologist Dr. Montgomery Montgomery, and Tony nominee K. Todd Freeman as bumbling banker Mr. Poe.
Not everything about this adaptation works. The Baudelaires themselves are underdeveloped, largely because their personalities are often overshadowed by the oddballs, schemers, and rubes who surround them, as well as the nonstop barrage of crises lobbed in their path. The goth-twee, self-referential tone of the series is also so thick that, especially during the last four episodes, it can start to wear thin, especially if you're binge-watching each one back-to-back. (The first couple of meta jokes about streaming content and long-form television work. By the fourth one, the gag gets old.)
You're better off spreading out the Unfortunate Events, the same way you did when you read these stories as a child, or perhaps when you read them now with your own kids. Just like Snicket's literary works, these episodes of television promise no happy endings, but do teach some worthwhile lessons. The hardest to accept and the most valuable one is this: Bad things happen to good people constantly, even innocent children. But those people still keep moving forward with their eyes open, even when everything in their bodies — and every Netflix theme song — tells them to look away.