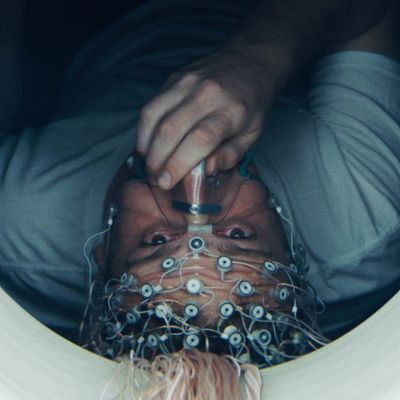 Jason Segel in The Discovery.
Photo: Sundance Institute
When The Discovery premiered at Sundance on Friday night, it raised a question that's been asked quite a bit by festivalgoers: Will this be the year Netflix finally lands a hit movie? The streaming service made a big splash at last year's Sundance, acquiring more than a half-dozen films, but none of them seemed to make a significant impact upon release. While it's hard to know for sure, since there isn't a public metric for tracking the popularity of Netflix content — not to mention the fact that the company has a different expectation of success than most conventional distributors — certainly none of those acquisitions, which included The Fundamentals of Caring and Tallulah, generated word of mouth anywhere near that of Netflix's biggest TV series, most notably Stranger Things and The OA.
This time around, Netflix's position differs considerably. In 2016, the company swept in and opened its pocketbook to make its presence felt. This year, Netflix came into the fest having already laid claim to a number of films, either by producing them directly or acquiring them earlier. That includes the opener of the U.S. Dramatic Competition, Macon Blair's I Don't Feel at Home in This World Anymore, which Netflix agreed to finance after Blair pitched them on it at last year's festival, and Charlie McDowell's The Discovery, which it bought in June 2016.
The Discovery, McDowell and co-writer Justin Lader's follow-up to sci-fi relationship drama The One I Love, tells the story of a world in which the afterlife is a proven fact, thanks to the work of a scientist played with taciturn composure by Sundance founder Robert Redford. Meanwhile, the scientist's son, played by Jason Segel (who appears to be striving for something of a modern-day Jimmy Stewart), and a grief-stricken woman, played by Rooney Mara, encounter each other on a ferry and get wrapped into the larger plot of Redford's ongoing research. It's an intriguing premise, and even sight unseen, it's easy to grasp what Netflix saw in it: This is the kind of high-concept hook that jumps out from a two-sentence synopsis as you scroll through "Cerebral Sci-Fi Dramas" late at night — recommended for you!
The most interesting revelation about The Discovery, however, is what it shares with another Netflix original. As explained in the first few minutes of the film, Redford's discovery of the afterlife is partly inspired by his son's near-death experience. When the group delves further into what exactly exists beyond this world — fueled by the desire to put a halt to a suicide epidemic, which sees millions of people trying to "get there" — they probe at the line between life and death with increasing emphasis on that point of crossing over.
If you've seen even a few episodes of The OA, this will sound familiar. That series, created by Zal Batmanglij and Brit Marling, also investigates the line between life and death, with a particular emphasis on the purpose of near-death experiences. Both The Discovery and The OA are concerned with what comes after our earthly existence, the meaning of said existence while we're here, and the space that exists between the two; the film takes a more scientific, austere approach, and the TV show a more religious, spiritual one, but they're certainly playing in the same water.
It's not surprising that such similar projects exist: McDowell, Lader, Batmanglij, and Marling are hardly the first artists to pose questions about mortality and the afterlife. What's especially interesting, though, is that Netflix is releasing both of them. As a provider of original content, the company has skillfully targeted different audiences, releasing an Adam Sandler comedy one week and a Cary Fukunaga drama the next, a Norman Lear sitcom following a lavish British period drama. But as Netflix pursued this diversification of subject matter and audience, it simultaneously prized a certain continuity. When choosing its originals, the company considers the behavior of its subscribers, taking clues from them as to what they might want to see more of — like, say, Adam Sandler movies. Increasingly, Netflix integrates suggestions of what to watch next, drawing from its growing library of original content to keep viewers on the platform, watching whatever's available on Netflix rather than seeking out specific shows or films that would have to be found elsewhere, whether it's Hulu, Amazon, cable TV, or, God forbid, a movie theater.
In that way, The Discovery seems primed to piggyback off of a bonafide Netflix hit in ways that none of its other films have managed to do. For everyone that watched (and loved) The OA, The Discovery will be an obvious suggestion, and it will seem, however subconsciously, to be a logical thematic extension of that show within the sphere of the Netflix ecosystem. Of course, neither project has anything to do with the other in terms of their actual creation. But how a piece of narrative art enters the world is a significant aspect of the art itself, and by the sheer reality of their acquisition, the nearness of their releases, and the recommendation engine that will surely tie them together, Netflix can't help but connect the two. Does that mean The Discovery will generate the conversation The OA did? Maybe not — but it can't hurt.