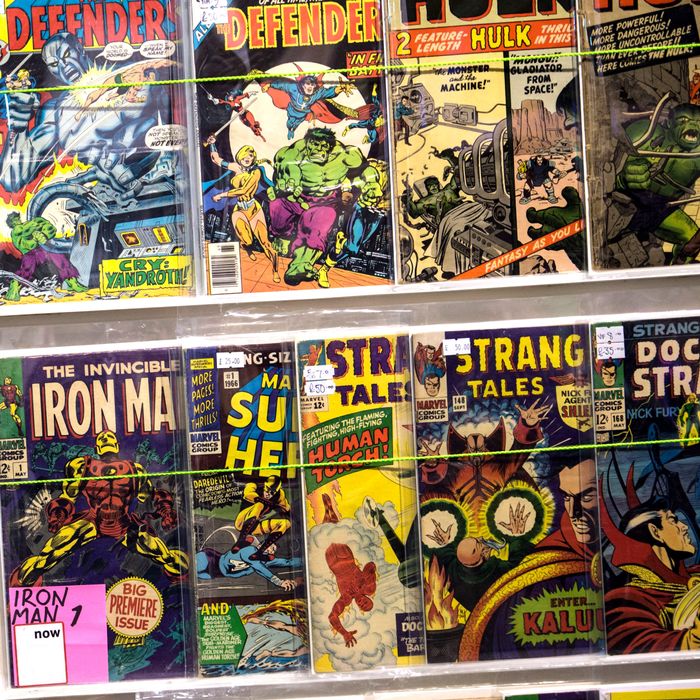 Whither the funnybooks?
Photo: OLI SCARFF/AFP/Getty Images
When the New York Times began publishing best-seller lists for comics material a few years ago, it was a welcome step toward greater industry insight, as well as greater visibility for creators and publishers. Alas, the experiment was not to last. Today, the Times abruptly announced that it's gutting its best-seller lists, doing away with a host of existing lists in both the print and online editions of the paper as of February 5. Among the casualties are the Graphic Hardcover, Graphic Paperback, and Manga categories. The comics world is, understandably, quite unhappy with the development.
"I can't quite fathom why they thought graphic best sellers were worthy of tracking for the past several years, and now suddenly aren't," says Eric Reynolds, an editor at Fantagraphics, which publishes comics luminaries like Matt Furie, Simon Hanselmann, and Daniel Clowes, the latter of whom has been on the best-seller list for much of the past year with his latest graphic novel, Patience.
There was similar anger at Drawn + Quarterly, publisher of creators such as Kate Beaton, Adrian Tomine, and Lynda Barry. "While the Times reports on comics in their regular arts coverage, the list has been an important embrace of the industry, in particular of small independent companies like D+Q, holding their own against companies 50 times our size," says the company's publisher, Peggy Burns.
There are at least two issues at play here. The first is about numbers. One of the most infuriating aspects of the comics world is its dearth of meaningful, industry-wide statistics: There are no public reports of nationwide sales at comic-book stores, the digital superstore comiXology is opaque, bookstore sales on Nielsen BookScan aren't publicly available, and the premiere compiler and publisher of retail data — the invaluable John Jackson Miller of Comichron — only has access to estimates of the number of copies ordered by comic shops, not how many they sell.
The fact that the available data focuses only on specialty shops means the high-ranking titles at Comichron only really represent the tastes of niche geekdom. The Times list has been a vitally necessary counterweight to that imbalance. Although it was based on sales estimates, not comprehensive sales data from every store in the country, it was still a useful indicator of what people in mainstream bookstores were buying. With comics increasingly accepted and embraced outside of nerdom, that kind of information is critical for seeing the future of the medium.
For example, industry-watchers have long been pointing out that the Times best-seller lists were typically dominated not by superheroes but by young-adult titles, especially female-led stories written and drawn by Ghosts creator Raina Telgemeier. The Times lists thus shone a light on the fact that there's a huge — and growing — market for cape-free comics made by women and about women. That light will no longer shine.
The second issue is one of legitimacy. When the Gray Lady set up isolated categories for graphic literature, it was a godsend for struggling creators and publishers because, all of a sudden, you had a shot at being able to promote yourself as a New York Times best seller. That's not insignificant. Beyond that, it was just nice that comics were important enough to be acknowledged and tracked by the paper of record. All that's gone now. "It certainly isn't good for business," Reynolds adds. "Good comics have forever had to scratch and claw for legitimacy and resist marginalization, and this feels like a step backwards on that front."
There's been significant online discontent among other folks in the comics community, though this development hasn't sparked the kind of fury we saw when, say, Captain America turned into a sorta-Nazi.
"Let's all call the person who dumped us and explain to them that we're still hot," artist Sean Gordon Murphy tweeted alongside a link to an article about the cuts. "Dudes, email @nytimes regarding their dropping graphic novels from the NYTimes Bestseller lists," tweeted writer-editor Shannon Watters. Some tweets directly pleaded with the paper: "Dear @nytimes, please consider keeping the graphic novel bestseller list. GN sales & readership grow significantly every year. We're worthy," said BOOM! Studios managing editor Bryce Carlson. Comics-news tabloid Bleeding Cool has invited retailers to get in touch about setting up a new best-seller list on their site.
The Times didn't offer any specific explanation as to why the comics lists were done away with and only spoke broadly about the cuts as a whole. "The discontinued lists did not reach or resonate with many readers," a spokesperson told me. "This change allows us to expand our coverage of these books in ways that we think will better serve readers and attract new audiences to the genres." She also said the change "allows us to devote more space and resources to our coverage beyond the best-seller lists."
It's unclear what other lists will disappear. The spokesperson confirmed that the comics lists are going away, and she laid out which lists will remain in the print edition, as well as a handful that will remain online, but left open the possibility that unspecified others might survive online, too.
According to Alexander Lu at comics-journalism site The Beat, the decision came directly from New York Times Book Review editor Pamela Paul. Paul was, intentionally or not, quite snide toward the comics medium two days ago, when she tweeted about the National Book Award-winning third volume of March — a graphic memoir about Rep. John Lewis's time in the civil-rights movement, co-written by Lewis and Andrew Aydin and drawn by Nate Powell — saying, "Hey, kids: The new children's book by @repjohnlewis has set an awards record." Needless to say, calling a book of that weight a "children's book" and beginning a message about it with "Hey, kids" is not a great look.
Paul took to Twitter again today to defend her section's decision, saying the following across three tweets: "Quick note to fellow comics/graphic novel fans: The Times is not cutting back on coverage of these genres/formats but rather expanding on coverage in ways that reach more readers than the lists did. To wit: new graphic reviews by comic artists, more reviews and more news and features about then [sic] genre and it's [sic] creators. We are big fans, and want to recognize growing readership. Stay tuned."
All of those additions are, of course, quite welcome. But adding features and reviews doesn't change the fact that something valuable has been lost.