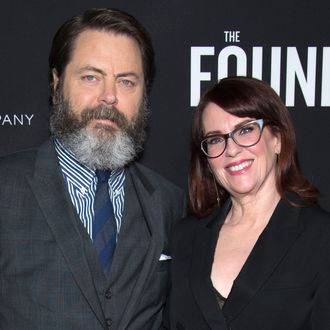 Nick Offerman and Megan Mullally.
Photo: Tara Ziemba/WireImage
#RelationshipGoals might feel like a dud concept in the destructive wake of the year that celebrity love died, but it's important now, in these dark times, to remember that all hope is not lost. After all, we still have Nick Offerman and Megan Mullally. And the couple must know we need them, because they are bringing the inner workings of their blessed union to cable-equipped boob-tubes everywhere, starring in a comedy special for Epix. The special will be an airing of Summer of 69: No Apostrophe, a stage production that uses a variety-show format to give insight into Offerman and Mullally's 13-year marriage. Of the project, set to air May 19, the duo says, "We love to make sweet love to each other in general, so to be paid millions of dollars to do it in front of an audience is just that much sweeter." To which, voyeurs and hopeless romantics everywhere readily agree.