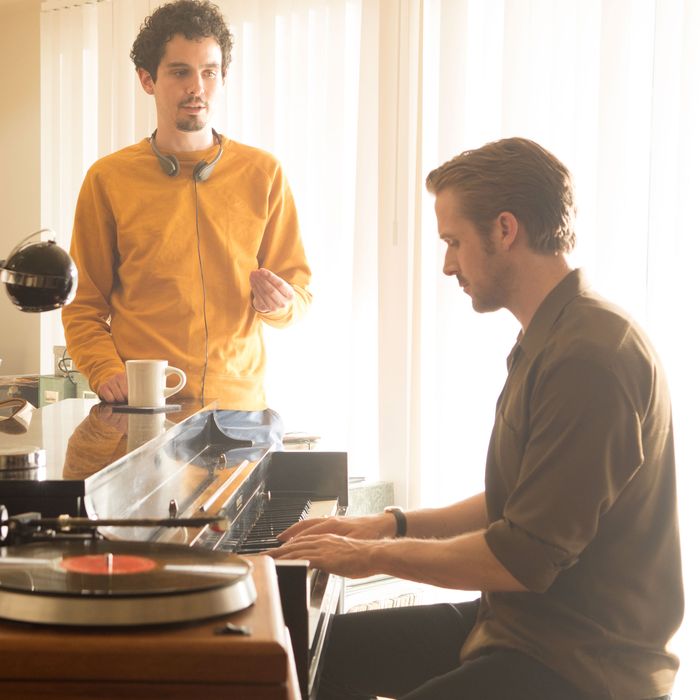 Photo: Dale Robinette/Lionsgate
After winning a record-breaking seven Golden Globes on Sunday night, Damien Chazelle's modern musical La La Land is sitting pretty: Most pundits expect the film to continue its winning streak at the Oscars next month and it's on a trajectory to top over $100 million at the box office, too. La La Land has led such a charmed life since its September film-festival debut that it's easy to forget, as so many beaming participants take the stage to claim their trophies, just how few people in town actually wanted to make it. In fact, when I sat down with Chazelle recently, he described a journey to the screen that mirrored that of Emma Stone's aspiring-actress character in the film: Most of the time he tried to pitch La La Land, he was met with stony faces, and whenever a small glimmer of hope would appear, financiers would inevitably change their minds.
"There were so many instances, in the five or six years since I wrote it, where it seemed so close to being made," Chazelle told me. "It's the typical Hollywood story — everything falls apart. Every time, I would curse myself and go, 'Goddamn it.'"

At the time Chazelle first started to pitch La La Land, he was just 25 years old and coming off his directorial debut, 2009's Guy and Madeline on a Park Bench, which explored many of the same themes and ideas: Like La La Land, it's a star-crossed romantic musical that pays homage to jazz and old Hollywood films, with music from Chazelle's eventual La La Land composer Justin Hurwitz. Chazelle no doubt hoped Guy and Madeline would serve as a proof of concept, just as when he tried to mount his film Whiplash a few years later, he first shot one of its most fraught scenes as a short film to drum up money.

In that case, it worked: The feature-length version of Whiplash made it to the screen soon after in 2014, picking up three Academy Awards including a Best Supporting Actor trophy for J.K. Simmons's tyrannical jazz instructor. La La Land, though, found no takers until Chazelle had Oscar-fueled career momentum to finally leverage.

"Certain things had to happen in the meantime, one of which was Whiplash," said Chazelle. "I look back now and think I caught a lucky break. I probably wasn't ready to do the movie until I did it and, initially, I was a little naive about the resources we needed for the movie. When I first wrote the script in 2010, it was pretty much the script you see onscreen … except we were pitching it as a 1 million-dollar budget."

Only a slim seven figures to shoot a two-hour musical, set in real Los Angeles locations, that includes a show-stopping freeway-traffic sequence?

"Exactly," laughed Chazelle, who eventually mounted the same script with significantly more money, including salaries big enough to afford movie stars. "I think I had a naïve, willful stupidity that, in the end, got this made." And while the success of Whiplash meant that Chazelle had his pick of projects, he knew he wanted to spend that newfound capital on his longtime passion project. "There was not even a question," he said.

At first, Chazelle put together an iteration of La La Land starring his Whiplash lead Miles Teller and Emma Watson, though both actors fell out as Ryan Gosling and Emma Stone eventually sidled up to the project. ("Frankly, it was an upgrade," someone close to the film told me.) Still, even with big stars and big momentum, only one studio was willing to make the movie.

"It was still a gamble as an original musical with an unknown composer writing the music," said Chazelle. "It was still this thing that we had to convince people of, and it boiled down to just this one place, Lionsgate, that was willing to give us the resources we needed and take the gamble." So far, it looks to have paid off: Chazelle, Gosling, Stone, and Hurwitz were among the film's big Golden Globe winners, and Lionsgate now has its biggest movie since the Hunger Games franchise concluded last year. For a film about creative perseverance in the face of long odds, a fitting final act is about to begin.