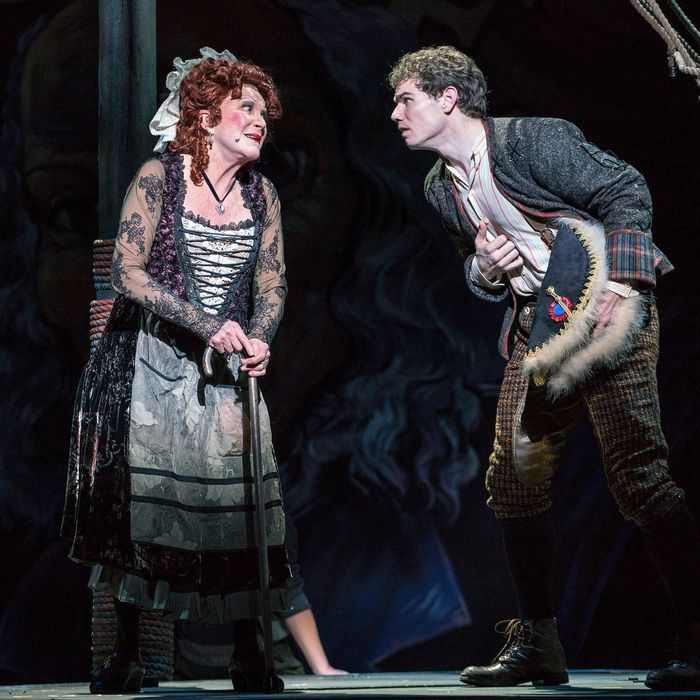 Meghan Picerno, Linda Lavin, and Jay Armstrong Johnson in Candide.
Photo: Sarah Shatz/Sarah Shatz
While the rest of New York retreats into its den to wait out the winter, opera is pushing January blooms. I spent a few frigid days touring the city's small, medium, and large companies, and came away optimistic about the endurance of this gale-buffeted genre. This happenstance festival covered a new work, a risky revival, and an irresistible standard, and offered three variations on the standard operatic heroine. There was Bess in Breaking the Waves, who has sex with too many men and dies a martyr to promiscuity; Juliette in Gounod's setting of Romeo and Juliet, who has sex with the wrong man, and dies a martyr to monogamy; and Cunégonde in Candide, who has sex, willing and not, with an intercontinental array of men, and doesn't die because she's the star of a comedy. Opera may always be dying, but its clichés go on forever.
The Met may be having a hard time bringing new operas to its gargantuan stage, but smaller, nimbler companies do it all the time. Last fall, Opera Philadelphia mounted Missy Mazzoli's compact yet hugely ambitious Breaking the Waves; now that portable production (by James Darrah) and dauntless cast is headlining the Prototype Festival in New York. Mazzoli is so much the master of her turbulent, angry kind of lyricism that I wish she had written a completely different work. The story, adapted by Royce Vavrek from Lars von Trier's 1996 film of North Sea misery, produces a libretto of tedious brutality. A paralytic man, using only his voice, controls his young wife, ordering her into the beds of other men so that he can derive vicarious pleasure from her accounts. I presume both Vavrek and Mazzoli believe this tale transcends gloomy misogyny, but I'm not sure how. Fortunately, Mazzoli's score endows Bess with all the power that life denies her, and soprano Kiera Duffy adds steel to each bitter plea and fierce declaration of loyalty. Her character is coiled to the breaking point, and the vocal line finds an unsentimental beauty, lifted by an orchestral storm surge that crashes against the craggy shoreline onstage. Mazzoli packs more subtlety into her music than the libretto will tolerate, and sometimes those nuances bang around with nowhere to go. After Bess's husband Jan suffers his horrific injury, the orchestra solders one act to the next with an unsettling interlude of scratchy, buzzing strings interrupted by percussion explosions. It's a memorable sound, mingling traces of Berg, Xenakis, and Lutoslawski — but Mazzoli clings to it for minutes on end, as if to acknowledge the difficulty of forging ahead when one of your two main characters is confined to a hospital bed.
Once, the job of staging a bold new American music drama like Breaking the Waves would naturally have fallen to New York City Opera. But so far, that company has been too busy struggling out of its tomb and reconnecting with its past. Last year, the new iteration established its bona fides by resurrecting a 116-year-old production of Tosca (the first work the original City Opera ever staged). Now it has brought in Harold Prince to restage his restaging of his restaging of Candide, which boosted City Opera's fortunes in the early 1980s. (In June, it will perform Peter Eötvös's 11-year-old Angels in America, which shrinks Tony Kushner's theatrical epic down to opera size.) Candide is Leonard Bernstein's legendary 1956 Broadway flop, revised in the 1970s, and it contains enough dazzling music and clever wordplay to have given it a lot of lives, both in the theater and the opera house, but it remains a shaggy revue of loosely connected numbers stumbling towards a hurried conclusion. The best reason to revive it is not just that the 85-year-old Prince is willing and able, but if you have a spectacular cast, which his new production almost does. Meghan Picerno sings Cunégonde, the pragmatic survivor with the buttery skin and a taste for diamonds, and she reels off the materialist's credo "Glitter and Be Gay" with high-voltage exuberance. Gregg Edelman hams his way through the character of Dr. Pangloss as only a veteran of his high stature can, and in the title role, Jay Armstrong Johnson raises goodhearted callowness to a rare art. All these excellent performers work frantically to keep the show afloat, and though the effort is obvious, they succeed.
Meanwhile, the Met is doing what the Met does best: equip superb singers with a handsome production of an opera that drips with romance. You couldn't ask for a more complete bundling of vocal gloss, ardor, and physical believability than Vittorio Grigolo as Roméo and Diana Damrau as Juliette. Grigolo manages the passage from cocky blare to midnight croon with movie star aplomb. Damrau matches his vocal nimbleness, leaping from the girlish optimism of "Je veux vivre" to the suicidal ecstasy of her last notes. If Shakespeare's adolescent lovers are intoxicated by language, Gounod's drug themselves with melody, heating their suffering into narcotic song. That kind of dependence on music can drive some directors crazy: They want political relevance and psychological revelation, not just a pretty frame for the score. The director Bartlett Sher has no such hangups or insecurities. He's content to place the lovers in a fine Veronese piazza and let their love bloom unmolested. It's refreshing to see an olden-style fake-stone palazzo — by Michael Yeargan — and Catherine Zuber's scrumptiously colorful costumes, but they're not exactly cutting-edge cultural news. (This production was originally designed for La Scala, eight years ago.) When there's an opening for a directorial intervention, Sher rushes in: a billowing market canopy drops to the ground and becomes a nuptial sheet and then a shroud; the sword fights, choreographed by B.H. Barry, would make Johnny Depp itch to get in on the action. But the show's real hero is the conductor, Gianandrea Noseda, who keeps blowing the score's embers into roaring flame.
Each of these nights at the opera has its charms and weaknesses. Breaking the Waves suggests Mazzoli's got a great opera in there somewhere, even if this isn't it. A pretty good Candide is mixed news for a company that still has to prove it can simultaneously honor history and forge a brilliant future of its own. And an evening of lush Gounod leaves the impression that the Met remains firmly rooted in its comfort zone. But the operagoer's life doesn't depend on any one institution getting everything right. The combination of miniature, struggling, and titanic companies makes for an operatic ecosystem that is as rich as it is fragile. The question is: can the city sustain it?