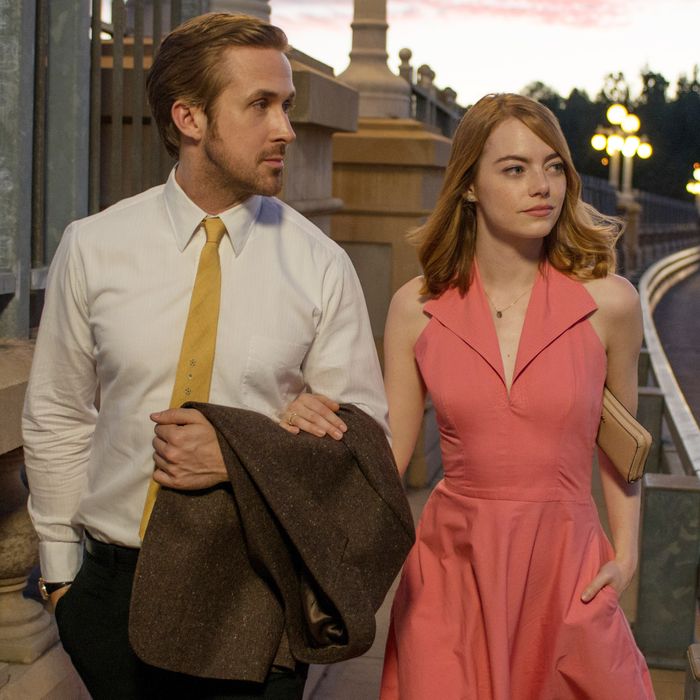 Will Ryan Gosling and Emma Stone both get in?
Photo: Dale Robinette/Lionsgate
After months of award-season campaigning and shifting fortunes, the Academy will finally announce this year's Oscar nominations next week on Tuesday, January 24. So what will make it in, and what won't? That's the topic of this week's episode of the Awards Show Show, where Vulture's Kyle Buchanan and KPCC's John Horn each make their best guesses in the eight biggest categories. Listen to their picks below and subscribe to the Awards Show Show on iTunes, or read Kyle's more extensive picks underneath, where he picks the likeliest nominees in every single category except the shorts.
Best Picture
Arrival
Fences
Hacksaw Ridge
Hell or High Water
La La Land
Lion
Manchester by the Sea
Moonlight

Give me an extra slot here, and I might add Hidden Figures, a feel-good hit with lots of box-office momentum. But in the end, I went with the eight films I heard Academy voters most often mention as their favorites, all of which have continued to pop up in the precursors.
Best Director
Damien Chazelle, La La Land
Barry Jenkins, Moonlight
Kenneth Lonergan, Manchester by the Sea
Denis Villeneuve, Arrival
Garth Davis, Lion
The Academy's directors branch frequently goes its own way, and it's awfully rare that they match up five-for-five with their counterparts in the Directors Guild of America. This year, though, I suspect all five of the DGA nominees will get in, with a potential substitution for Hell or High Water's David Mackenzie should Lion director Garth Davis fall just short.
Best Actor
Casey Affleck, Manchester by the Sea
Denzel Washington, Fences
Ryan Gosling, La La Land
Andrew Garfield, Hacksaw Ridge
Viggo Mortensen, Captain Fantastic
I'm fairly certain of the first four actors on this list, and based on Captain Fantastic's broad support with the Screen Actors Guild, I think Mortensen will nab the fifth slot.
Best Actress
Emma Stone, La La Land
Natalie Portman, Jackie
Amy Adams, Arrival
Meryl Streep, Florence Foster Jenkins
Isabelle Huppert, Elle
The big question here is whether Golden Globe winner Isabelle Huppert will make it in and, if so, which contender she'll supplant. Some Oscar watchers I've talked to think Natalie Portman might be dealt a shocking snub based on Jackie's recent awards-season shortfall, but I think the performance is too high-profile to be excluded. Meryl Streep could always drop out, but after that Golden Globe speech, she feels safe to me. I think, then, that 20th Century Women's Annette Bening and Loving's Ruth Negga will be the women left out.
Best Supporting Actor
Mahershala Ali, Moonlight
Jeff Bridges, Hell or High Water
Hugh Grant, Florence Foster Jenkins
Dev Patel, Lion
Aaron Taylor-Johnson, Nocturnal Animals
Will Aaron Taylor-Johnson ride his sudden momentum to Oscar? After a Golden Globe win and a BAFTA nomination, I wouldn't count him out, and I think Manchester by the Sea's Lucas Hedges will prove most vulnerable if Taylor-Johnson makes the cut: Good as he is, the Academy tends to prefer its male nominees to be more seasoned than the 20-year-old thespian.
Best Supporting Actress
Viola Davis, Fences
Michelle Williams, Manchester by the Sea
Naomie Harris, Moonlight
Nicole Kidman, Lion
Octavia Spencer, Hidden Figures
If I had to go double or nothing on one of the four acting categories, I'd place my bet on this one. The first four women are awards-season stalwarts who've been making the rounds for months promoting films almost certain to be nominated for Best Picture, while Octavia Spencer is a former Oscar winner who repped Hidden Figures' sole nomination with the Golden Globes and SAG. Her only real threat is Hidden Figures co-star Janelle Monáe, who's delightful but hasn't popped with precursors.
Best Adapted Screenplay
Moonlight
Arrival
Fences
Lion
Nocturnal Animals

Four of our potential Best Picture nominees will rate here, and I'd add Nocturnal Animals, which practically makes its adaptive nature part of the film's structure.
Best Original Screenplay
Manchester by the Sea
La La Land
Hell or High Water
The Lobster
Captain Fantastic
When the Academy ruled that Moonlight and Loving had to compete in the adapted-screenplay category instead of the original-screenplay category they'd been campaigning for, that opened up at least two slots for quirkier fare here. Much as I'd like to see Zootopia's smart script contend, I think the highly acclaimed The Lobster and awards-season surprise Captain Fantastic have better odds.
Best Cinematography
La La Land
Moonlight
Arrival
Silence
Lion
Awards season has not been kind to Martin Scorsese's religious epic Silence, but if there's a single nomination that can safeguard the film from a total shutout, it looks to be this one.
Best Editing
La La Land
Moonlight
Arrival
Hacksaw Ridge
Manchester by the Sea
Some pundits think Manchester by the Sea's unflashy edit could be overlooked in this tough group, but I've talked to two members of the editing branch who rated it number one, so I think it squeaks in.

Best Production Design
La La Land
Fantastic Beasts and Where to Find Them
Hail, Caesar!
Arrival
The Handmaiden
Simply put, if The Handmaiden's vast and intricate sets don't merit a nomination, then this branch didn't do its job correctly.

Best Costume Design
Florence Foster Jenkins
La La Land
Fantastic Beasts and Where to Find Them
Allied
Jackie
This category can be cruel to modern-day films, but I think there's enough retro pizazz to La La Land that the film will continue its charmed Oscar-nomination run. After all, how many costumes this year were more memorable than Emma Stone's canary-yellow dress?

Best Makeup and Hairstyling
Star Trek Beyond
Florence Foster Jenkins
A Man Called Ove
Star Trek Beyond adds two major new characters to the mix with enormous makeup demands, while Florence Foster Jenkins has plenty to play with in its high-society setting. I pray that the third slot won't go to the butt-ugly but plentiful characters of Suicide Squad, in which case foreign-language contender A Man Called Ove may make it in for its title character's old-age makeup.
Best Original Score, Motion Picture
La La Land
Lion
Jackie
Moonlight
Nocturnal Animals

As likely Best Picture nominees where the score does a lot of heavy lifting, La La Land, Lion, and Moonlight seem assured. As for Jackie and Nocturnal Animals, both films boast aggressively singular scores, and I'm going to hope that's a boon rather than a turnoff.
Best Original Song, Motion Picture
"City of Stars," La La Land
"Audition," La La Land
"How Far I'll Go," Moana
"Runnin'," Hidden Figures
"Can't Stop the Feeling," Trolls
"Faith" from Sing could sub in for one of these choices — and there are roughly a billion Sia-penned songs in contention that could volley through, too — but this is a high-powered lot. If only "I'm So Humble," the eminently worthy song from Popstar: Never Stop Never Stopping that repped its film's sole submission, were more than a larky longshot.

Best Visual Effects
The Jungle Book
Rogue One: A Star Wars Story
Doctor Strange
Deepwater Horizon
Arrival
Last year's category included three Best Picture nominees, so I think Arrival gets in. Rogue One and Doctor Strange get the now-obligatory Star Wars and Marvel slots, respectively. The Jungle Book's level of effects creation is totally insane, and I've heard the Deepwater Horizon reel played well at the visual-effects "bake off," so that'd be my sleeper pick.
Best Sound Editing
Rogue One: A Star Wars Story
Hacksaw Ridge
Arrival
Deepwater Horizon
The Jungle Book

What's the difference between the two sound categories? This one honors sound creation, while Best Sound Mixing recognizes how everything you hear is artfully balanced. Or, to put a finer point on it, the films with gunshots and explosions tend to fare best here, so expect several action films to contend.
Best Sound Mixing
Rogue One: A Star Wars Story
Hacksaw Ridge
La La Land
Arrival
Sully
A musical wouldn't work without excellent sound mixing, so La La Land has a real shot here. I'd also add Sully to the mix, simply for its suspenseful crash sequence.
Best Documentary Feature
O.J.: Made in America
13th
Weiner
Cameraperson
Fire at Sea
There are a whole lot of superlative films competing in this category and you could make a strong second five after this collection, too. A dark-horse pick: I Am Not Your Negro, which seems to be gaining late momentum.
Best Animated Feature Film
Zootopia
Moana
Kubo and the Two Strings
The Red Turtle
My Life As a Zucchini
While Finding Dory was the biggest blockbuster of them all, I suspect the animation branch will only dole out two slots to Disney, and they'll pick the studio's non-sequels.
Best Foreign Language Film
Toni Erdmann
The Salesman
Land of Mine
Tanna
A Man Called Ove
Since Paul Verhoeven's Elle didn't make the shortlist, this category will be dominated by the nearly three-hour German farce Toni Erdmann.