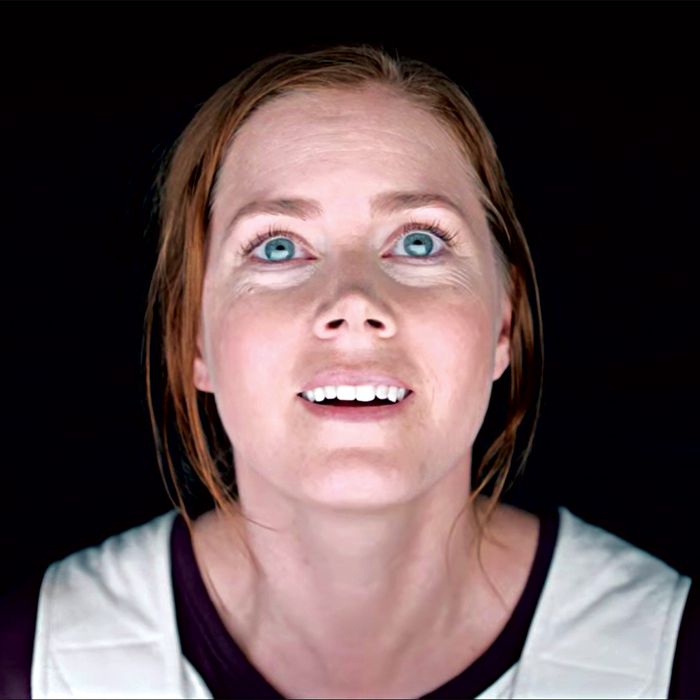 Amy Adams in Arrival
Photo: Courtesy of Paramount Pictures
It's another day of sunshine for La La Land, which tied the all-time record for most Oscar nominations this morning, scoring a whopping 14 nods. Still, things weren't quite as sunny for a host of other awards-season contenders that found themselves unexpectedly left out. Which snubs and pleasant surprises have us buzzing?
Amy Adams and Annette Bening missed out
Look, we knew Best Actress would be a bloodbath. There were so many worthy contenders this year vying for those five slots, two of whom were certain to go to La La Land's Emma Stone and Jackie's Natalie Portman, in addition to a long-assumed nod for Florence Foster Jenkins star Meryl Streep. The real surprises came from Elle's Isabelle Huppert, who rode a wave of critical support and a well-timed Golden Globes nod to a nomination, and Loving's Ruth Negga, who repped her fading film's sole nod. That meant that Annette Bening, so good in 20th Century Women, and Amy Adams, nominated by the Screen Actors Guild for Arrival, were left out in the cold. It also means that Oscar continues to have a disconnect when it comes to female-fronted stories: Stone is the only Best Actress nominee to lead a Best Picture nominee, while four of the five Best Actor nominees can claim that.
Ugh, Suicide Squad
As we'd dreaded, Suicide Squad scored a nod for Best Hair and Makeup despite doing this to Common. "Oscar nominee Suicide Squad" is now officially your go-to 2017 Oscar joke and an easy layup for host Jimmy Kimmel.
Michael Shannon shook up the Best Supporting Actor race
Though he'd initially earned awards-season buzz for his turn as a laconic lawman in Nocturnal Animals, Michael Shannon was sidelined for much of awards season, even as his co-star Aaron Taylor-Johnson won a Golden Globe. It's surprising, then, that Shannon was today's sole Nocturnal Animals nominee, and even more startling that he beat out Florence Foster Jenkins star Hugh Grant, who'd heavily campaigned for a Best Supporting Actor nod. Did Grant, who's clearly the co-lead of that picture, suffer from category confusion?
Gains were made when it comes to diversity
After two straight years of #OscarsSoWhite, four Best Picture nominees were led by nonwhite characters — Moonlight, Fences, Lion, and Hidden Figures — while seven actors of color won individual nods, too. While encouraging, beware the premature headlines that call #OscarsSoWhite a thing of the past: Hashtag creator April Reign's mission was to shed light on the lack of diversity in many categories, and there's plenty of work still to be done. (Can you believe, for example, that a woman has never been nominated for Best Cinematography, and that Arrival's Bradford Young is just the second black person to score a nod in that category?)
Passengers got more nominations than Silence
Martin Scorsese's arduous religious epic never quite found its awards-season footing, coming in very late and proving a difficult sit for many voters. Its sole Oscar nod came in Best Cinematography, while the critically derided Passengers scored a surprising two nominations in Best Score and Best Production Design. When it comes to Oscar favorites the Academy just can't quit, J.Law trumped Scorsese this year.
Fox Searchlight is without a Best Picture contender for the first time in years
The art-house arm of Fox has been a staple at the Oscars for more than a decade, usually rating at least one Best Picture contender in the mix since Sideways in 2004. Though the studio at one point had high hopes for its controversial entry The Birth of a Nation and the critically acclaimed Jackie, the former was blanked entirely, while the latter earned three nominations but missed out in Best Picture. This is especially notable considering the studio recently won back-to-back Best Picture trophies for 12 Years a Slave and Birdman.
Amazon's Manchester by the Sea makes history
The digital behemoth famously shelled out $10 million for Kenneth Lonergan's family drama last year at Sundance, and it seems the investment was worth it: The company has beaten its biggest competition, Netflix, to become the first streaming-video company to earn a Best Picture nomination, in addition to nods for Best Actor (Casey Affleck), Best Supporting Actor (Lucas Hedges), Best Supporting Actress (Michelle Williams), Best Director, and Best Original Screenplay. Still, Netflix didn't leave this morning empty-handed: The company's acclaimed film 13th, directed by Ava DuVernay, earned an Oscar nomination for Best Documentary, while both The White Helmets and Extremis received nods in the Best Documentary (Short Subject) category.
Pharrell and Sing Street were spurned in Best Original Song
Four of the slots in this category went to actual musicals, but it's still notable that Hidden Figures, which prominently features several Pharrell-performed songs, and Sing Street, which is fucking wonderful, missed the cut. Instead, the fifth nomination went to Sting's "The Empty Chair" for Jim: The James Foley Story. Sure, okay.
Hidden Figures offers up the only female nominee in the screenplay races
For much of the season, there was a dismal dearth of strong female contenders for Best Director and both of the screenplay races until Allison Schroeder entered the mix late last year for Hidden Figures. Co-written with director Ted Melfi, the script is based on Margot Lee Shetterly's nonfiction book about an elite team of black female NASA mathematicians and is now a contender for Best Adapted Screenplay, sparing Schroeder herself from becoming a hidden figure among Oscar's largely male writing-talent roster.
August Wilson earns a posthumous nomination for writing Fences
Nominations for late talent aren't a new phenomenon, but among the nine nominees who've earned screenwriting nominations after their death, playwright Wilson is the first black scribe to be recognized. If Wilson wins the Best Adapted Screenplay race after passing away in 2005, he'll be only the second late writer to take a screenplay Oscar, after Gone With the Wind screenwriter Sidney Howard earned a posthumous win in 1939.
Sorry, Deadpool
Ryan Reynolds pushed his comic-book blockbuster as far as it could go, earning nominations from the Golden Globes, the Writers Guild, and the Producers Guild, but the Academy simply didn't bite. Expect Reynolds to crash the ceremony anyway as a presenter, where he can crack wise about the snub and retain Deadpool's unlikely underdog charm.