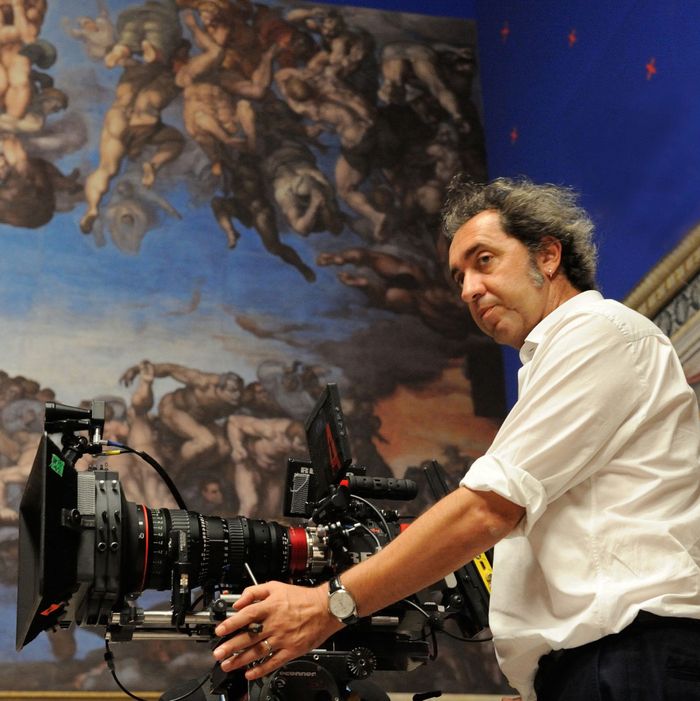 Paolo Sorrentino.
Photo: HBO
A decade ago, Italian director Paolo Sorrentino opened his devious black comedy, The Family Friend, with a pull-away shot of a nun buried neck-deep in the sand, muttering the "Our Father" prayer to a cross necklace resting half a foot in front of her face. There's no real follow-through on this extraordinary image. The Family Friend isn't a film about religion per se, and the nun doesn't factor into the story, which revolves around a miserly debtor who lives to exact his pound of flesh. It is merely a strange and allusive moment, the product of an artist with an instinct for the exuberantly surreal.
That moment can now be seen as a bit of foreshadowing for Sorrentino's new HBO series The Young Pope, which opens with another religious figure buried alive, this time under a pyramid of wriggling babies. In the weeks leading up to the series' premiere, the meme-ification of The Young Pope has been a fun diversion from the political hellscape of social media, a chance to revive the whistle from Peter, Bjorn & John's "Young Folks" or prod Jude Law into an infectious chuckle. But the cloud to this silver lining is the assumption that The Young Pope is oblivious to its own absurdity, as if it were intended to be another Serious HBO Drama that went off the rails. So let me give Sorrentino the Pee-wee Herman defense: He meant to do that.
Audacity is the defining characteristic of Sorrentino's work, to the point where he appears to consider himself the heir apparent to a robust school of Italian filmmaking, like mid-to-late-period Federico Fellini combined with Martin Scorsese at his most over-caffeinated. The English title of Sorrentino's magnum opus, 2013's The Great Beauty, a 142-minute celebratory send-up of Roman decadence, is translated from La Grande Bellezza, an homage to Federico Fellini's sprawling 1960 masterpiece La Dolce Vita. There are few directors in the world with the impudence to invite direct comparison to a celebrated classic, especially one whose set pieces — a helicopter transporting a statue of Christ over the aqueducts, or Anita Ekberg frolicking in Trevi Fountain — are etched in the collective conscience of film lovers everywhere. Depending on your perspective, Sorrentino's confidence (or hubris) is staggering.
To that end, The Young Pope is an attempt to bend television to his will, to see if his discursive style can be accommodated by a medium that favors a more muscular narrative. The tug-of-war is evident already in the contrast between papal intrigue — New York Times critic James Poniewozik dubbed it "an arthouse Vatican of Cards" — and an assortment of dream sequences, stylistic flourishes, and funny little detours, like Jude Law's Pope Pius XIII sounding off on Cherry Coke Zero or a kangaroo being set loose in the gardens. Were Twitter his chosen medium, Sorrentino would out-meme anyone about his show, given the fusillade of winks and spitballs he's already directed at Vatican City and the backbiting gossips who wander its hallowed grounds. As his career has progressed, these playful little interludes have largely overwhelmed attempts at plotting, which has put the onus on his boundless imagination to make up for his half-interest in moving the story forward. All of his films, as well as The Young Pope, are about rattling around the headspace of privileged and powerful men in isolation, and Sorrentino cares most about evoking their states of mind.
In fact, youth is the one thing separating Pius from the other men in Sorrentino's filmography. Where Lenny Belardo is just coming into his own as the fearsome conduit between one billion Catholics and the divine, Sorrentino prefers antiheroes on the wrong side of middle age, consumed with regret about their past. His favorite actor, the wonderful Toni Servillo, looks a bit like Joe Biden if he were a Madame Tussauds figure that had melted slightly under the lamp. In 2004's The Consequences of Love, Servillo plays a mystery man whose mafia past confines him to endless penance at a Swiss hotel; in The Great Beauty, he's an author whose only success has earned him a place in high society, but all he can do is spin his wheels while the party rages around him. In The Family Friend, the greed of a money lender (Giacomo Rizzo) keeps a community both indebted to him and bitterly estranged; in the misbegotten but fitfully wondrous 2011 road movie This Must Be the Place, Sorrentino cast Sean Penn in pancake makeup and a shock hairdo as a long-in-the-tooth Robert Smith type who hunts down the Nazi war criminal responsible for tormenting his father. (Let that synopsis marinate in your head for a while.) In his most recent feature, 2015's Youth, Michael Caine and Harvey Keitel are set loose on a resort in the Swiss Alps, where they are consumed with regret about the past, not least because they can't know what it's like to be young again — much less a young pontiff.
The strongest point of comparison for The Young Pope, however, is Sorrentino's sensational 2008 biopic Il Divo, which stages the extravagant corruption and violence of Giulio Andreotti (Servillo), the seven-time prime minister of Italy, as if it were GoodFellas or Casino. Andreotti's relationship to power players in the Church and the mob is framed as an opaque, gangland government where political opponents are brutally rubbed out. The film's extraordinary opening sequence, a montage set to Cassius's Clash-like single "Toop Toop," runs through a timeline of murdered journalists, bankers, and other assassinated figures, including former Prime Minister Aldo Moro. It's difficult to follow these machinations without a solid understanding of late-20th century Italian politics, but Sorrentino's contempt for the country's opulent institutions is unmistakable. Both Il Divo and The Young Pope bring a jester's wit to these centuries-old bastions of political and religious power, each laid low by arrogance and scandal. At a minimum, they are both occupied by men more flawed and human than their exalted stature suggests.
If anything, The Young Pope is the more liberated of the two. Since Giulio Andreotti was a real person with a real historical record, Il Divo needed some relationship to the facts. (Andreotti allegedly hated it so much, he walked out of the film's screening.) The Young Pope has no such obligation to history. Sorrentino can mingle the blessed and the profane, the Biblical and the heretical, and the difficulty of reconciling the ancient and traditional past with the demands and vulgarities of the present, which is also a major theme in The Great Beauty. Questions of faith and the state of the modern Catholic Church are a legitimate concern in The Young Pope, but Sorrentino approaches them with irreverence and a sense of possibility. To him, nothing is sacred.
Il Divo is available to stream on Amazon.
The Grand Beauty is available to stream on Amazon, iTunes, and YouTube.
This Must Be the Place is available to stream on Amazon, iTunes, and YouTube.