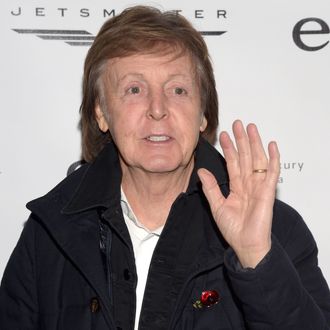 Paul McCartney.
Photo: Jason Kempin/Getty Images for DuJour
In what's historically been known as the saga of the Beatles perpetually being for sale though never actually owned by themselves, Paul McCartney is once again fighting back. TMZ reports that Macca has sued Sony Music for the rights to his pride and joy that is the vast, valuable Beatles oeuvre. McCartney famously missed out on regaining the rights to most Beatles songs when his friend Michael Jackson outbid him in a sly bit of backstabbing for ownership of ATV Music Publishing. For decades, Jackson split ATV's publishing — and therefore all those Beatles songs — with Sony. But years after his death, Jackson's estate agreed to sell his half of ATV to Sony last March to pay off debts, giving the music giant full control over the holy grail of songbooks.
Months prior to this deal, however, Macca reportedly had already started scheming to take back what's his, using the U.S. Copyright Act of 1976 to his advantage. That act allows songwriters to reclaim the publishing rights on songs written prior to 1978 after 56 years. Lucky for McCartney, his and Lennon's Beatles songs start turning 56 in 2018, which is exactly when Macca expects Sony to fork over his half. According to his federal lawsuit, Macca has been in talks with Sony to get the label to confirm it will transfer the rights to his songs to him next year without protest, but they have yet to budge. Hence, McCartney is now taking them to court. Just another day in the life of a soon-to-be-wealthier Beatle.