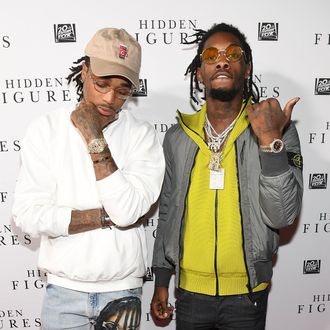 Give the people what they want.
Photo: Paras Griffin/Getty Images
Next weekend, Lady Gaga will play the Super Bowl halftime show for the first time. But if it were up to one passionate petitioner, there'd be someone else entirely in her slot. A very dedicated Atlanta Falcons fan has started a Change.org petition with close to its goal of 15,000 signatures urging the NFL to replace Lady Gaga with the show's rightful halftime performer: Migos. Deserving as Gaga alter ego Joanne is of the honor, the dude has a convincing argument; hear him out, Monsters. Firstly, Migos hail from Georgia so they'd represent at least one of the teams on the field. Secondly, this year's Super Bowl is being held in the rap powerhouse of Houston. All valid points so far. This petitioner has even mapped out the entire night, which would involve Young Thug singing "Guwop Home" ("the official anthem of Atlanta") and a preshow with Rae Sremmurd, Gucci Mane, Goodie Mob, Ludacris, and Jeezy. But it's his pitch for the main event that wins the Lombardi:
"Andre 3000 should sing the national anthem with Erykah Badu. By sing I mean hit Donald Trump with a FIRE 64 bars. Halftime should be Migos killing 'Bad and Boujee,' Future kills em with 'March Madness,' then Outkast comes out and does an AQUEMINI sampler and then they end it with BUN B and JAY Z DOING BIG PIMPIN!!!! If you're gonna put on a show for billions THIS IS THE ONLY SHOW."
Gaga also already sang at the Super Bowl just last year and, really, who could argue with André 3000 over Luke Bryan? Rap acts have rarely been invited to be part of the halftime show — let alone headline the whole spectacle — but Migos currently have the No. 1 song in the country. Do it for the culture, NFL.