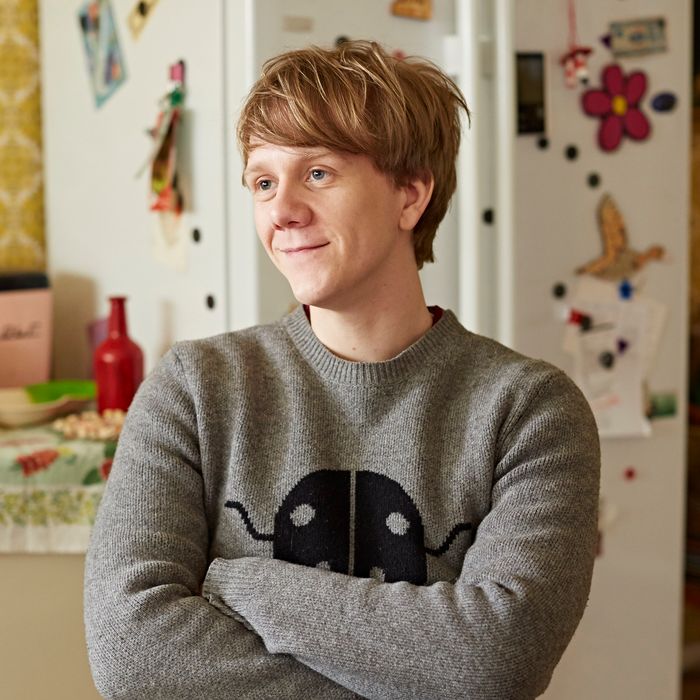 Josh Thomas.
Photo: Narelle Portanier
If you happen to have a few spare hours this weekend, if it's cold and you'd rather not go outside or you're dealing with a pervasive sense of political dread, consider checking out Hulu's Australian import Please Like Me. The show chronicles the awkward misadventures of the 20-something Josh (series creator Josh Thomas), whose girlfriend breaks up with him in the first episode because she's convinced that he's gay (he is). Josh lives in Melbourne with his friend Tom (Josh Thomas's friend Thomas Ward) and their dog, John (John the Dog, who has his own IMDb page). Hulu recently added the fourth season of Please Like Me, which aired in Australia earlier last year, to its catalogue. The first three, two of which aired on Pivot before that network shut down, are also streaming on the site.
Those who watched the first few seasons of the show will be glad to know that the fourth season of Please Like Me continues in much the same vein, which is to say that it's still funny, occasionally sour, and often bittersweet. Those who have never seen the show might find similarities in Girls, a constant American point of reference (Thomas, like Lena Dunham, is nearly the same age as his character), or British millennial-centric comedies like Lovesick, My Mad Fat Diary, or Crashing. True to its title, the characters in Please Like Me are cloying, needy, and often rude to each other. They're also very funny, and kind in the ways that matter.
Please Like Me knows its characters well, which means that it's able to arrive at big moments even in small scenes. The show tends to eschew exposition, which can be jarring, especially in the rushed third season, but its loose format allows it to reconfigure at will. A standout episode in the second season has Josh, Tom, and their friend Claire (Caitlin Stasey) rehashing their friendships across a barricade of furniture Tom has piled in front of his room. Another, in the fourth season, has Josh bickering with his mother and father — they have divorced and she is suicidal — at a fancy restaurant. "Before you know it, you've been rejected before you even get out of bed," Josh's mother says, expressing concern over his use of dating apps. He responds quietly, "Sometimes I get accepted."
Josh, and his need for acceptance, forms the center of the show, and the way Thomas plays him, his quick wit can come across as both morbid and absurd. While coming out, he tells his friend that he thinks he'll miss vaginas, which just "make sense." Accompanying his mother on a camping trip, in part to help her depression, he tells her, "Try not to be the Donkey to my Shrek." Josh, his friends, and his family only really trust other people who are just as self-involved as they are. In the most recent season, Josh's friends mature out of their co-dependency, and he starts to feel stranded. He worries he'll become "another single, mid-30s homosexual on ketamine."
One of Please Like Me's strengths lies the specificity of that fear. Josh's sexuality — and the fact that he doesn't want to have kids — makes the show a different sort of coming-of-age story than most you see on TV. Please Like Me catalogues the nuances of dating life for gay men — discussions about topping and bottoming, relationships with guys who aren't fully out of the closet, trips to HIV testing — but as the show has progressed, it's demonstrated more confidence in exploring its larger implications. Josh isn't interested in settling down, the seeming endpoint for so many TV relationships, so where exactly is his life heading? Is there any reason for him to grow up, anyway? Then again, once Josh starts to worry about his mother's suicidal episodes, a story line that Please Like Me treats with frank despair, maybe he's grown up too fast already.
But let's not pretend there's anything that's too dour about Please Like Me. The dog is adorable; the direction, mostly from Matthew Saville, makes all of Melbourne look like a neighborhood bakery; the boyfriends are all cute; and the food — each episode is named after a different dish — is uniformly mouth-watering. There are only 32 episodes, and each is only about a half-hour long. As with any good meal, you'll be done before you know it.