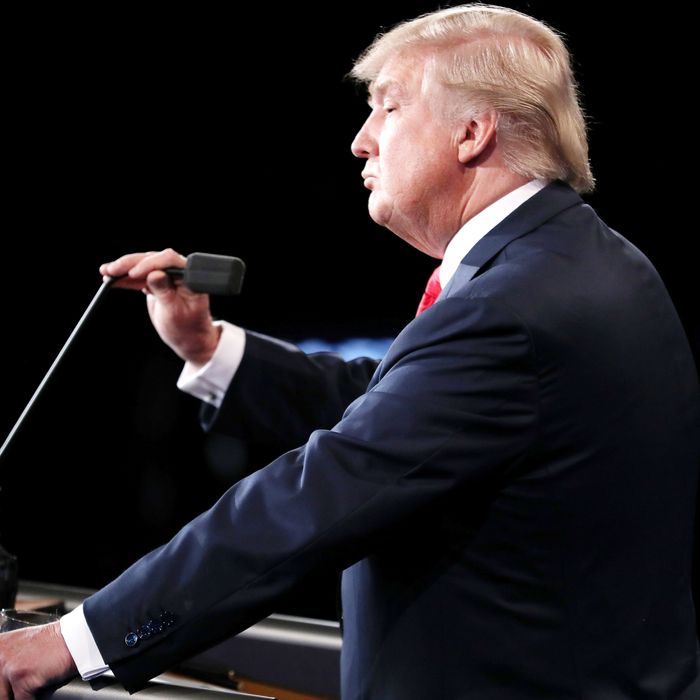 Photo: Joe Raedle/Getty Images
Call it a sign of the times: When President Obama sat down for his final interview in office, he didn't do so with a network TV special or a glossy magazine feature. Instead, he chose a podcast that's barely a month old. It may seem like a surprising pick, but then again, the podcast in question is Pod Save America, the first offering from Crooked Media, a progressive media startup recently launched by former Obama staffers Jon Favreau, Jon Lovett, and Tommy Vietor.
The episode dropped on Thursday morning, and beyond being Obama's last interview as president, it's also significant for how it characterizes the emerging spearhead of a particularly activist wing within the political-podcast genre — one that's more action-oriented, organizing-minded, and community-driven. That emergence is best encapsulated in a question Lovett asked Obama during the interview: "A lot of people that listen to this are people that care about the Affordable Care Act and are looking for ways to help. What would you tell them about the ways they can get involved … and fight to preserve the gains of the bill?" Yes, it's a softball question you'd ask a president who agrees with you on an issue, but it's also the product of a profound shift in American politics. A few months ago, asking that question in that exact way wasn't quite necessary. We're no longer where we were before.
The political-podcast genre, as a whole, mushroomed over the course of the 2016 election cycle. In hindsight, this isn't particularly surprising: Podcasting had been bubbling up as a new field of opportunity for media organizations and enterprising media types, and the presidential election provided an obsessive news event that served as an easy hook to build shows around. Weeks before Election Day, it was insanity — there were election podcasts for the left, for the right, for the "dirtbag left," for the insiders, for the news junkies, for poll watchers, and even for the profiteers. But in the wake of Donald Trump's win, critics like Josh Nathan-Kazis suggested that political podcasts demonstrated how the nexus of media and politics utterly failed the public by both downplaying and abetting the rise of Trump — a feeling ultimately rooted in the unique sense of betrayal generated by the emotional connection between listener and host, which podcasts are often said to be so good at creating.
The Crooked Media team arguably served as the poster boys for that breakdown. (Though by no means were they the only perpetrators.) Keepin' It 1600 — the team's wildly popular pre–Crooked Media predecessor to Pod Save America — enjoyed as many as 400,000 listeners per episode at its peak and was an acute example of how punditry can fail the public. Between coining the notion of "bed-wetters" (referring to Democrats concerned about the Trump phenomenon) and consistently expressing a sense of unchecked confidence, Keepin' It 1600 perhaps helped to cultivate a psychological environment of undue comfort among many of its Hillary Clinton–supporting listeners. The day after the election, Favreau, Lovett, and Vietor were as shocked by Trump's win as anyone else.
Whatever their specific impact on listeners, it does seem like audiences are generally beginning to pull away from political podcasts. According to Podtrac, a measurement firm that tracks podcast audiences, the two major podcasts covering politics — NPR Politics and FiveThirtyEight Elections — experienced downward pressure between November and December of last year, with the latter even dropping off Podtrac's top 20 list. Personally, I can relate to that fatigue. It took me a week to pick up a newspaper again after the election. It took two months before I could download another episode of, say, the Slate Political Gabfest or the FiveThirtyEight Election podcast or, God forbid, Keepin' It 1600. I suspect that part of my hesitancy had to do with the sheer exhaustion of this particularly brutal and dehumanizing election cycle. Another part of it had to do with processing and internalizing the conclusion of that cycle, which will render an epochal shift in American politics as Trump begins his first 100 days.
It all speaks to a fundamental aspect of media consumption: Ultimately, it's an emotional enterprise. (That truth has long been weaponized by television news and the headline-driven economy of information, both digital and analog.) Subscribing to a political podcast is an active and personal choice, an explicit move to let politics intimately into your private space of thought. Many who voted against Trump fear that the years to come will be a perpetual drumbeat of unspeakable political horror. As a result, it's not unreasonable to suspect that some of those people will think, "I'm just going to ignore the news for the next four years." They may simply choose to tune out.
How the political-podcast genre — particularly those that are journalistic — attends to this state of affairs is key, but it also creates an environment of new opportunity. Activism-oriented podcasts — some that have been around for a while and some new — can step into the foreground to meet the demands of the moment. In December, Fast Company ran a short profile of The FourFiftyOne podcast, a new "Trump resistance podcast" started by journalist Summer Brennan that serves as a distinct place for those opposed to Trump to convene and act. Crooked Media, for its part, explicitly incorporated the goal of inspiring action in its mission statement: "There will still be analysis," the team promised, "but with a new emphasis on activism and political participation." It's also easy to imagine podcasts like Call Your Girlfriend and BuzzFeed's Another Round, which has long excelled at creating thoughtful spaces for examining action within the context of self and society, finding new ground and increased resonance in the Trump era.
Whether journalistic or activism-minded, both types of podcasts will have to attend to the same core function: How do we maintain that emotional connection without burning out our listeners? It's a tricky question without any obvious solution, and the latter genre is poised to dig even deeper. When a political podcast leans into activism, it must also take on a particularly difficult responsibility: How do you serve a disparate community of people looking for guidance, places to commune, and calls to action? In the Trump years, the answers to both of these questions will determine how political podcasts will fare.