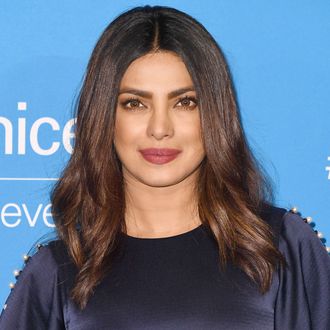 Her henley was hopefully not harmed.
Photo: ANGELA WEISS/AFP/Getty Images
Priyanka Chopra was hospitalized after an accident on the New York set of Quantico on Thursday evening before being released several hours later. She is now at home and resting, according to Variety. According to TMZ, Chopra fell and hit her head while attempting a stunt, suffering a concussion in the process; per her rep, Chopra was "immediately taken to the hospital, examined by a doctor, and released." The show has resumed filming without Chopra, as she is taking some time off to recover, but she is expected to return to shooting soon.
Update, January 15: Chopra has released a short statement on her Twitter page in regards to her injury, thanking her fans for their support. It's still unclear as to when she will resume filming Quantico.