It started with a chant. At first it was just young Socrates, Jaden Smith, staring dead-eyed into a small camera at whomever had tuned into the previously unannounced livestream that the teen tweeted out shortly before going live on Inauguration Day. "He will not divide us," Smith began repeating in a controlled soft monotone, only slightly tweaking his rhythm with each phrasing. That statement is the unifying principal behind his friend Shia LaBeouf's latest avant-garde performance-art piece, also titled HE WILL NOT DIVIDE US, held nonstop from now until whenever Donald Trump's presidency expires — in four years or eight years (or sooner?) — at the Museum of the Moving Image in Astoria, New York. The aim is that anyone can come up to a wall just outside the museum, day or night, rain or shine, seven days a week, and keep chanting "He will not divide us" into the constant livestream. In this instance, the art is protest and the performer is you.
The next ones to approach the camera alongside Smith, 18, are a handful of his peers. At lunchtime, when most teens at the Frank Sinatra School of the Arts two blocks away have short breaks, the gathering balloons to dozens. They start to passionately sing the protest's mantra a cappella rather than deadpan its words; a couple of black boys in front of the camera that look not much younger than Jaden soon lend a beat. There's dancing, but never for too long. Everyone's here to protest the beginning of a precarious, threatening new era in U.S. history, not celebrate it.
While Smith spends hours without a break chanting the loudest and leading the fluctuating crowd in unison — often almost blending in with them were it not for his recognizable dreadlocks — LaBeouf lingers off-camera. By the time I arrive on the scene after 3 p.m., Smith has left and it's now drizzling; LaBeouf has become more nomadic. He'll stop to talk to the few fans there for him (the teens want to see Smith), take selfies, autograph Jordans, chain-smoke, step away for some Starbucks — but mostly, he'll just engage in some interpretive swaying along to the movement of the chant. What he won't do, however, is tamper with the performance's free flow with over-interference. That means no answering questions about its inception, purpose, or function as protest. "I don't have any answers," is all he'll entertain. (A source close to the project later tells me that LaBeouf and his creative partners, Rönkkö and Turner, came up with the idea days after the election and that LaBeouf may stick around awhile longer to watch it unfold.) LaBeouf less a participant in the protest — though he'll occasionally restart the chant — and more on hand to cheerlead for his cause, whatever it may be. When he steps away, morale dissipates; the moment he returns, the crowd swarms and interest in stepping in front of the livestream resumes.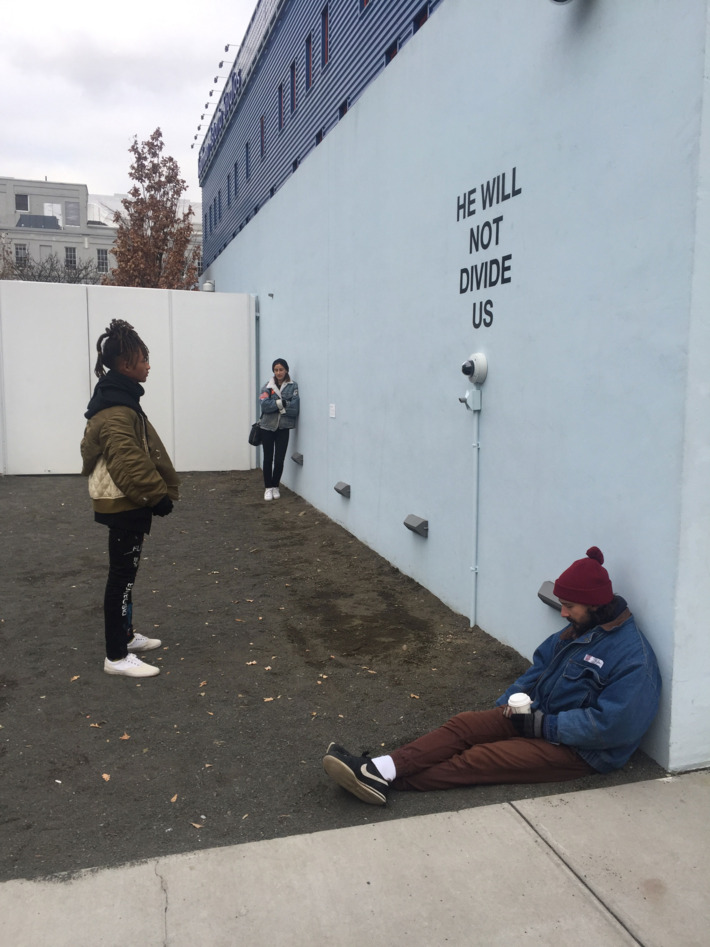 The mostly younger crowd, ranging in age from 14 to 20, wasn't sure what to expect. Two teens tell me they thought he might be filming a movie when they heard about the setup at MoMI, which wouldn't have been an uncommon sight in the neighborhood with the famed Kaufman Studios, home to Orange Is the New Black and other shows, next door. "I told my whole school about this," one says. Still, finding out it was instead a protest wasn't a letdown. Some of the students had become politically awakened during and after the presidential election, even if they weren't of legal age to vote. (At one point, a 14-year-old steps up to the livestream, shushes the chant, and gives an impassioned speech on equality.) "Trump is a virus!" some begin to rhyme with the chant. "Trump is a racist son of a bitch!" another adds less poetically. "Who thinks Michelle [Obama] should run for president in 2020?!" one teen screams above the crowd. A few unacquainted protesters begin to bond over their shared Trump-disparaged heritages — Ecuadorian, Mexican, Brazilian. A few are less enthused by the spectacle: "I just really need Starbucks," I overheard one teen sigh.
If HE WILL NOT DIVIDE US wants to be an uninterrupted live and public peace summit, it's a social experiment like any that could be misused. Briefly an "All Lives Matter" chant erupts, the one visibly uncomfortable hiccup in what's meant to feel like a safe space for discourse, despite it being a protest against the current president. Much later, after dark, LaBeouf invites another young man to lock arms with him in front of the stream and piggyback off his own chant with a new one: "Who is us? Is he us? He is us. We are us. If there's an us, there's a them. Them means division." Neither of them can keep a straight face at the self-seriousness of such existential musings. They both start to sporadically chuckle through the uncertainty, united.