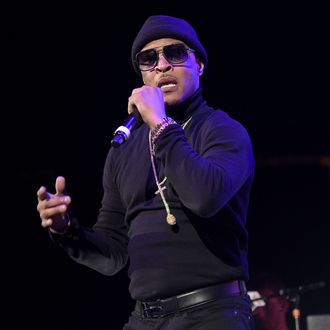 T.I.
Photo: J. Kempin/Getty Images
After writing open letters to Barack Obama and Donald Trump, T.I. is capping off his series of writings about the state of society with a letter addressed to "US." By "US," T.I. tells Ebony that he is referring to "The Black community, the hip hop community or whoever is against the oppressive communities that have historically tried to bring us down." The rapper uses the letter to urge those who identify as such to fight harder against oppressive forces, chastening "US" for not doing enough to fight the injustice. He writes:
You see, all of US sometimes feel that one of the most difficult things in the world is to talk to US about US in an effort to help US. However, we cannot dismiss the fact that we can't fix what we do not address. You see we've somehow allowed ourselves to think it's okay to neglect and abandon our responsibility to ourselves and to our community. Everything cannot be blamed on THE SYSTEM.
T.I. does not exempt himself from his indictment, saying, "I understand that I too have been guilty of doing the very things that put us here. Even still, right now the state of our community is more alarming than ever." He condemns "Our obsession with material things and lack of self-worth" and, going forward, insists, "There are no more excuses. It's not enough to have limited progress and allow our expectations and sense of purpose to evaporate. So, if that means we must sacrifice some nights at the club and give up buying the latest designer handbags and sneakers … well then damn, so be it." The rapper concludes, "Now, I know it's not easy … but all of US can do something." Read the letter in full here.