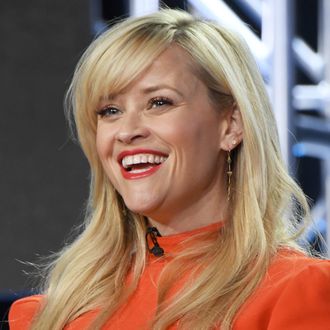 Reese Witherspoon.
Photo: Jeff Kravitz/FilmMagic
Reese Witherspoon is set to star in HBO's Big Little Lies, and while the project is packed with top-tier women, Witherspoon remembers a time when being a woman in the entertainment industry meant incredibly isolating on-set experiences. Appearing at the TCAs, Witherspoon got candid about Hollywood's so-called "Smurfette Syndrome," wherein she was frequently the sole woman in the room. "For 25 years, I've been the only woman on set, so I had no other women to talk to … They call it 'Smurfette Syndrome.' Because she's got a hundred Smurfs around her and she's the only girl," she explained. Describing the vibe in making Big Little Lies, Witherspoon said, "Honestly, it's so refreshing to get to spend time with women."
Witherspoon also spoke to the need for women's stories to make it in front of the camera, because "We learn from art, and what can you do if you never see it reflected?" She insisted, "Things have to change — we have to start seeing women as they really are … We have to see real women's experience. Whether it involves domestic violence, whether it involves sexual assault, whether it involves motherhood or romance or infidelity or divorce. We need to see these things." That need is what led Witherspoon to get more involved in developing her own projects (she's an executive producer on Big Little Lies), because "I'd just had enough." And so say we all.