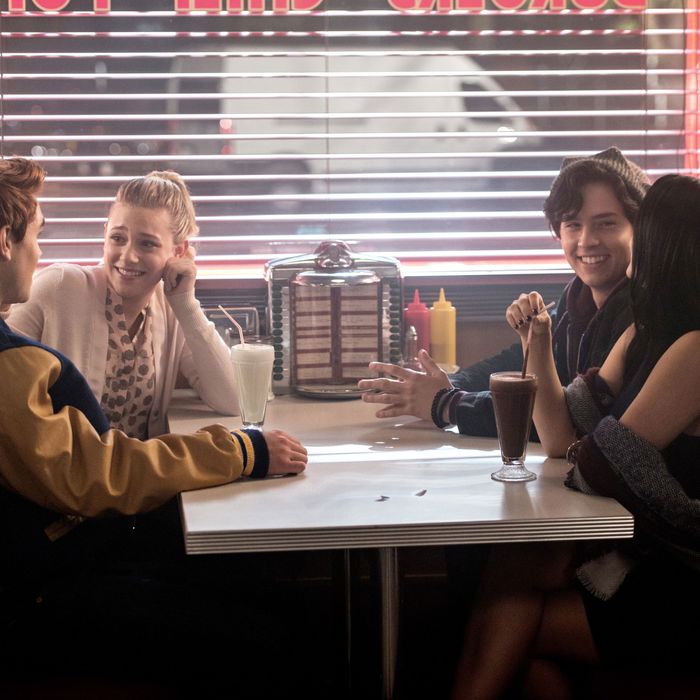 How the times have changed.
Photo: Diyah Pera/THE CW
Mild Riverdale spoilers below.
The CW's much-anticipated teen drama, Riverdale, isn't the most orthodox of takes on the 76-year-old Archie Comics mythos. Sure, the characters in the show have names you'll remember from those little Archie Comics digests from back in the day: Archie, Betty, Veronica, Jughead, and the rest of the gang. But as you'll recall, those stories were pretty light on sex and murder, whereas Riverdale bathes in lasciviousness.
Accordingly, these reimagined versions of the characters diverge significantly from their classic incarnations. Which one is the most wildly and/or scandalously different? Ahead of Riverdale's January 26 premiere, we ranked the cast from most recognizable to least. (Note: These rankings are based on the first four episodes, which were released to critics in advance. It's entirely possible that Betty will be revealed as an enormous spider in a human costume by episode six.)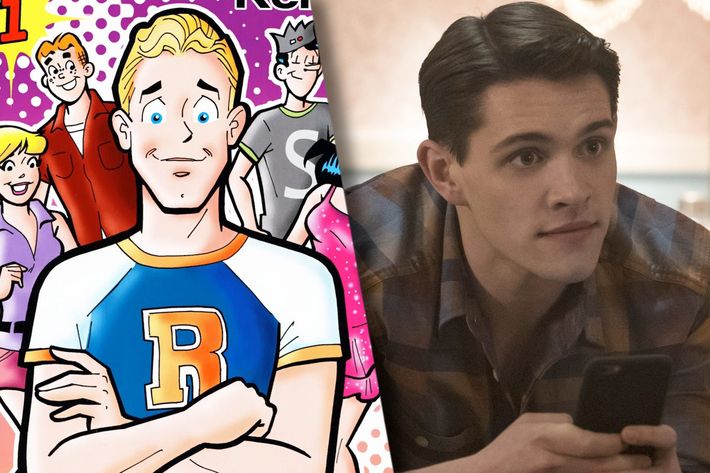 16. Kevin Keller (played by Casey Cott)
If Kevin's name doesn't ring a bell, don't worry, you haven't gone prematurely senile. He's the most recent addition to the core Archie gang, having been introduced by writer-artist Dan Parent in 2010. The flaxen-haired teen made a PR splash, due to the fact that he was the Archie corpus' first openly gay character. In the comics, he's winsome, quippy, and a little bland. In Riverdale, he's all of those things, though he's ever-so-slightly more acerbic and given to making obscure pop-culture references. (Also, his dad is the town sheriff.) The guy already won Archie Comics a GLAAD award, so why mess with a good thing, right?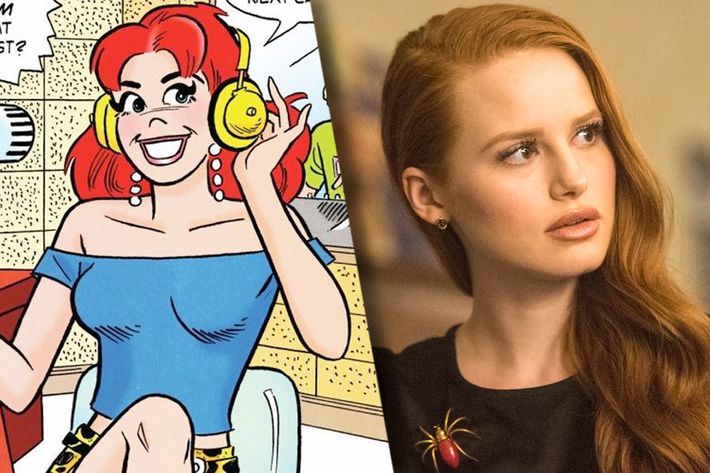 15. Cheryl Blossom (played by Madelaine Petsch)
Cheryl was another relatively recent addition to Archie Comics, having only emerged in 1982 (hey, I said relatively), and she's remained pretty consistent through the years: She's a vain, rich jerk with candy-apple-red hair. The main traits distinguishing her from Riverdale's other vain, rich jerk, Veronica, are (1) she's even vainer and jerkier, and (2) she's more overtly sexual toward Archie. All of that remains true in Riverdale, though there's the addition of some possible incest with her brother, Jason, whose murder kicks off the show's narrative. But even that isn't totally new — showrunner Roberto Aguirre-Sacasa heavily implied as much in his Archie-meets-zombie horror-comics series, Afterlife With Archie. Either way, sibling-on-sibling action has typically been confined to an Archie reader's own twisted imagination … until now.
14. Dilton Doiley (played by Kyle Stehura)
Dilton is the class nerd in both the original comics and Riverdale, eternally bespectacled and never quite socially comfortable. But in Riverdale, he has an … interesting hobby. Alas, to reveal it would constitute a grievous spoiler, but suffice it to say it's been understandably absent from his printed adventures. That said, his Riverdale pastime is oddly compatible with his comics depictions, making you wonder what the dweeb was up to when everyone just figured he was in his room doing math problems.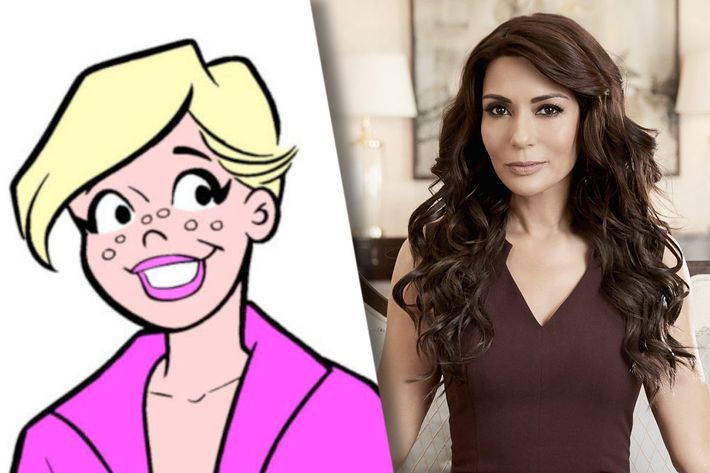 13. Hermione Lodge (played by Marisol Nichols)
Veronica's mother was never much of a presence in the classic Archie strips, but her father — sorry, her daddy — was ubiquitous, constantly railing against that damned Andrews boy and his zany, daughter-stealing antics. (Okay, so maybe outright incest wasn't a thing in the comics, but there was some seriously problematic Electra-complex stuff going on.) In Riverdale, the exact opposite is true: Hiram Lodge is nowhere to be seen, having disgraced the family through some corrupt business dealings before the action even begins, leaving Hermione to tend to their glamorous daughter on her own. The classy matriarch isn't all that different from her comics incarnation, appearing as a slightly snooty but ultimately quite caring parent. One can only assume Hiram will show up at some point, and they'd better give him a handlebar mustache.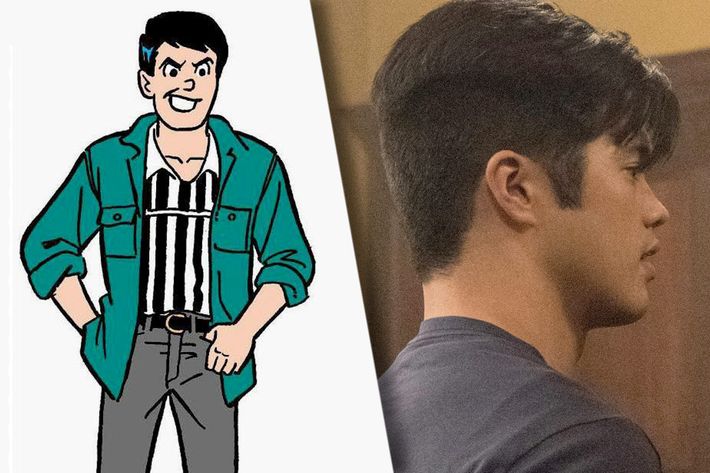 12. Reggie Mantle (played by Ross Butler)
Much like the Lodge family, the main difference between the printed and televised Reggies — other than the fact that the former is white and the latter is played by an actor of Eurasian descent — is the degree to which he's even a thing. Reggie is a critical member of the gang in the comics, forever acting as a dickish frenemy and antagonist to Archie. In Riverdale, he's barely around, and when he is, he seems more like an inconsiderate moron than an outright bully. Plus, although it makes sense why they'd want to change his hair to make it more plausible for a teen in 2017, it's a real shame to lose that unnerving and perpetually shiny middle-part.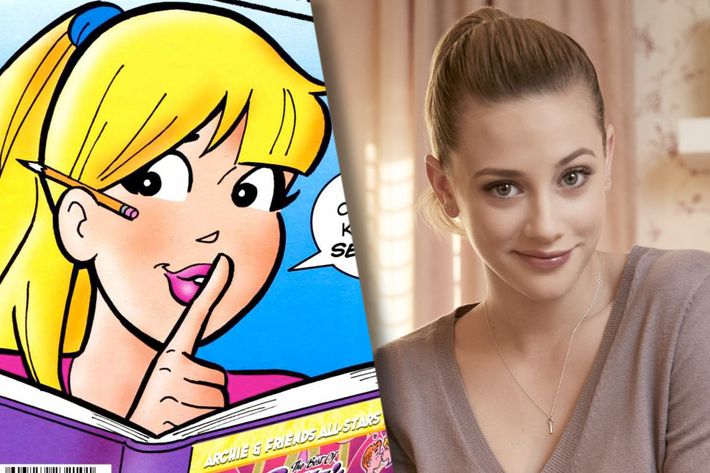 11. Betty Cooper (played by Lili Reinhart)
Betty is nice and niceness is Betty. You can't make Betty Cooper a slimebag or a jerkwad, and Riverdale certainly doesn't try to. The show depicts America's Ur-blonde as a well-behaved kid going through family upheaval while trying to navigate her volcanic hormones, and it all feels very on-brand for the character. The comics version of Betty didn't have a horrible relationship with her mom like the one in Riverdale does, but that's not really about Betty's own character traits. The biggest difference from the source material is the fact that she and Veronica mostly get along, although I'm certain they'll lock horns before the season is out. She still has the high ponytail, thank God.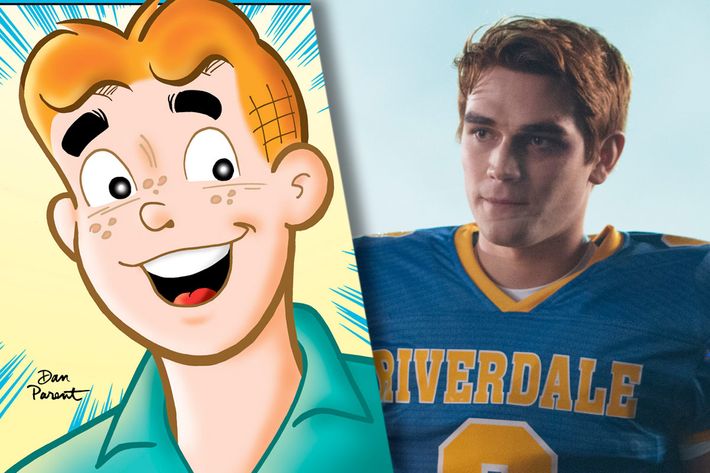 10. Archie Andrews (played by K.J. Apa)
Don't worry: Archie's still a redhead. I mean, Christ, we're not reinventing the wheel here, folks. New Zealander hunk K.J. Apa had to get a pretty aggressive dye-job, but he generally looks the part … except for the fact that this Archie is a chronically shirtless Adonis. Traditionally, Archie has not been the most rawly sexual of gents, acting as a gawky fuccboi who somehow merits the attentions of two beautiful young women. Here, he's almost implausibly attractive. In the comics, Archie can also be a bit nasty, pitting those two ladies against one another and lashing out at Reggie. In Riverdale, the guy's more or less perfect. Sure, he can be sullen or secretive at times, but he's just a big ol' teddy bear here, slightly dim and given to poor decisions, but never ill-intentioned. I'd say he's all-American, but honestly, Americans are pretty ill-intentioned.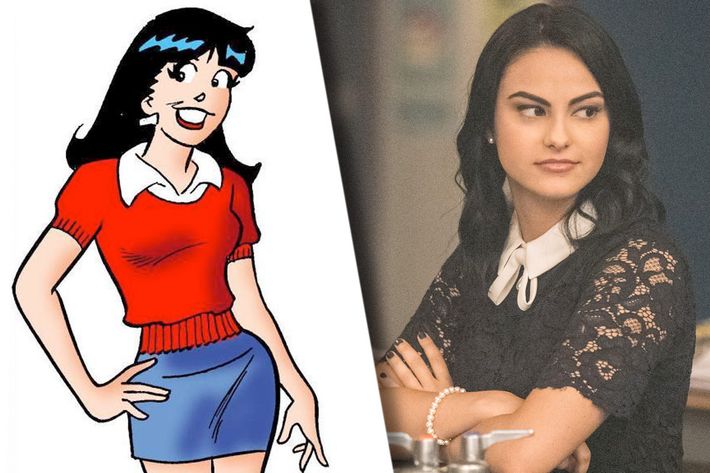 9. Veronica Lodge (played by Camila Mendes)
When someone says they prefer Veronicas over Bettys, they usually mean one of two things: (1) they prefer brunettes over blondes, or (2) they like a spoiled girl who knows how to dish out abuse. Well, Riverdale's Veronica is certainly a brunette, but Aguirre-Sacasa chose to tone down the character's more unpleasant traits and make her relatively easy for her classmates to deal with. She's still a snob who loves to drop names and reference her trips to the Met Gala, but she's generally pretty kind to everyone, particularly Betty. What's even weirder is her lack of obsession over Archie. They get romantically involved for a hot second, but she has her own problems to deal with and doesn't waste much time thinking about that ginger scrub. Also, this Veronica is Latina, which is a first for the character.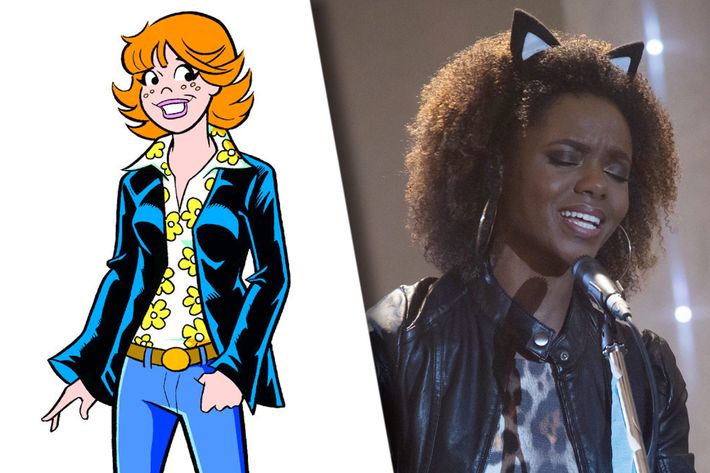 8. Josie McCoy (played by Ashleigh Murray)
As of the end of episode four, we haven't learned a ton about Josie, front woman of the Pussycats, but we get the sense that she … kinda sucks? She's incredibly condescending toward everyone, especially those who would dare to claim their musical talent even approaches hers. The comics version of Josie was basically the nicest person ever, which, to be fair, is a much blander creative choice than the one undertaken by Riverdale. While this Josie is black, which is a change from the comics, the presence of people of color in the Pussycats is not new: Secondary vocalist Melody was the first black recurring character in an American cartoon.
7. Moose Mason (played by Cody Kearsley)
Moose is a muscular dum-dum on the page and on the screen, but that's where the similarities end. The comics version is an eminently good-hearted beast, unable to carry out complex thoughts, but generally kind to anyone who doesn't mess with his beloved girlfriend, Midge. In Riverdale, Midge is nowhere to be found, which is sort of like portraying Wolverine without his claws or Minnie Mouse without her fetching bow. This televised Moose is also a distinctly shittier person, enthusiastically bro-ing out with a sexual predator in the third episode. Come back to us, you sweet lunkhead!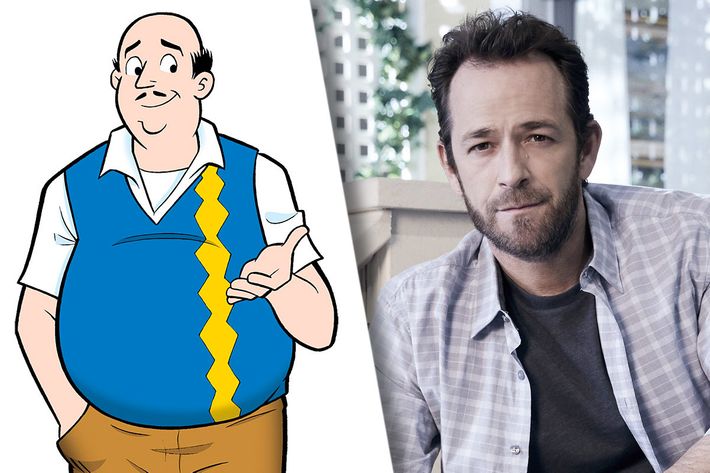 6. Fred and Mary Andrews (played by Luke Perry and Molly Ringwald)
Archie's mom was never that big of a deal in the comics, but she was at least present. In Riverdale, she long ago left her husband and son behind. (She won't be gone too long, as Ringwald has already been confirmed to play her in an eventual appearance.) Fred was a much bigger figure on the page than Mary was, forever wrinkling his bald pate thanks to Archie's shenanigans. In Riverdale, he's way more central than before, and far more fleshed-out. Also, Luke Perry doesn't even come close to resembling the corpulent and mustachioed dope of the comics. Whatever your workout and hair regimens are, Luke, just keep it up.
5. Ethel Muggs (played by Shannon Purser)
There is only one thing that defines Ethel "Big Ethel" Muggs: She wants to date Jughead. That's it. Everything else is just set decoration. In Riverdale, Ethel isn't interested in Jughead. Nothing else need be said — this woman is #NotMyEthel.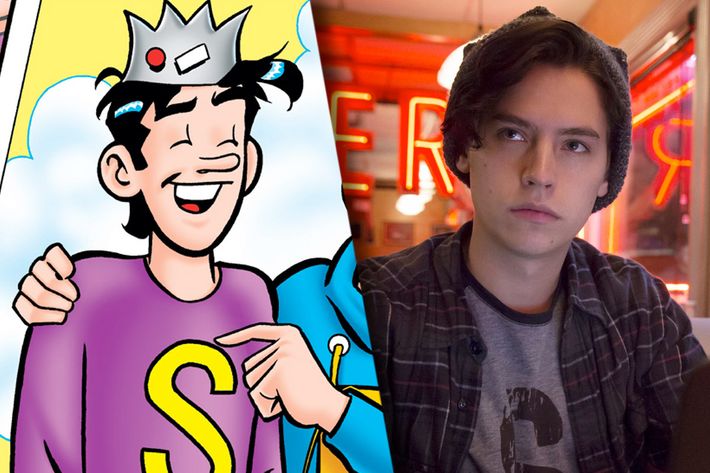 4. Jughead Jones (played by Cole Sprouse)
Jughead is, without a doubt, one of the most distinctively idiosyncratic characters in the history of American comics. He's always walking around with that weird crown and a sweater with a big "S" on it, his eyes nearly always closed and food constantly on his brain. You will find precisely none of that in Riverdale's Jughead. Erstwhile child star Cole Sprouse still plays the guy as an outsider who doesn't play by society's rules, but in the show, he's a baby-faced brooder with a trendy chapeau and aspirations of becoming a crime novelist. We barely even see him eat! Comics Jughead is also famously repulsed by girls (a recent story even declared him to be asexual), but he's willing to simmeringly flirt on the show, although we haven't seen any actual romance bloom yet. God, I hope they throw that "S" sweater on him at least once.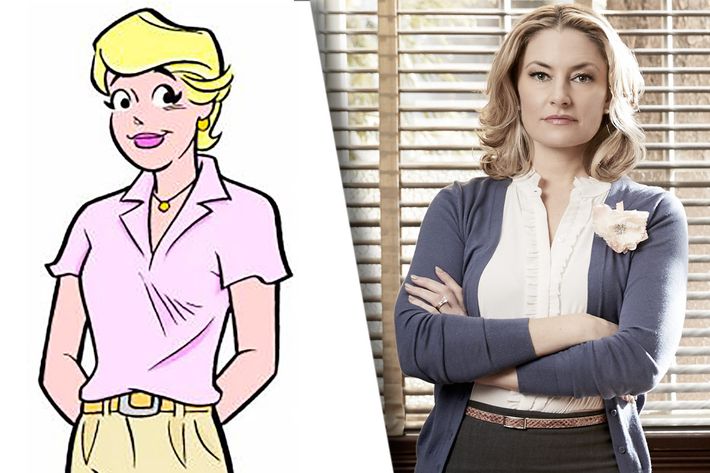 3. Alice and Hal Cooper (played by Lochlyn Munro and Mädchen Amick)
There was basically nothing distinguishing about the Cooper parents in the classic Archie strips, but what we did see was a pair of adults who were exceedingly nice and benign. In Riverdale, Alice is an amoral monster, stirring up drama in the community, foisting study drugs on her daughter, and being an overall jerk to everyone around her. Hal is, unsurprisingly, pretty much beaten into submission. If this Betty is the girl next door, then I wouldn't recommend ringing the doorbell unless her folks aren't home.
2. Chuck Clayton (played by Jordan Calloway)
Oof, this one's quite a bit problematic. The comics version of Chuck was introduced in 1971 as a quintessential Token Black Character, but at least he was inoffensive, mild-mannered, and mostly devoid of stereotyping. In Riverdale, Chuck is an ultramacho, aggressively sexual athlete who gets off on demeaning women. Let's see what happens on Twitter, y'all!
1. Geraldine Grundy (played by Sarah Habel)
Miss Grundy has been around since the earliest days of Archie Comics, appearing as a withered old bat with a dowel-rod nose and hair like a barrister's wig. She was Riverdale High's main teacher, and if she interacted with the teens of the town, it was to berate them for showing up late to class or forgetting to study for an algebra exam. In Riverdale, well, let's just say she's a nubile, thirtysomething sexual predator whose hobbies include playing the cello and committing statutory rape with teenage boys — which means she can ruin people's childhoods both textually and meta-textually.