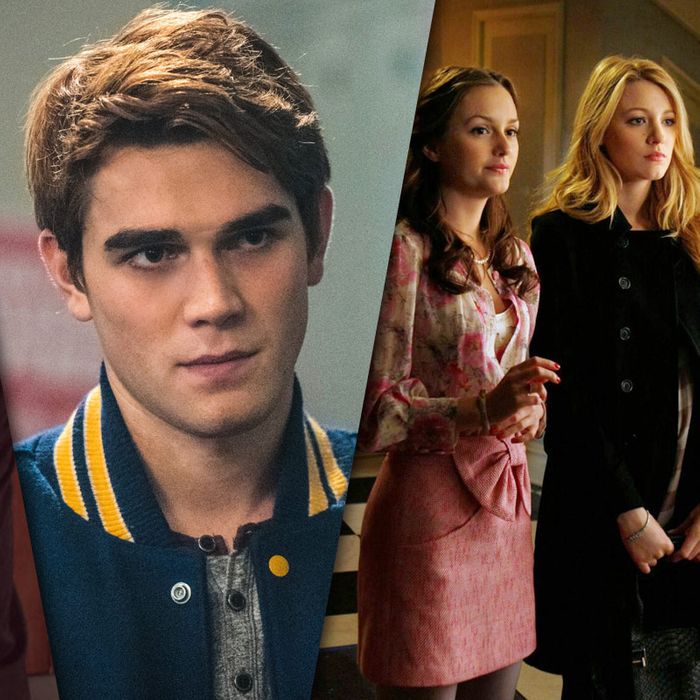 Twin Peaks + Gossip Girl = Riverdale.
Photo: ABC, CW
With its small-town teens, eerie mysteries, and deluge of pop-culture references, the CW's new drama Riverdale has all the makings of TV's latest guilty pleasure. But if you're hit with déjà vu while watching Thursday's series premiere, don't be surprised. From Gossip Girl and Pretty Little Liars to Twin Peaks and Veronica Mars, Riverdale openly riffs on the tried-and-true TV formulas that came before it. Ahead, Vulture looks at the most notable teen dramas (or dramas featuring teens, if you prefer) that seem to have influenced this new iteration of Archie and the gang.
Gossip Girl
On Riverdale, Cheryl Blossom (Madelaine Petsch) is the stereotypical mean girl. She's rich, she's beautiful, she has loads of secrets, and she likes to make her minions' lives miserable. In other words, she's like Gossip Girl's Blair Waldorf (Leighton Meester) and Chuck Bass (Ed Westwick) rolled into one. Someone give this girl a purple headband!
Twin Peaks
Yes, David Lynch and Mark Frost's groundbreaking ABC whodunit isn't really a teen drama, but it opens with the mysterious disappearance and death of popular kid, and it's set in the murky moors of a small town where everyone thinks they know each other's secrets. Sound familiar? The similarities don't end there: Not only did Riverdale cast Mädchen Amick, a Twin Peaks vet, to play Betty's mom, but the (possible) murder of a Riverdale teen in the first episode calls to mind those infamous images of Laura Palmer's dead body.
Dawson's Creek
Teens who talk like they're teaching SAT prep and boast an encyclopedic knowledge of pop-culture trivia are a mainstay of any series created by Riverdale executive producer Greg Berlanti. This makes sense, as the guy cut his teeth on Dawson's Creek, a prime-time soap about a small-town boy caught between the girl next door and the street-smart new girl. Riverdale deploys that same with the love triangle of Archie, Betty, and Veronica, but there's one small difference: In the Dawson version, it's the blonde who's the fresh face on the scene.
Other odes to Dawson's Creek include Archie's unrealistically romantic relationship with a teacher, the use of a rowboat in show promos, and Cheryl's digs about Archie's gay best friend, Kevin Keller. Shout out to Kerr Smith's Jack McPhee and network TV's first dude-on-dude gay kiss.
Veronica Mars
The death of a rich kid who comes from an adored, hypersecret family? Yup. A narrator who used to be one of the cool kids and is now the dark and sassy outsider? Of course. The big similarities between Veronica Mars and Riverdale are obvious, but the latter also shined in its meta casting of older stars, like Harry Hamlin and Steve Guttenberg, as the moms and dads of the show's leads. Now, Riverdale raises the bar with Luke Perry and Molly Ringwald as Archie's parents, Fred and Mary Andrews. That's not all: Skeet Ulrich, of seminal '90s films Scream and The Craft, will also appear in the series.
Pretty Little Liars and Ravenswood
While Archie's illicit affair with a teacher will have Pretty Little Liars fans screaming Ezria, there's plenty more about PLL that fits into Riverdale mold. Yet again, it's got the casting of '90s stars as parents — Melrose Place alums Laura Leighton and Chad Lowe are natural fits as Ashley Marin and Byron Montgomery — along with a central hangout for the gang. (On PLL, it's a coffee shop called the Brew; on Riverdale, it's the malt shop, Pops, a holdover from the comics.) If you look to the short-lived PLL spinoff, Ravenswood, you'll see plenty of other similarities, like a tragic drowning, teens predestined to inherit their families' legacies, and a town loaded with as much sinister secrecy as it has fog.
The Secret Circle
For another take on a small town filled with beautiful and incestuous families, shocking murders, and parents played by actors you swear you've seen elsewhere (hey there, Natasha Henstridge!), look to this short-lived CW series that tried to capitalize on the supernatural teen drama craze of the late aughts. Let's hope Riverdale doesn't suffer the same fate.