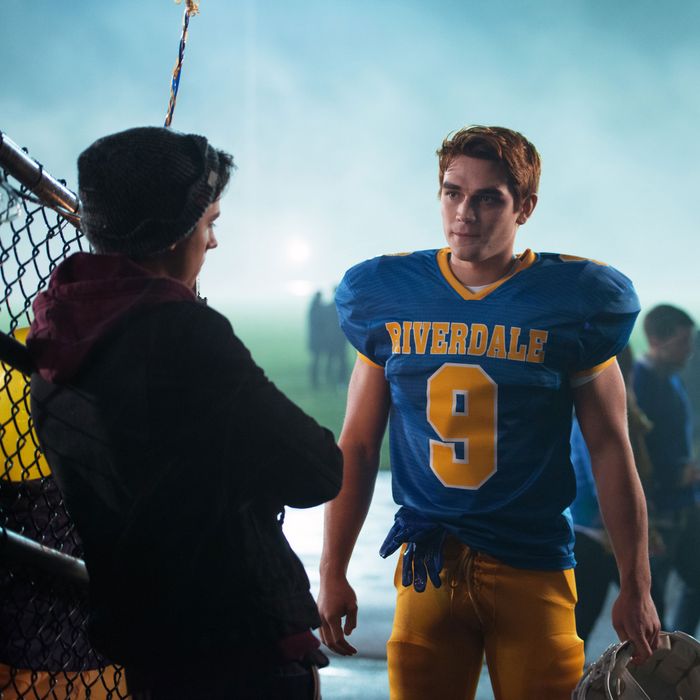 L-R: Cole Sprouse as Jughead Jones and KJ Apa as Archie Andrews.
Photo: Diyah Pera/THE CW
Riverdale is, technically, a reimagined take on the Archie comics. But more than anything, it feels like CW's bid to produce the next addictive, mainstream teen soap opera. The good news is the series comes well-equipped to fill that role and, quite possibly, become your new guilty pleasure. Although I can't say I feel that guilty about liking it.
While Riverdale barely resembles the Archie comics, it does use their basic material to build its foundation. The series is set in the town of Riverdale and follows the lives of Archie (K.J. Apa), Betty (Lili Reinhart), Veronica (Camila Mendes), and Jughead (Cole Sprouse, all grown-up since his Suite Life days), as well as other characters inspired by the print incarnation. It's even got its own Josie and the Pussycats, although in this version, every member of the trio, as opposed to just one, is black, and Josie (Ashleigh Murray) seems less inclined to suffer fools than her predecessors.
But the most significant deviation from the original source material (as opposed to the more recent, revisionist Archie comics) is the fact that Riverdale is a mystery. Placing one foot in that genre gives the series both a narrative spine and a dark tone that playfully casts shadows across all the high-school sunniness like a black scarf draped over the shade of a brightly lit lamp.
The first episode, which airs tonight at 9, begins by replaying the moments that led to the disappearance of Jason Blossom (Trevor Stines), a high-status member of the community who disappears on July 4th after he and his twin sister, Cheryl (Madelaine Petsch, going full Regina George in her role), take an early morning boat ride in the Sweetwater River. What initially seems like a fatal and tragic accident quickly starts to look like a homicide, and almost everyone in town is either a suspect or has information that could help track one down. That includes Archie, who happens to be hooking up with Miss Grundy (Sarah Habel), his hot librarian of a music teacher, near the scene of the possible crime, but is reluctant to come forward because it will expose his affair.
Showrunner Roberto Aguirre-Sacasa has described Riverdale as Archie meet Twin Peaks, and there is definitely some overlap, most notably in the potentially murdered teen plot and the presence of Mädchen Amick, the co-star of the David Lynch drama who plays Betty's mother. But while that comparison is apt, it also provides only a partial sense of the terrain Riverdale covers. In a lot of ways, it's like most adolescent dramas: It traffics in unrequited love and romance (yes, there's a love triangle involving Betty, Archie, and new girl Veronica); conflicts between teens and their parents; cheerleading-squad squabbles; and efforts to confront and condemn bullying. In other words, it's about the actual stuff of high-school life as much as it is about getting to the bottom of Jason's death.
Riverdale is also about paying homage to the various entries in the teen canon while simultaneously asserting its own place within it. With its wiseass, pop culturally savvy dialogue — in the first episode, the term "too season five Betty Draper" is used to accuse someone of being overweight — Riverdale often calls to mind movies like Clueless or Mean Girls, while its mix of mystery and clique clashes (and, yeah, the wiseass dialogue, too) carries a whiff of Veronica Mars.
Subsequent episodes — four were provided in advance — go even more meta, with nods to coming-of-age classics that are blatant (The Goonies, Juno's Diablo Cody, and Rebel Without a Cause are all mentioned) and more subtle (the name of one local haunt, the Twilight Drive-In, evokes the works of Stephenie Meyer). Things gets so referential that sometimes the show almost screams out for footnotes.
But nowhere is Riverdale more knowing than in the way it handles both its characters and its casting. Many of the Archie-based characters function as the inverted versions of the wholesome kids established in the comic. Archie, the all-American athlete-musician who, as played by Apa, resembles a young, red-haired Josh Hartnett, isn't exactly a squeaky-clean hero given his dalliance with Miss Grundy, who's far more alluring than the no-nonsense linebacker of a teacher from the comics. As for Betty, the prototypical girl next door, she starts to reveal a darker side to her personality than one might expect. (At one point she's described as "your friendly neighborhood Hitchcock blonde.")
The casting of the supporting players and guest stars, especially the adults, is even more delicious. Luke Perry, once the brooding bad boy on Beverly Hills, 90210, is now Fred Andrews, the dad trying to keep tabs on son Archie. (If you watched 90210 in its heyday, trust me when I say that few things will make you feel older than watching Dylan McKay ground a teenager.) Amick was the nice, victimized Shelley on Twin Peaks, but as Betty's mom, she's a vindictive glass of poison disguised as a journalist. Robin Givens, former star of Head of the Class, is now the head of Riverdale. (She's the mayor.) Later episodes bring Skeet Ulrich (Scream) into the picture (you've gotta figure he'll be a suspect in the murder), as well as Shannon Purser of Stranger Things (Barb finally gets to seek revenge on mean high-school kids!), and Molly Ringwald. Because of course Molly Ringwald is going to be in this. It would be downright rude if she wasn't.
There are definitely moments that can feel off, like one in tonight's pilot when Betty and Veronica randomly kiss during cheerleading tryouts. But as soon as Riverdale gets off track, it tends to rights itself. Cheryl Blossom immediately douses cold water on that gratuitous smooch by noting that "Faux lesbian kissing hasn't been taboo since 1994." In the third and fourth episodes, it grows even more confident. While you watch — which you will, since this show is addictive — it's as if Riverdale is growing up fast before our eyes, like a clever, winking teenager who's already grown-up enough to know she should keep her deepest secrets to herself.