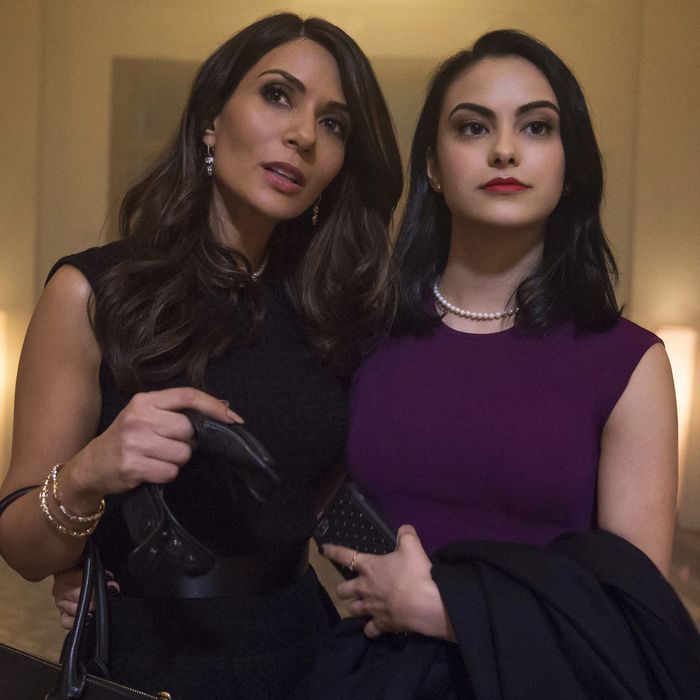 Marisol Nichols as Hermione and Camila Mendes as Veronica in Riverdale.
Photo: Katie Yu/The CW
Of the many joys of Riverdale, a teen drama constructed, Voltron-like, from the shells of other teen dramas is the fact that the dialogue, delivered by high-school sophomores, frequently references decidedly not-teen-appropriate material. Not sex or murder, which are frequent subjects of high-school discussion, but things like Truman Capote, Mad Men, and the later work of Woody Allen. Clearly, the non-teen Riverdale writers room is having some fun, and honestly, we salute their efforts. But since we at Vulture are nothing if not dedicated to gauging the reality of teen soaps, we've compiled a few of the most egregiously non-teen utterances from the Riverdale pilot.
Betty, describing the highlight of her summer internship:  "The Toni Morrison book-release party I organized, by far. By the end of the night Toni Morrison, who is, as you know, a literary hero, said to me, 'Don't rush this time, Betty, it goes by so fast at your age. One summer can change everything.'"
To be fair, Archie responds, "Wow, that's so true," which is a very teen response.
Veronica on Riverdale: "Are you familiar with the works of Truman Capote? [Archie and Betty nod] I'm Breakfast at Tiffany's, but this place is strictly In Cold Blood."
Did all these teens get assigned Capote for their summer reading, or are they just Philip Seymour Hoffman fans?
Betty, describing Riverdale High: "I usually open this tour with a little history, some context. Riverdale High first opened its doors in 1941 …"
No teen has ever cared about historical context.
Veronica on Riverdale High: "I feel like I'm wandering through the lost epilogue of Our Town."
We're told Veronica has a dark past. I assume it was spent in a damp corner reading books.
Veronica on her chilly reception at school: "Ten minutes in and I'm already the Blue Jasmine of Riverdale High."
Veronica, what are your thoughts about the sexual-abuse allegations against Woody Allen?
Cheryl Blossom: "Follow me on Twitter and I'll do the same. My handle's @cherylbombshell."
When asked about the likelihood that Cheryl would use Twitter, SelectAll editor and teen consultant Madison Malone Kircher said, "Nah." Teens are far more likely to be using Snapchat, Houseparty, musica.ly, or some new app that you wouldn't understand.
The various nicknames the characters use for Archie, including, but not limited to, "Justin Gingerlake," "red-headed Ansel Elgort," "hipster Prince Harry," "teen Outlander," "ginger stallion," and someone who has gone through an "Efron-esque emergence from the chrysalis of puberty."
Glad the teens are fans of kilts and time travel.
Veronica: "What is a chocolate shop and why does it sell fritters?" 
I get that you're rich, Veronica, but use some basic deductive reasoning.
Betty, on trying out for cheerleading: "Cheryl said I was too fat—" Kevin: "—too season five Betty Draper, it was a great line."
Did the teenagers all get through five seasons of Mad Men by sophomore year of high school? Shouldn't they be more into Game of Thrones? (Also, it's technically Betty Francis at that point.)
Cheryl Blossom, after Betty and Veronica kiss: "Check your sell-by date, ladies. Faux-lesbian kissing hasn't been taboo since 1994."
Cheryl was probably born in 2000 or 2001. She has no right to speak to the social mores of the early '90s.
Veronica, to Betty and Archie: "Can't we just liberate ourselves from the tired dichotomy of jock, artist. Can't we, in this post–James Franco world, be all things at once?"
Note to the Riverdale writers, please resolve this love triangle into a throuple.
And in the name of fairness, the single most believable line on Riverdale:
Kevin, about Archie: "Archie got hot!"