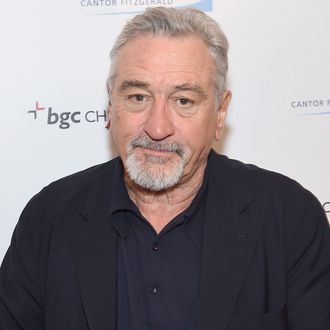 Photo: Larry Busacca/Getty Images for Cantor Fitzgera
In the days following her powerful (and blatantly anti-Trump) speech while accepting the Cecil B. DeMille Award at the Golden Globes, Meryl Streep has been the subject of ire from the president-elect, but she's also been offered overwhelming support from the Hollywood community. George Clooney and other celebrities have openly praised her searing words and chastised Trump's critical social-media response — he called Streep an "over-rated" actress, despite saying she was a personal favorite of his in 2015 — and now a longtime friend of hers, Robert De Niro, is also weighing in, but in a decisively more old-school fashion. De Niro decided to personally send Streep a letter in praise of her speech; it was obtained by People and can be read in its entirety below.
Meryl –

What you said was great. It needed to be said, and you said it beautifully. I have so much respect for you that you did it while the world was celebrating your achievements. I share your sentiments about punks and bullies. Enough is enough. You, with your elegance and intelligence, have a powerful voice – one that inspires others to speak up as they should so their voices will be heard too. It is so important that we ALL speak up.

We love you.

Bob.
De Niro has been very vocally critical of the president-elect in recent months, saying in November that his feelings on the newly elected Trump equaled the ones he felt "after 9/11." Streep herself has yet to comment on the aftereffects of her speech.